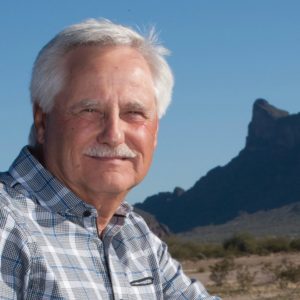 Vince Leach, a person regarded as a reactionary anti-democratic zealot in most state Democratic party circles, has been conveying blatantly false information about his opponent in the race for the LD 11 Senate seat, Ralph Atchue, lying about his positions on border security and taxes on television commercials on CNN and Fox.
Mr. Atchue reached out to fight back against the lies being spread by Leach. Below are his comments.
"Here are the issues Leach has raised and my position as stated on the website, speeches, debates and at doors."
"Border Security: I have always been supportive of increased funding for border security. I support increased use of technology and border patrol agents. After consulting with actual border patrol agents I have called for a review of the strategic deployment of our agents to make better use of their manpower and resources. I have stressed the need for local and state law enforcement's cooperation with federal agencies in completing their mission to protect the lives and property of every Arizona resident."
"Taxes: I have never supported any tax increases – I have been especially outspoken regarding the need to reduce reliance on sales tax increases which are regressive and hurt working families and small businesses hardest. It has been the continued state legislature's actions that push funding requirements on the counties and cities who have no recourse but to raise sales and property taxes. I have consistently called for a non-partisan audit of Arizona's entire tax structure – I have called for a comprehensive audit of every tax loophole and credit to determine if we are getting a return on investment. I have characterized Arizona as having an "out of balance" tax policy, which leads to ever-increasing sales taxes – the non-partisan Tax Foundation rates AZ as the 47th in the nation for fair sales tax policy."
"Throughout this campaign I have focused on rebuilding Arizona's middle class based on these four priorities (4 E's): Funding public Education – teachers' pay and the entire system Arizona's Economy – expanding health care and quality jobs Protecting our Environment – public lands, clean air and pure water for future generations Restoring Ethics in government – open, honest, transparent and accountable government."
"I'm a Clean Elections Candidate, not bought and paid for, with only one priority: Working hard to represent Arizona families and small businesses."
Before voting, voters should studiously research all the candidates to ascertain whom they feel would be the best fit for the district, city, state, or nation. Fact checking a candidate's ads should also be part of that research. If a candidate for office, like Mr. Leach, is lying, they have clearly demonstrated that they lack the character to serve the public. For more information on both Mr. Atchue and Mr. Leach, please review the links below. Also research on other reliable objective sites like Ballotpedia and https://votesmart.org/. A well-informed voter that turns out and votes make our state and country a better-governed nation.