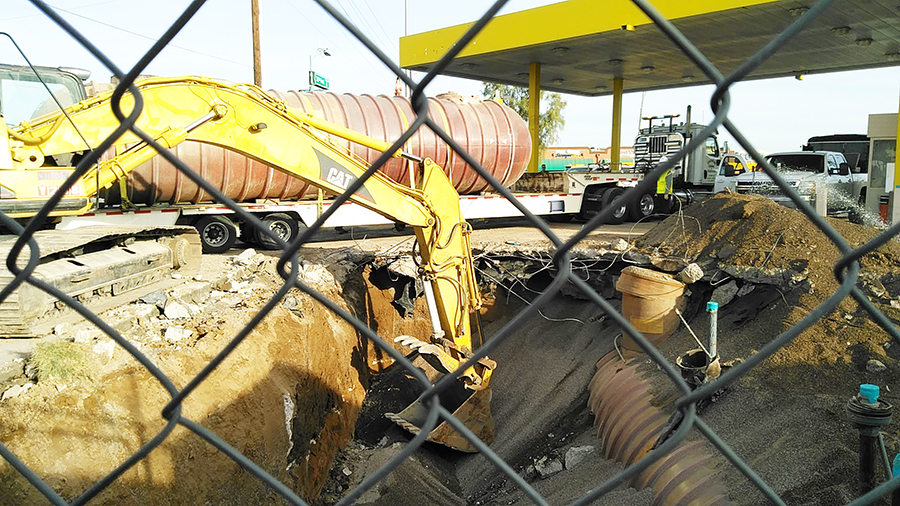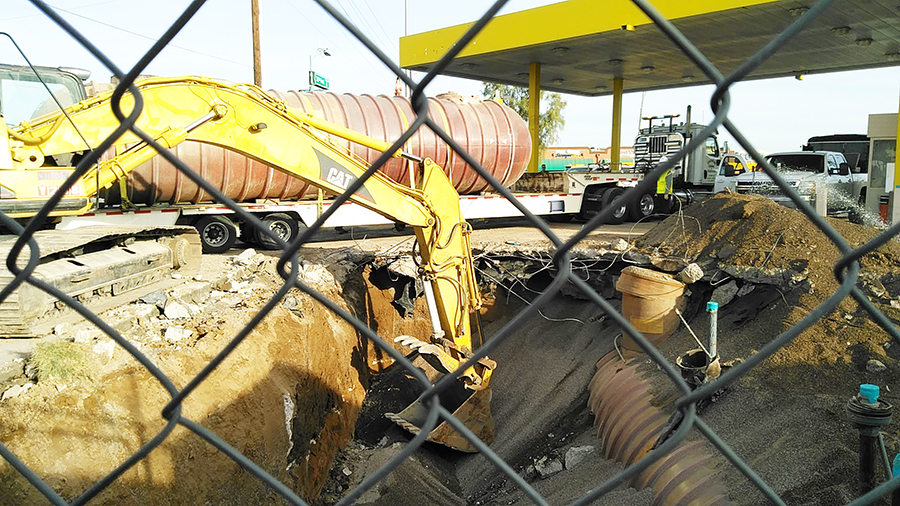 Did you ever wonder what happens to the storage tanks when a gas station closes? In Arizona, taxpayers often fund removal of the tanks– not the companies that installed them.
When I was  professional photographer, one of my favorite subjects to photograph was industry, because of the sheer scale of the machinery and striking angles of industrial settings. Consequently, I jumped at the chance to watch two massive gas storage tanks being removed from an old, out-of-business gas station. The Arizona Department of Environmental Quality (ADEQ) has a gas tank storage removal program, bankrolled by a special fund set up by the Arizona Legislature.
I think that is great to remove hazardous waste– like old gas storage tanks– and I would support more funding for ADEQ so they could step up the pace on the clean-up. According to ADEQ staff, there are hundreds of defunct gas stations and other industry-related environmental clean-up projects around Arizona that ADEQ is responsible for. Shouldn't corporations take more responsibility for cleaning up their own environmental messes? Many "Mom-and-Pop" convenience stores/gas stations probably don't have the funds for gas tank removal and clean-up after they close their doors, but corporate-owned gas stations should be cleaned up by the corporate people who own them, in my humble opinion.
As a Mom, I can't remember how many times I have said: "You made that mess. You clean it up."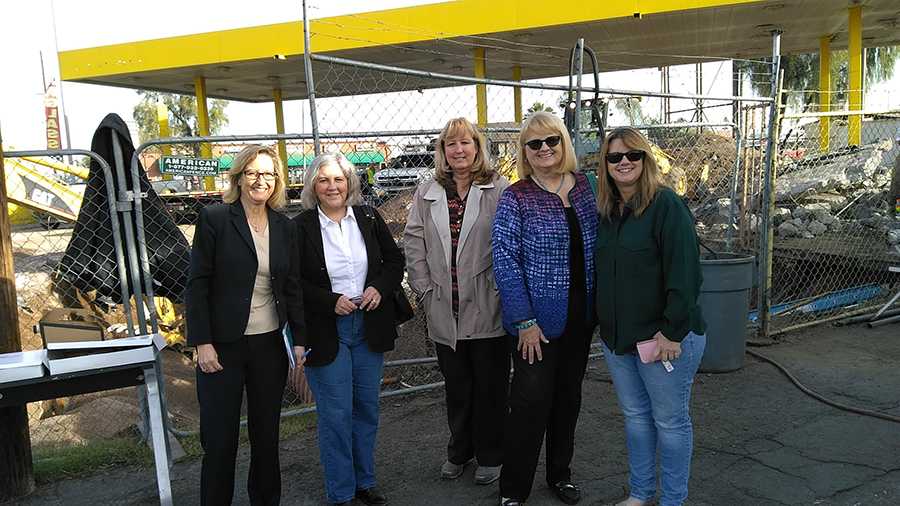 This is the second blog post in a five-part series on my first few weeks as a representative-elect:
Legislative Whirlwind Begins: Tours & Meetings, Oh, My! (Part 1)
Legislative Whirlwind Part 2: ADEQ Gas Tank Removal in Phoenix
Legislative Whirlwind Part 3: 92,000 Cows
Legislative Whirlwind Part 4: Lettuce & Birds
Legislative Whirlwind Part 5: Migrant Workers
********************************************
Since the election, my Powers For The People blog has officially shifted gears from campaigning to educating voters. Think of this as my version of the "Farley Report"– except delivered via a blog instead of email. (I also have an email list, which you can join here.)
If you want to follow my Legislative update blog, click on this image and every blog post will be delivered to your email inbox. (If you are on gmail, you may have to retrieve it from the "promotions" tab the first time.)

Cross-posted from PowersForThePeople.net.