Lots of LOVEly activities to participate in on Feb. 11 on 4th Avenue, while shopping and planning for Valentine's Day on Feb. 14. Buy a lock to place on the sculptures scattered along 4th Avenue. Photos below (courtesy of yours truly) of 2 of the heART shaped sculptures, already full of locks from previous V Day activities.
February 11th
"Lock your love on 4th Avenue! We have SOOOO much fun for you for Valentines weekend!!! 4th Avenue has it all- Shopping and strolling, fine dining, live music, this is the PERFECT place to bring your valentine.
Come see our new HeART sculpture unveiled, show your love to our non-profit partners by buying a lock for $5 (the charity keeps the whole $5- Fourth Avenue Merchants provides the locks)
Lock your love, and throw away the key! Show your love, and love of community with 4th Avenue's unique and popular interactive public art. Non-profits are here with locks from 2-6pm
We have a fun event in Haggerty Plaza hosted by the fabulous Dee and Y-Not Karaoke! 2-6pm
http://www.goynot.com/
https://www.facebook.com/karaokewithdee/
Perform your favorite love song on the stage, the words will be right there for you on the screen-bring your voice and enthusiasm, but be sure to BRING IT!
Flowers availble from Flower Shop on 4th Avenue
https://www.facebook.com/FlowerShopon4th/?fref=ts
Jewelry vendors Silver Sea and 3 Quarter Moon Creative
https://www.facebook.com/SilverSeaJewelry/
https://www.facebook.com/3QuarterMoonCreative/?fref=ts
Play our KEY game!!!
(2-6pm) by shopping with participating merchants!
Get a valentine's day card, get stickers by shopping- 3 stickers gets you a key to try a special lock. If your key opens one of 6 GOLDEN LOCKS- you win a prize basket! There are 6 prize baskets filled with goodies from your 4th Avenue merchants
Specials, discounts, exciting coctails, Romantic dinner venues- Our 4th Ave merchants want to make your Valentines MEMORABLE!
More details coming!
http://www.fourthavenue.org/"
From FB page: https://www.facebook.com/events/220585498401913/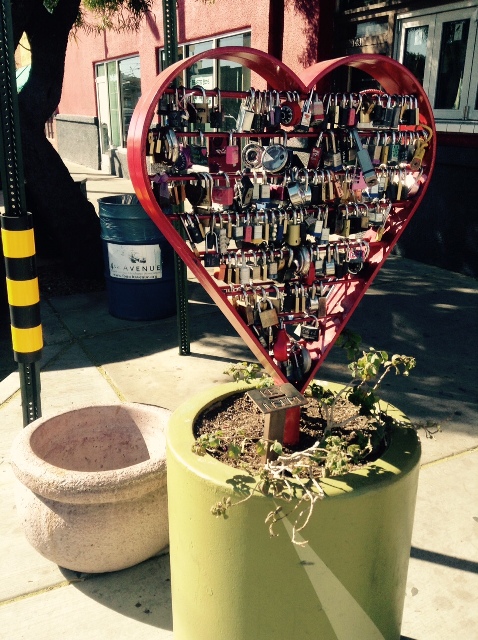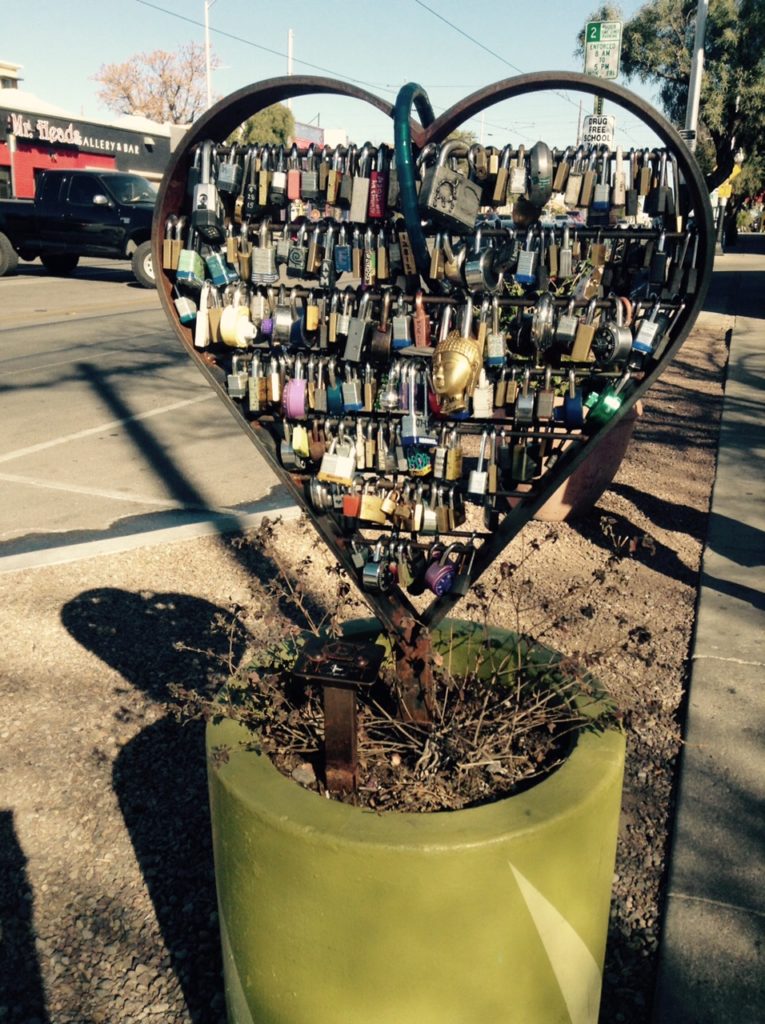 Happy Valentine's Day on February 14, 2017.  There are other art sculptures on 4th Avenue such as the red AIDS ribbon and an All Soul's skull that aren't filled with locks. Choose a lock and then lock it on a sculpture…to symbolize your ever-lasting love for someone.