From Tucson Botanical Gardens website:
Nature Connects, Art with LEGO Bricks
September 11, 2015 to January, 3 2016 at Tucson Botanical Gardens, 2150 N. Alvernon Way
8:30 a.m. to 4:30 p.m.
$18/adults, $9/children, $5/adult members, $2.50/child members.
" Nature Connects®, art with LEGO® bricks, is a traveling exhibit, featuring 13 nature-inspired sculptures will be on display from September 11 to January 3, 2016. The impressive designs are the work of acclaimed artist, Sean Kenney. Throughout the Gardens guests will see a giant hanging Corn Spider, a Galapagos Tortoise with a Darwin Finch, a six-foot Monarch Butterfly and more, all built from LEGO bricks.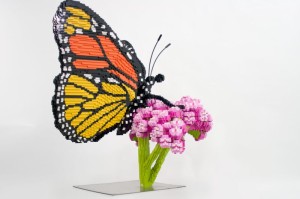 During the four month long exhibit, guests of all ages will discover the connections between art, nature, play and design. A LEGO brick playroom will be available on select dates for guests to build their own creations; the LEGO movie will be shown monthly in the evenings amongst the sculptures and a Design Challenge with LEGO Bricks will encourage builders of all ages to show off their skills with the beloved toys."
Carolyn's note: I love legos, don't you?  Especially giant ones.  Saw several when we visited Legoland in Denmark.  And then there's also Legoland California in Carlsbad, CA, a bit closer to Arizona.