The people in Arizona Legislative District (LD) 13 can do better than State Representatives Joanne Osborne and Tim Dunn.
According to Votes Smart, Ms. Osborne and Mr. Dunn have:
Voted for discriminating against Transgender high school students.
Been against community colleges offering four-year degrees.
Supported the construction of a border wall without building permits.
Not supported fully funding K-12 Public Education.
Wanted teenagers to get a lower minimum wage.
Worked to stifle the Democratic Ballot Initiative Process.
Mariana Sandoval wants to offer the people of LD 13 a different governing vision than the fringe reactionary one they have been getting from the two current incumbents.
Pledging to work to improve the lives of people in the district, Ms. Sandoval wants to ensure the residents of LD 13 get a high-quality education, affordable and accessible strong health care, and good high paying jobs. 
A former paralegal in the Arizona Attorney General's office, Ms. Sandoval graciously took the time to discuss her candidacy for the State House. 
The questions and her answers are below.   
1) Please tell the voters three reasons they should pick you over any one of your general election opponents.
"I am a Clean Elections Candidate who is not beholden to special interests."
"I am a committed servant leader in the state and nonprofit sectors. As a paralegal in the Arizona Attorney General's Office, I

assisted in the prosecution of environmental offenses

and worked to protect and conserve our wildlife. "
"I am not a career politician. I want to represent all Arizonans and as a woman of color, I bring a diverse perspective that my opponents do not."

I represent a different perspective than most in our State Legislature.  I truly embody the American Dream.   I am an immigrant who grew up very poor, but worked hard and has been able to provide a better life for my kids.   I know the value of hard work and I will work tirelessly for our district.  Because I am not a member of the majority political party, I am not beholden to party politics, I am used to working with people of differing beliefs to find common ground, and I bring a new perspective to find pragmatic solutions. 



2) Please tell the voters at least three ways your opponents do not reflect the vision or direction of LD 13.
"I consider myself a servant leader who believes everyone should have a good education, health care, and good-paying jobs. These should be nonpartisan issues. That is my focus and I do not see this as their focus."
"The need for a quality education and proper healthcare has been at the forefront of issues in Arizona for over a decade and our current representatives have yet to pursue any relief or support in these fields that I know I can provide to the people of legislative district 13."

"I can relate with most Arizonans. I see and relate to their struggles. I do not see that with our current representatives who have never knocked on my door or expressed a need to work on our needs."
3) Please tell the voters at least three public policy issues you will advance if you are elected to the State Legislature.
"Education: fully funding K-12; expand rural broadband funding; restoring funding to community colleges; fund full-day child care, preschool and kindergarten programs; make universities more affordable and accessible; partner with sister cities to create a study abroad program for high school students; create public and private partnerships to create internships for students; free dual enrollment for high school students; cut or reduce school fees so parents are not on the hook in addition to property, sales, and override taxes. Fees create inequities."
"Health care: I will prioritize policies that lower

the cost of prescription drugs and

provide access to healthcare and mental health facilities in rural communities; expand Kids Care in ACCHSS with provisions for family plans and health care in a more holistic way; expanding telehealth; expand State Medicaid program (ACCHSS). Above all, I am committed to ensuring that all Arizonans have access to high-quality healthcare regardless of socioeconomic status

.

"

"Good-paying jobs: Everyone should make a living wage; paid parental and sick leave especially during a pandemic; teachers and district employees should be brought into the state benefits system, including healthcare; want to increase the state unemployment benefits. $240 is not enough for people to live on and properly fund the Department of Economic Security and Arizona Health Services Department."
4) Please tell the voters if you feel Doug Ducey should open a special session to deal with the urgent problems (like COVID 19, assistance to the most vulnerable, funding schools to safely reopen, legal reform) facing Arizona? Please explain. 
"Of course. Most definitely he should. We need to fund distance learning at the same level as in-person instruction without the requirement to also provide face-to-face classes five days a week. Waive the 180 instructional day requirement for the school year 2020-2021. Suspend the statewide standardized assessment, AzM2, for the school year 2020-2021 and allow districts to use local assessments to track academic progress for accountability purposes. Ask the Arizona Department of Education to submit an extension or new waiver for the USDA school lunch program so schools can offer 'to-go' meals to students even when campuses are closed. We need them to follow science before reopening and not just the politics because that is costing us lives. We must meet agreed-upon safety protocols and requirements, as determined by the Center for Disease Control and the Arizona Department of Health.  We must increase unemployment benefits, extend the moratorium on evictions, fund child care subsidies, and the TANF expansion with federal coronavirus relief bill funds. and create small business grant funds. These are just a few needs to be addressed in a general session."
5) Is there anything you would like the voter to know about you or your candidacy that has not been asked in the first four questions?
"Public servants should walk the talk. If they are saying they are going to do something, they better do it. Public servants need to match words to deeds. I am that candidate and I will work to improve the lives of people in the district.

For more information on Mariana Sandoval and her candidacy, please click here to view her website, her interview with Maricopa County School Superintendent Candidate Jeanne Casteen here,  here to access her Facebook Page.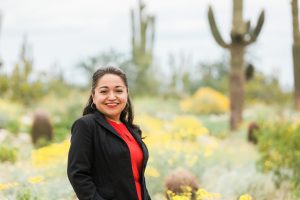 Please also click below to see this introductory video the Sandoval campaign has produced. 
Please remember:
The General Election Day is on November 3. 2020. Please see the below graphic for all-important voting dates.
Please check your voter registration at vote.
Register/sign up for the Permanent Early Voting List (PEVL) in Arizona or any state that allows early or absentee balloting and mail. Arizona residents can sign up at vote.
Arizona residents, mail your General Election ballot by October 28, 2020, for the November 3, 2020 election. With recent issues with the Post Office, you should consider mailing them out by October 23, 2020, if not earlier.
Check-in with the Secretary of State's office where you live to verify your mail-in ballot was received, processed, verified, and counted.
Know the voter ID requirements in your state.
If you can, support Clean Election Candidates with a small contribution.
Also, please remember to stay informed on all the candidates and vote for all the offices on the ballot.
Also, remember to research all the ballot initiatives, sign to get them on the ballot if you support the measure, and vote on them as well.