On December 1, 2020,  Mayor Regina Romero will ask the Tucson City Council to institute a three-week curfew designed to combat the Coronavirus Pandemic and stem the surging tide of the virus.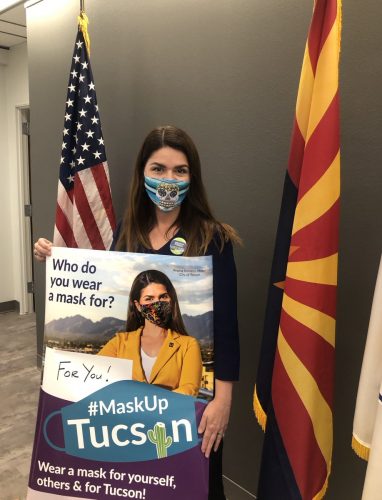 If the City Council approves the proposed ordinance and proclamation the Mayor and her team will present on December 1, 2020, this curfew would start that evening and continue for three weeks until December 22.
The times for the curfew would be every day from  8:00 p.m. to 5:00 a.m.
In comments released before an afternoon press conference, Mayor Romero stated:
"After consulting with public health experts and local hospitals, we have determined that additional steps are necessary to control the surge of COVID-19 cases. We are at an inflection point and our actions today will determine what happens in the next three weeks. My colleagues on the Council and I are asking each and every Tucsonan to do their part to slow the spread, especially for our family and friends working in our hospitals. We need statewide action, and I strongly urge Governor Ducey to act swiftly to protect the health of Arizonans."
"I know this may cause hardship for some businesses in our community. That is why at the special meeting tomorrow, I will also ask my colleagues on the Council to pass additional economic relief for workers, families, and small businesses. More support will be needed, and I urge both Governor Ducey and Congress to act as soon as possible to provide additional economic relief."
The request will include:
"A mandatory curfew effective Tuesday, December 1, 2020, at 8:00 p.m. through December 22, 2020, at 5:00 a.m. (unless further amended). The curfew would be in place during the hours from 8:00 p.m. until 5:00 a.m. each day during this period.
During the specified times, this curfew would prohibit all persons from using, standing, sitting, traveling, or being present on any public street or in any public place, including for the purpose of travel, with the following exemptions:
All law enforcement, firefighters, paramedics or other medical personnel, and any other emergency response personnel.
Persons traveling directly to and from work; attending religious services; commercial trucking and delivery services; caring for a family member, friend, or animal; patronizing or operating a business that is an Essential Function; seeking medical care or fleeing dangerous circumstances; engaging in Essential Activities; and travel for any of the above services or purposes.
Persons engaged in or traveling to perform or receive Essential Functions; and
Persons who are homeless."
During the Monday afternoon press conference, Mayor Romero, her medical advisor Dr. Joe K. Gerald, and the Tucson City Attorney Mike Rankin offered more specific details.
Mayor Romero cited several reasons for requesting this curfew. They included:
"Pima County has had 40,000 cases.

Last week, there were 3,600 cases in Pima County with  870 cases in one day.

Hospitalizations will exceed capacities as soon as this week."
Dr. Gerald stated that:
"Cases are higher in Pima than they have ever been and they will be twice what they have ever been in the coming week.
Local hospitals are at 90 percent capacity.
Physicians will be forced to make patient care decisions.
COVID cases may take up most of the cases in hospitals by Christmas."
Mayor Romero told the audience that:
"We are hoping this particular measure will help slow the surge the number of cases and protect hospital capacity and prevent a stay at home measure and lockdown and avoid drastic measures."
Later she said that if they did not act now, Tucson could be facing a medical, social, and economic catastrophe.
During the question and answer session, Mayor Romero explained that she is recommending a three-week curfew and an 8:00 p.m. to 5:00 a.m. time based on the advice of medical and hospital experts.
Furthermore, she called on Governor Ducey to take "statewide action and coordination" by incorporating a "statewide mask mandate and curfew."  She pointed out that "we have waited and waited but have not seen any meaningful action from the Governor." Later during the question and answer session with reporters, she said that she tried to contact Governor Ducey but, as has been the case since March, he would not speak with her.
During the question and answer session with reporters, she also said she has reached out to Mayors in the surrounding Tucson area and across the state to discuss the situation and possible COVID 19 defense strategies. She also said that visitors to Tucson would have to follow the curfew guidelines while there.
Mayor Romero also said that she would ask the Tucson City Council to pass economic assistance measures to help residents and small businesses. When asked by a reporter how this would be funded, she said it would come in part from unspent C.A.R.E.'s Act funds. She also asked Governor Ducey and the United States Congress for greater levels of financial assistance.
Dr. Gerald again recommended that Tucsonians wear masks and social distance. He applauded Romero's moves, including asking the City Council to help the people, saying no one "should go hungry or lose their homes during this time."
City Attorney Rankin advised the audience that the Mayor's team would present a proposed local ordinance and proclamation to the Tucson City Council.
The ordinance would describe the legal justification for calling for the curfew. Asked whether the Mayor and the City Council had the legal authority to institute the curfew without the Governor's approval, Rankin said yes.
The proclamation would detail the enforcement mechanisms. During questions with reporters, Mr. Rankin said that if non-compliance with the curfew becomes a criminal charge, the enforcement "would be a misdemeanor offense but the person or individuals would have an opportunity for diversion programs before being criminally prosecuted." He also said that potential fines for non-compliance could be from $0 to $2500.
The City Attorney said that the curfew did not apply to the opening and closing times of business operations.
Please click here to watch the entire press conference.
UPDATE: On  December 1, 2020, the Tucson City Council passed a curfew for the City of Tucson that would go from December 4, 2020, to December 23, 2020, from 10:00 p.m. to 5:00 a.m.