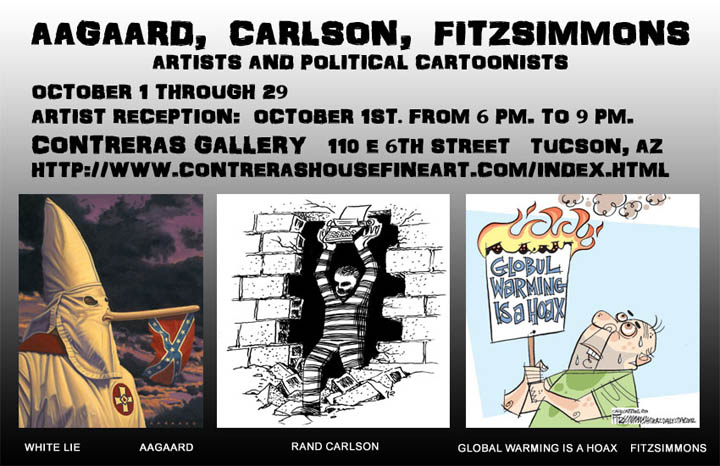 Here's your chance to get up close and personal with political artists Gary Aagaard, Rand Carlson (creator of Random Shots cartoon strip in Tucson Weekly) and David Fitzsimmons (cartoonist for Arizona Daily Star). Enjoy their funny, political art, and find out whom they're voting for on Nov. 8, 2016 to become our next U.S. President.
Contreras Gallery & Jewelry is at 110 E. 6th St. (west of N. 6th Avenue): http://www.contrerashousefineart.com/
Here's one of my favorite political cartoons from artist Rand Carlson, which previously appeared in the Tucson Weekly.

Three artists' websites/info from Contreras' website:
Gary Aagaard, Artist, illustrator, and political cartoonist
http://www.garyaagaard.com/
editorial cartoonists-Rand Carlson of the Tucson Weekly
http://www.randomshots.com/
David Fitzsimmons of the Arizona Daily Star
https://twitter.com/dwfitzsimmons