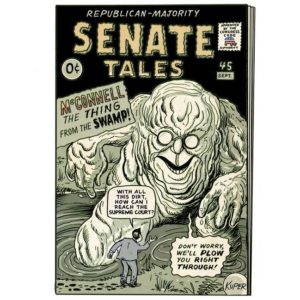 This is the person who brought suit against the McCain-Feingold Campaign Finance Law that resulted in the Citizens United Ruling bringing on the scourge of Dark Money.
This is the person, when this county was in its worst economic catastrophe since the Great Depression, vowed along with other small unpatriotic conservatives; to obstruct the Obama economic program (in order to make him a one term President) to dig our country out of the policy mistakes Republicans had brought us.
This is the person who led the obstruction of many Obama judicial and executive appointments with no meritorious reasoning. He just wanted to obstruct.
This is the person who would not allow Merrick Garland even the benefit of one Judicial Hearing for his candidacy to the Supreme Court and then had the gall to accuse Democrats of being obstructionist in the Kavanaugh nomination. To be fair, President Obama should have fought harder on this.
This is the person who screamed, "this is politics" when the issue of Russian interference was brought to Congressional leaders before the 2016 elections. In fairness, President Obama should have been stronger and called McConnell out on this.
This is the person that took away the filibuster on Supreme Court Nominees so now we are faced with the placement of an individual accused of sexual assault on the highest court of the land so a Conservative Majority may be present.
This is the person that, along with other reactionaries, fought to eliminate a healthcare reform program, originated by members of his own party simply because a Democratic President embraced them to the detriment of millions of Americans who need the program so they can have health insurance.
Mitch McConnell is the person that has done all these things. He is worse than a plague because a plague does not know what it is doing to the body. It just destroys. McConnell knows what he is doing and the combined maneuvers and acts of him, his accessories and the KKK endorsed candidate and popular vote loser in the White House are making this country an entity that great majority of the country does not want or recognize.
If Democrats do regain power in one or both of the Houses of Congress on November 6, they should immediately launch an investigation into the activities of the hopefully soon to be deposed majority leader and assess whether he committed acts, particularly with regards to Russian interference, that can be construed as treason. At the very least, they should be launching ads campaigning on this "true enemy of the people."
https://www.cnn.com/videos/politics/2018/10/04/mcconnell-kavanaugh-vote-david-gergen-ctn-sot-vpx.cnn
https://www.washingtonpost.com/blogs/post-partisan/wp/2018/10/04/mitch-mcconnell-conspiracy-theorist/?utm_term=.64c13f959841
https://www.washingtonpost.com/opinions/mitch-mcconnell-the-man-who-broke-america/2017/04/07/8e12f1d8-1bbd-11e7-9887-1a5314b56a08_story.html?utm_term=.598c3bd9c25a
https://www.politico.com/story/2018/01/23/mitch-mcconnell-russia-obama-joe-biden-359531