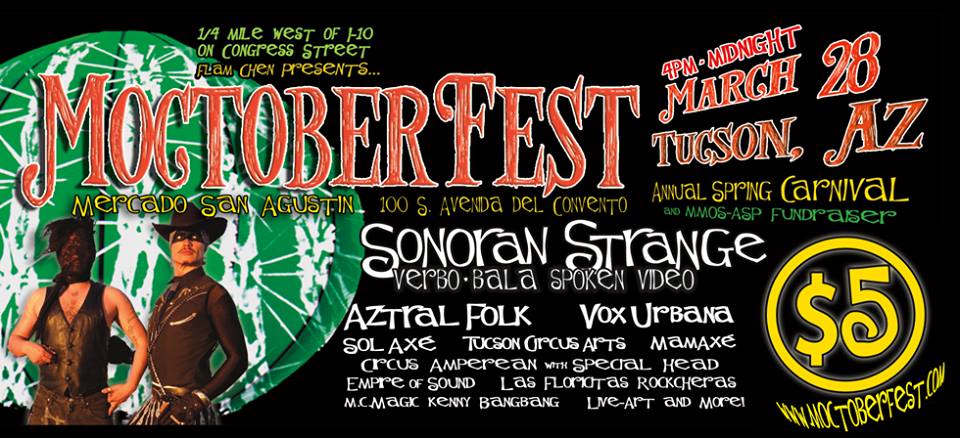 Schedule below for Moctoberfest, 4 to 12 midnight at Mercado San Agustin, 100 S. Avenida del Convento (west of I-10) — on March 28. Presented by Flam Chen, more at: www.moctoberfest.com.
A Spring Carnival & Fundraiser for Many Mouths One Stomach…
MoctoberFest is an April Fool's Carnival, Beer festival, and Community Arts Fundraiser for All Souls Procession curators-Many Mouths One Stomach.  This is the FIRST year the funds generated from Moctober Fest will go to this years All Souls Procession!  Thank YOU for your attendance & support!
Schedule:
4:00 Las Florecitas Rockcheras
4:30 Empire of Sound
5:00 MamAxé Dance Collective
5:30 Converge for Carnivalle Parade
6:00 Menlo Park Carnivalle Parade
6:30 Sol Axé – Brazilian Drum & Dance
6:40 Tucson Circus Arts Kids – Fire. Aerial. Stilts.
8:00 Tucson Circus Arts Aerial Adults show "Colony"
8:45 Sonoran Strange; Verbo-bala Spoken Video
9:30 Vox Urbana
10:30 Aztral Folk
11:30 Sacho Niño