Can a wrong ever be righted? Recently a university wrong against my innocent Nisei (2nd generation) Japanese American/ US citizen father which occurred 80 years ago in 1942, was righted on April 1, 2022  by USC, the University of Southern California in Los Angeles.  They awarded him a posthumous honorary bachelor's degree (he passed away in 1996 at age 81).  He had been unjustly expelled from USC due to his race, lost his credits, fled by train to Chicago. Luckily he wasn't rounded up into those 10 large relocation camps. A year/half later he was re-admitted to dental school at U.Md. in Baltimore and finished up his D.D.S. degree in 1945. And then practiced dentistry in our home village on the Big Island for 30 years.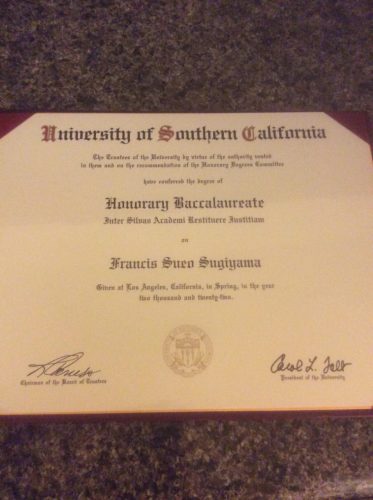 The AZ Daily Star published my guest opinion about this civil rights violation & recent reconciliation on April 27, 2022 (print page A6):
36 former 7USC Nisei students received posthumous degrees on April 1 (plus one Nisei still alive at age 104), and 11 living Nisei had received honorary degrees in 2012. Other Nisei student descendants are still being sought by USC.
It's been 80 years since President Franklin Roosevelt signed E.O. 9066 which set into motion the mass incarceration of 120,000 Japanese Americans. All of the Issei (1st generation immigrants) are gone, and most of the Nisei as well.
I don't have much to add, except to say that sometimes it does take decades for institutions and governments to reconcile a wrong done to an ethnic group, such as the Japanese Americans during WWII.  My father had the strength and perseverance to prevail despite the odds, but let us not forget those Japanese Americans who died for our country during WWII serving bravely in the 442nd Regimental Combat team and the 100th Infantry Division. Many of those soldiers had families in those internment camps.
More articles below from Los Angeles media about the granting of these posthumous degrees on the Nisei who had been unjustly expelled with no due process of law. My husband Albrecht Classen and I are pictured in several of these articles:
Let us move on, as personal justice denied can be reconciled. USC also created a lovely, peaceful tribute rock garden on their campus near the University Club, to remember these students. See photos below.  It is a fitting tribute to those innocent Nisei students who suffered at the hands of a racist college administration, but now whose descendants and friends can find some peaceful contemplation & reconciliation to that past injustice.  I know I finally did.