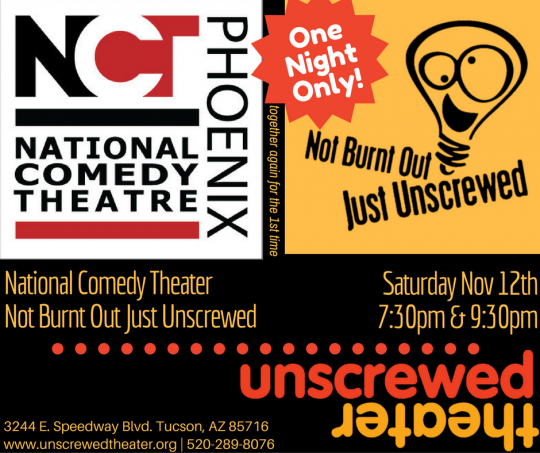 We need some laughs after that General Election 2016. I talked to a woman yesterday who happily claimed to be a "Trumpette", touting the joys of a Donald Trump win. Keep in mind the VP-elect Mike Pence is the Governor of Indiana and a long time former Congressman.
So join the NBOJU comedy team in joining up with this Phoenix troupe, for hilarious,  improv comedy for one night only.  Maybe these Phoenicians know something we don't for this "blender show supreme"?
Two shows tomorrow, 7:30 p.m. and 9:30 p.m.
Info at www.unscrewedtheater.org.  You can also purchase $5 tickets online: https://www.unscrewedtheater.org/event/improv-show-family-friendly-8-2015-11-07-2-2016-05-07-2016-08-20-2016-11-12/
"Ready, Set, Laugh"!