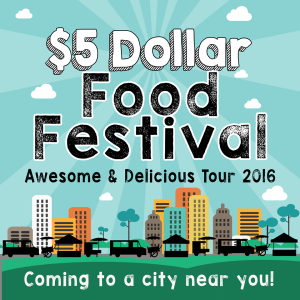 The 2016 Awesome & Delicious Tour is coming to Tucson, AZ!!!  Saturday March 26, 11 a.m. to 7 p.m. at Kino Sports Complex, Tucson, AZ.
"We are bringing the most Amazing Restaurants, Food Entrepreneurs, Renowned Chefs, Food Trucks, Trailers, Booths, Carts, and more together to offer Awesome & Delicious Food for only $5 per dish.
TICKETS:
GA Tickets are $5 Online / $12 starting March 23rd.
(12p-7p General Admission)
VIP Tickets are $10 Online / $17 starting Mar 23rd.
(11a-12p Early Access, Guaranteed Food)
Kids 5 and under are FREE.
Kids 6-12 will never be charged more than $5 to get in. So, if you are a parent or guardian that wants to attend the VIP party with your children, you are able to do so without buying VIP tickets for every child. So long as the parent or guardian responsible for the children has a VIP ticket and each child has a GA Ticket, you are good to go! As mentioned above, Children 5 years old and under are always free.
Parking is $3 per vehicle.
How the Festival Works? It's simple….
Each and every food vendor will offer their MOST AWESOME & DELICIOUS Menu Items all day long for only $5 per dish.
You can eat as many dishes as your appetite can handle and only spend $5 per plate. No more worries about overpriced $10 hot dogs and $15 hamburgers anymore.
The goal is to keep everything affordable and plentiful for you and your friends and family to enjoy without breaking the bank.
We have streamlined the order process with the vendors to keep the food lines flowing as quickly as possible.
By offering only $5 menu items, the vendor can focus on cooking those delicious dishes of AWESOME all day long and avoid delays from having too many items on the menu. This also eliminates those annoying decision delays from people who hold up the lines.
Order food from as many vendors as your appetite can handle!
Great Entertainment, Family Friendly. Plenty of Food. Goodtimes!. Appetite Satisfaction Guaranteed!"
More info on FB: https://www.facebook.com/events/887466604684796/