When readers last heard from Paul Gosar, he had tweeted holiday greetings to his Twitter followers with a video of a news camera nearly falling on the Clintons.
Now, not even a week into 2020, Mr. Gosar has again demonstrated his imbecilic and duplicitous nature by tweeting this image of Iranian President Hassan Rouhani shaking hands with President Obama under the caption "The world is a better place without these guys in power.:"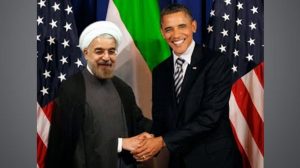 There are two problems with this image.
The first is it is a fake picture that was disproven by fact-checkers four and a half years ago.  Anti Obama conspiracy lunatics photoshopped the Iranian President's image and Iranian flag on top of the real image of the then Prime Minister of India, Manmohan Singh, and Indian Flag. See the real image below.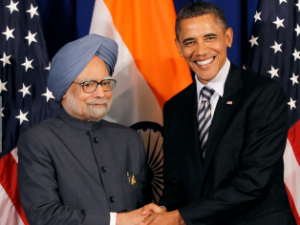 The second problem and this really shows Gosar's obtuseness is that the Iranian President is still in power. It may be that Mr. Gosar either thought that Trump ordered the killing of the Iranian President or he thought his supporters would take his tweet at face value without questioning its authenticity.
Either way, Gosar has shown again that he is an ass and does not deserve the support of the people in Arizona Congressional District Four.
When confronted with what he had done, Mr. Gosar, as Laurie Roberts from AZ Central reported, attempted to pivot and avoid responsibility for the fraud he passed on to his Twitter Followers.
Delina DiSanto, the leading Democratic Arizona Congressional District Four candidate looking to defeat Gosar this November, issued a statement that read:
"It is outrageous and unacceptable that Rep. Gosar continues to use poor taste and sophomoric stunts on social media. He should apologize to President Obama and the nation for racing to the lowest common denominator. Arizona deserves a Congressperson (and a President) who spends less time tweeting and more time working to deliver results."
It is time for the People in Arizona Congressional District Four to show good taste and judgment.
It is time for them to tell Paul Gosar they will not be shamed again and vote him out in 2020.