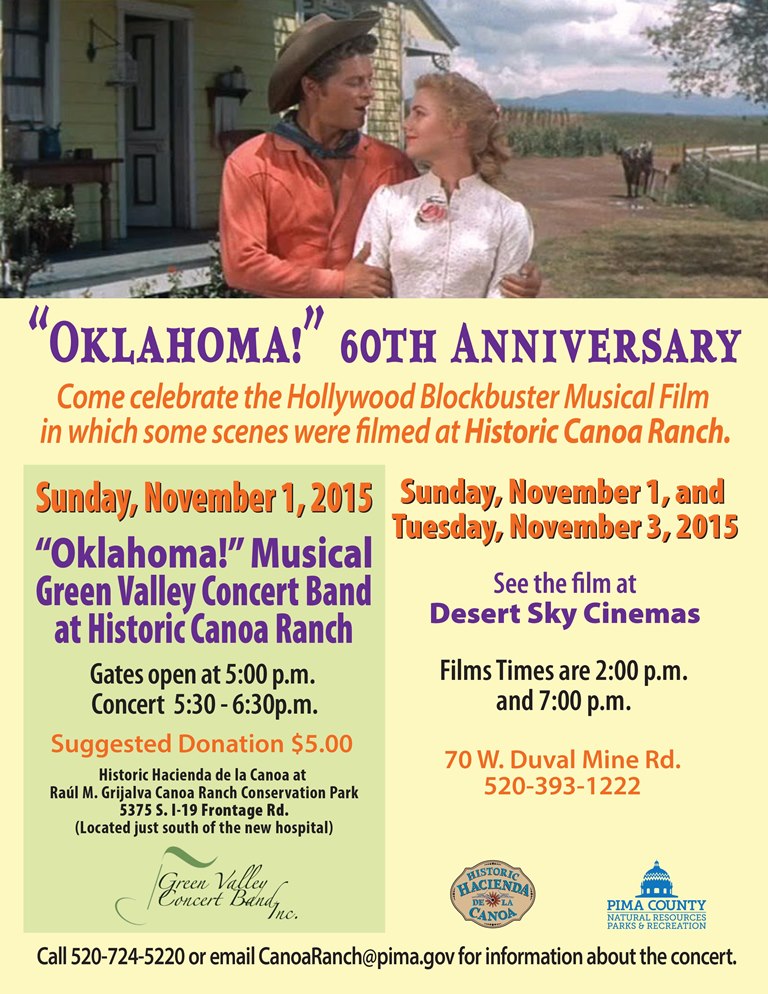 From Pima County Communications:
Pima County's Natural Resources, Parks and Recreation (NRPR) is hosting a free community concert Nov. 1 at Raúl M. Grijalva Canoa Ranch Conservation Park in Green Valley marking the 60th anniversary of "Oklahoma!," the classic Rodgers and Hammerstein musical about life and love in the Oklahoma territory at the turn of the twentieth century, which was filmed in part at the ranch.
Oklahoma movie pictureProduction of the film was a true southern Arizona effort. The University of Arizona College of Agricultural and Life Sciences grew in individual containers "corn as high as an elephant's eye." In addition, a number of locations in Pima and Santa Cruz Counties were featured in the film, including Amado, Elgin, Nogales, Patagonia, Sonoita and the San Raphael Valley.
To mark the movie's anniversary, Canoa Ranch will host the Green Valley Concert Band for a free community concert at 5:30 p.m. Sunday, Nov. 1, where a number of selections from the musical will be played. Doors open at 5 p.m.
In addition, NRPR will team up with Desert Sky Cinemas to offer viewings of the movie at 2 p.m. and 7 p.m. on Nov. 1 and Nov. 3.
Lastly, District 4 Supervisor Ray Carroll will present a proclamation at the Pima County Board of Supervisors' Nov. 10 meeting in honor of "Oklahoma! In Arizona Days."
And if you don't want to drive down to Green Valley, catch the film on Sunday November 1st at the Loft Theater, 3233 E. Speedway Blvd. in Tucson at high noon: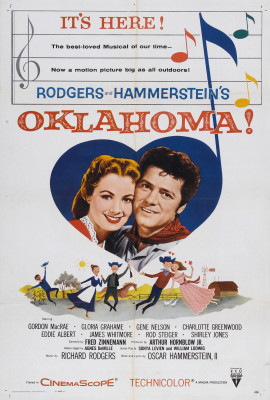 SUNDAY, NOVEMBER 1 AT NOON | GENERAL ADMISSION: $15 • LOFT MEMBERS: $10
PLEASE NOTE: WE CANNOT ACCEPT PASSES OR GROUPONS FOR THIS SCREENING.
---
This special 60th Anniversary cinema event is more than just OK – it's an outstanding opportunity to revisit Oklahoma! on the only screen big enough to capture all the fun, music and romance of Rodger's and Hammerstein's timeless classic!  Don't miss the chance to immerse yourself in this fully remastered widescreen presentation of the 1955 Oscar-winning musical extravaganza!
This special 60th Anniversary cinema event will also include an exclusive bonus featurette before the film, featuring Tony and Emmy Award-winner (and Oklahoma native) Kristin Chenoweth (Wicked) performing three of her favorite songs from the show, interspersed with backstory about the history of the film and musical. Oh, what a beautiful afternoon as Oklahoma! hits the big screen once again!
Set in the Oklahoma Territory in the early 1900's, this joyous celebration of frontier life is an epic story of tender romance and dangerous passion. Gordon MacRae is Curly, a sunny, good-natured ranch hand, and Shirley Jones is Laurey Williams, the farmer's daughter he loves. Rod Steiger is the menacing Jud, who tries to come between them. The first Rodgers and Hammerstein collaboration (based on the smash-hit 1943 stage musical), this Academy Award-winner for Best Score features such classic songs as "Oh, What a Beautiful Mornin'," "The Surrey With The Fringe On Top" and "People Will Say We're In Love." A lavish, big-budget production filled with spectacular panoramic vistas (filmed right here in beautiful Southern Arizona, filling in for the actual Oklahoma), lively choreography and stellar performances, Oklahoma! represents the classic Hollywood musical at its very best. (Dir. by Fred Zinnemann, 1955, USA, 145 mins., Rated G; Total program running time with bonus featurette: 165 mins.)