Secretary of State Michele Reagan, the queen of election screw-ups, has done it again.
The Green Valley News reports that thousands of voter publicity pamphlets mailed to homes in Southern Arizona are missing dozens of pages. Incomplete election pamphlets to be resent to voters: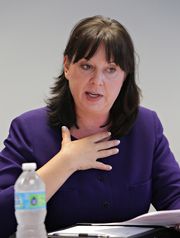 Arizona Secretary of State's office spokesman Matt Roberts said the office received several phone calls and emails Wednesday afternoon about missing pages and then heard from the company that printed them, acknowledging the error.
"The printer just reached out to us and it appears there are some missing pages, or in some cases the publicity pamphlets had some assembly problems," Roberts said.
The printer, Trend Offset of California, said Thursday it appears a mix-up followed by a quality-control breakdown resulted in "no more than 14,000 pamphlets" with errors, according to the Secretary of State's office. It said four of 600 sample checks contained errors.
The company traced the problem to one delivery truck carrying 68,108 pamphlets that serviced Tucson, Nogales, Sierra Vista, Green Valley and other Southern Arizona locations.
The company will reprint and resend all 68,108 pamphlets, though the state has said their initial request to reprint and resend 1.9 million copies remains "on the table." Roberts said he expects any additional costs to be paid by the vendor. The corrected pamphlets should arrive before early ballots are mailed out.
The error is among several election-related snafus this year.
•The Secretary of State's office failed to send publicity pamphlets to about 200,000 homes outside Pima and Maricopa counties as required in advance of the May 17 special election. Initially, Secretary of State Michele Reagan blamed the vendor but later her office acknowledged it erred in compiling mailing lists.
•In March, voters in Maricopa County faced hours in line to vote in the Presidential Preference election after County Recorder Helen Purcell drastically cut the number of polling places to save money. The county had just 60 voting sites, less than half in less-populated Pima County. Maricopa County had more than 500 sites in the August primary.
•Reagan's office gave bad instructions to candidates trying to get on the primary ballot and only notified them of the problems in the final weeks of signature-gathering, according to the Arizona Republic.
•Maricopa County mislabeled a title on a proposition in the May 17 special election on the Spanish-language ballot, according to the Republic.
I have heard from several voters recently who complained that they never received the voter publicity pamphlet from the Secretary of State in the mail in prior elections. This should not happen. Is this a problem elsewhere? If you do not receive your publicity pamphlet in the mail, here is what you can do:
•Email the Secretary of State at: elections@azsos.gov, or
•Go online:
(English)
http://www.azsos.gov/sites/azsos.gov/files/2016_general_election_publicity_pamphlet.pdf
(Spanish)
http://www.azsos.gov/sites/azsos.gov/files/2016_eleccion_general_folleto_publicitario.pdf