There is a new culture at the Maricopa County Sheriff's Department.
Instead of the divisive cult of personality that prevailed during the Joe Arpaio Era, the Sheriffs Department under Paul Penzone has sought to instill a culture where the people, not the office, are served first.
During his less than three years as Sheriff, Mr. Penzone has done much to positively transform the Maricopa County Sheriff's Office. He has:
Closed down Tent City.
Created a crime analysis unit.
Expanded community outreach.
Launched efforts to combat the opioid epidemic.
Recruited The Arizona Auditor General to create internal audit mechanisms for the Department.
Complied more vigorously with federal court orders.
While these achievements have shifted the culture and performance of the Department, Sheriff Penzone recognizes that the work he and his team have started is not finished and more work in other important areas needs to be completed.
That is why he is launching a bid for a second term as Maricopa County Sheriff.
Sheriff Penzone sat down at Lolas Café to discuss his achievements and his goals for the future during a second term.
The questions and responses are below.
Please tell the reader about yourself and give at least two reasons you deserve reelection as the Maricopa County Sheriff?
"I am very much grounded in my family and faith. I truly believe in seeing a community where your family can thrive and be safe. You have to be prepared to serve the public and I believe that my actions should speak louder than my words. I have worked to bring integrity and ethics to this office. Power is a privilege that should not be abused. I serve as a gatekeeper that makes sure everyone follows their oaths, thereby restoring the relationship between the community and law enforcement. Public safety is a reflection of the interaction between law enforcement and the community. We must serve with conviction and compassion."
Please list what are your three most important achievements as Sheriff?
"Getting rid of tent city because it misrepresented the County and who we are as people. It showed a lack of awareness of how the judicial and criminal justice system should properly function. It also gave us an opportunity to build something positive like a drug recovery program for inmates to help reduce addiction and recidivism. With a full year of data now, the program is currently showing a 20% reduction in recidivism among participants versus the general MCSO jail population. That's not only good for families and communities, but for public safety and taxpayer dollars. The second (most important achievement) is creating the "OneMCSO" model where every employee has value whether they are a deputy, fleet service personnel, or a dispatcher, and that reflects how they treat the community as they are treated well. Thirdly, through sound management, we got our fiscal house back in order, creating a $20 million budget surplus. We gave $10 million back to Maricopa County and we reinvested the rest into MCSO, including for long-overdue raises. Further, we've continued to come under budget every year I've been in office."
Please explain what are two areas that you would like to improve on if reelected Sheriff.
"In a second term, I would like to continue improving upon our recruitment and training programs to fill the needs of our community. We want our employees to have broad skill sets to solve problems. And we need to ensure we are properly training recruits to meet the needs of the position, interact with the community, and feel a sense of pride for the job and its responsibilities. We have had a 60 percent improvement in hiring personnel (like deputies and other positions) and retention is improved because of the improvement in reputation."
 "Another goal is to continue to improve the relationship with the community. Particularly bridging the gap between the office and young people. One way we are already doing this is through our Pathways to Justice program, which works with teens from disadvantaged communities during the summer to teach them about law enforcement, government, and the justice system. Not only do they learn about career paths and get to interact in a positive way with law enforcement, but our personnel learns from them as well. We need to ensure we are focusing on education, community relations and humility on our end to better understand what the young face. We need to be thoughtful, just, and impartial and not influenced by biases."
Please tell the reader what are at least two duties of the Maricopa County Sheriff?
"The Maricopa County Sheriff's office has global authority over the county. It is responsible for managing the jail system (the second largest in the country) and handles security for all the courts. It is responsible for enforcing civil authorities that come out of all court systems. It is the only elected law enforcement official out of the county, which leads to a greater social responsibility to the people."
Please tell the reader at least two reasons you would be a better Sheriff than any possible Republican opponent?
"I made a promise to depoliticize the office and I want to stay true to that promise. We brought back true professionalism in the office where everyone is treated professionally. I pursued the Office of Sheriff because I wanted to do the job and not have the title. Too many want the title and not the responsibilities. Today, this office complies with the law and is free from the abuses of the past. We go out and get the bad guys and we don't brag about it. We don't want to celebrate full jails, we want to celebrate full schools. Serving as Sheriff of Maricopa County has been the greatest privilege of my life, and I want to continue the good work that we've started in my second term." 
If re-elected, what will be at least two new goals you will have as Maricopa County Sheriff?
"I want to continue to resolve and ease the burden of the costs of existing lawsuits to the taxpayers. When I took office I inherited over two hundred lawsuits that were costing taxpayers hundreds of millions of dollars. Just recently, we were relieved of a lawsuit enacted in the 1970s due to abuses in the jail system, which cost upward of one hundred million dollars, and we have made great strides in meeting the compliance requirements of additional federal court orders so that we can continue to save taxpayer dollars and better serve the community. When I began my term, our compliance with the federal court orders was at 30 percent. Today we are at 95 percent."
 "We also want the Sheriff's Office to be viewed as one of the top law enforcement agencies in terms of professionalism, integrity, ethics, and internal accountability. You have to preach respect for all and the law, and instill that in everyone in the office because that is how we will be judged in how we serve the people, not the sheriff."
What would you like the voters to know about yourself that was not covered in the preceding questions?
"The compliment I hear from complete strangers is "Thank you for not being on the news." I will always be transparent. We are supposed to be the quiet force that are the guardians of the community not for notoriety, but selfless public servants. We have gone from a noisy organization that promoted the sheriff to a thoughtful one that serves the people and not the office."
Sheriff Penzone is right about public service. It is about serving the people and not the officeholder.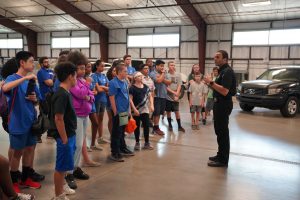 Maricopa County does not need to go back to the Arpaio Era where the Sheriff's Department became a cult of personality shrouded in local and national legal controversies and turmoil.
Paul Penzone has brought a heightened level of calmness, competence, accountability, and professionalism to the office since becoming Sheriff in 2017.
He is a candidate voters should consider that when deciding who to support in the 2020 elections.
For more information on Sheriff Penzone and his candidacy, please click on his website here and his Facebook Page here.