The Navajo Nation is in parts of Arizona, New Mexico, and Utah.
The Navajo People, like the Hopi in Coconino and Navajo Counties, the Hualapai (in Coconino, Yavapai, and Mohave,) and the Salt River Pima-Maricopa Indian Community have been plagued by the Coronavirus and, like all of Rural Arizona,  need help to get through the public health emergency.
Native Americans, like African Americans and Hispanics, have a higher rate of COVID 19 cases than white communities.
On May 19, 2020, Alyssa Stoney of AZ Central reported that the Navajo Nation now has the highest infection rate in the country. It had been the third-highest according to earlier reporting from NPR.
Reporting by the White Mountain Independent relayed that the Navajo death rate for the Coronavirus is only eclipsed by Connecticut, Massachusetts, New York, and New Jersey.
Over the last week, there has been a high spike, mostly thanks to reporting adjustments, in the number of COVID 19 cases.
According to reporting by Arylssa Becenti of the Navajo Times, there are, as of May 15, 2020, 3632 Coronavirus cases with 127 fatalities. As of May 19, there were 4,071 cases and 142 deaths reported.
Jonathan Nez, the Navajo Nation President, has instituted the latest in a series of 57-hour curfews, which for the first time include "gas stations and grocery stores."
They have also asked the National Park Service to keep the Grand Canyon Park closed.
Commenting on the current situation, President Nez, as reported by the Navajo Times, said:
"The projections from health care experts seem to be accurate because we are seeing a peak in numbers now and we are hopeful that it will begin to flatten and eventually decline. The weekend lockdown is to further restrict the movement of individuals on the Nation and to and from border towns. The number of COVID-19 positive cases and the number of fatalities continues to increase because individuals continue to leave their homes, many on weekends to avoid the weekend lockdowns. "No businesses will be open this weekend. Now that I said that everyone is going to be running to the store. Please, help each other at this time. Don't be selfish."
On the Grand Canyon Issue, Nez said in a statement reported by Fox News:
"We welcome the economic benefits that tourists bring, but we are also fearful of the potential negative impacts and had hoped that when the Grand Canyon closed on April 1, the park would remain closed until our positive COVID-19 number have flattened."
The Navajo Nation has several infrastructure disadvantages that could hinder recovery efforts. They, summarized by Wahleah Johns in a May 13, 2020 piece for the New York Times and
in a May 12 article for the Arizona Mirror, include:
A lack of running and clean drinking water.
Limited rural broadband and high Wi-Fi access.
Electricity.
Paved roads.
Uranium contamination of groundwater.
A geographic area beset by drought.
"Thirteen grocery stores in a geographical area of 27,000 square miles."
Food deserts.
Overcrowded laundromats.
The one advantage the Navajo Community appears to have is their testing capability, which is at eight percent compared to the two percent nationally.
The Nation, according to reporting by Debra Utacia Krol of AZ Central, has, after some back and forth with the Administration on appropriation distribution, received the first installment of aid from the federal government ($600 million) that will go "towards medical expenses and public health expenses, payroll expenses for front-line workers and other expenses associated with the COVID-19 pandemic."
Nez commented in the same AZ Central piece that:
"We're trying to get needed supplies to our front-line warriors, and to provide resources for more data gathering and to the epidemiology team…The Navajo people already spoke on what they need."
 Those needs include:
Construction of water delivery systems.
Housing expansion.
Increased and Upgrading Rural Broadband.
Improving food security.
"Boosting" tourism.
The Navajo Nation has also benefited from military logistical aid like regional National Guard units in New Mexico.
Doctors Without Borders, according to CBS News, is also sending a team to assist the community. It will consist of "two physicians, three nurse/midwives, a water sanitation specialist, two logisticians, and a health promoter who specializes in community health education."
Reaction among Arizona Public Figures
Governor Doug Ducey has taken steps to help the Navajo and other tribal communities. For example, he helped coordinate with President Nez the delivery of 30,000 liters of Dasani Water to Window Rock.
He and Senator Martha McSally also helped secure the delivery of 100 ventilators to the Navajos after requesting assistance from the Trump Administration.
McSally and fellow Senator Kyrsten Sinema also voted for the Coronavirus stimulus funds that went to Native American tribes after it was not included in the original legislation.
Sinema and Arizona Congressional District One Representative Thomas O'Halleran also fought for the release of the initial distribution of stimulus funds after handwringing from the Trump Administration.
Sinema commented after the initial release of the funds that:
"Tribal communities in Arizona need all available resources to fight the pandemic now. While I am glad the federal government listened to our calls to release this funding, the Treasury Department must immediately disburse the total amount of the CARES Act funding to Tribal communities; lives are depending on it."
Representative O'Halleran (whose district includes the Navajo Nation) issued a statement to Blog for Arizona, which read:
"Tribal communities across Arizona's First Congressional District had to wait over a month for the first round of CARES Act funding to arrive. Per capita, the Navajo Nation is one of the biggest COVID-19 hotspots in our country and has been dangerously overlooked in the federal government's response. Though I am relieved to see at least a portion of these much-needed funds reach them at last, tribes need the rest of the aid they were promised, fast. The federal government has a trust responsibility to federally recognized tribal nations in the United States, and I will continue to hold federal agencies accountable to Indian Country."
In an article for the Tucson Weekly, O'Halleran called for greater aid for Tribal Communities:
"The Navajo Nation is currently experiencing one of the worst outbreaks per capita in our country and is still waiting to receive their share of CARES Act funding, allocated over a month ago. The federal government has a trust responsibility to federally recognized tribal nations in the United States; I will continue to hold the federal agencies responsible for funding delay accountable to Indian Country."
"For too long, rural America has been left behind. I see the discrepancies in communities throughout Arizona's First District and hear it from our local leaders, health care providers, and small business owners. We must move forward in a bipartisan way to ensure that rural America is not left behind as we address this pandemic."
Flagstaff Mayor and Legislative Six State House Candidate Coral Evans, in a response to a request from Blog For Arizona, stated:
"The COVID 19 crisis on the Navajo Nation is showing the inequalities that have always been there, a lack of access to health care and basic necessities like running water. I urge everyone in Northern Arizona to remember that this is happening in our backyard and we should all take proper precautions. My friend, Felicia French (who is also running for the Legislative District Six State Senate seat) is spending the next month volunteering as a nurse in Tuba City (through the Tuba City Regional Health Care Facility) and I admire and respect her commitment to service. I want to send my profound thanks to all our healthcare workers, they are truly heroes." 
Colonel French, who is running for the Legislative Six State Senate seat issued a statement to the ADLCC which read:
"Our Navajo and Hopi neighbors have been disproportionately devastated by this pandemic."
"Arizona's native communities are particularly vulnerable to more severe COVID-19 infections due to years of toxic chemical contamination to the air, water, and soil from uranium and coal mining, and coal-powered plant emissions on tribal lands, food deserts, and systemic underfunding of the Indian Health Service. These disparities have been attributed to higher incidences of underlying health problems such as diabetes, cardiovascular, and respiratory disease such as asthma and emphysema, which increase a person's risk of morbidity and mortality from COVID-19."
"Our state needs leaders who will prioritize making basic health care accessible to ALL Arizonans. Smart investments in telehealth and preventative medicine will protect our native and rural communities, as well as improve the health outcomes for our entire state."
Reaction from other Arizona Democratic Candidates
Democratic Senate Candidate Captain Mark Kelly released a statement after the release of the first installment of tribal community aid, writing:
"The coronavirus relief funding coming from Washington today for tribal governments is inadequate and weeks-delayed," said Mark Kelly. "Big businesses and pro sports teams have managed to get federal relief in the past few weeks, but not the Navajo Nation, which is combatting one of the worst coronavirus outbreaks anywhere in the country. This is the time to get back to work and ensure the Navajo Nation and other tribal governments in Arizona have every ounce of support they need to overcome the specific challenges they face, save lives, and stop the spread of the virus."
Congressional District Five Candidate Joan Greene, who is running against the person (Andy Biggs) that has voted against all Coronavirus Stimulus measures (including those that provided for tribal community aid) said in response to a request from Blog for Arizona:
"I am outraged our Government is not doing enough, and that is too generous a descriptor. The Navajo Nation call parts of Arizona home, they are United States citizens, and yet they are not receiving the full benefit of the medical and financial resources to protect their community. Nor do they have enough strong advocate voices from our elected people. Our Native American Communities suffer from "out of sight" syndrome. We must elect people who believe every inch of our Nation and every person in our country deserve access to resources to thrive and that starts with a seat at the table."
Bob Musselwhite, one of the Democrats running to earn the nomination to campaign against Debbie Lesko (who, along with the other Arizona House Republicans, voted against additional tribal assistance in the latest Stimulus bill that passed the House on May 15, 2020) also responded to a request from the Blog for Arizona for a comment. He said:
"I had an opportunity to visit Navajo territory, and with some of the people, in the western part at Tuba City.  There I was the guest of medical personnel who was assigned to the community by the federal government. I was greeted very warmly when I got a chance to visit with some of the people and also treated with the greatest of honor and respect.  They were eager to learn how to address certain medical concerns.  I did not get any indication at all that medical service to the community was extensive."
 "I know the Navajo lands cover a huge area and as a result, I expect the facilities there are overwhelmed by this virus.  Since the community depends on the benevolence
of the Federal Government for resources, people outside the Navajo Nation should pay attention and come to their defense because neglect shown to the Navajo as a people will show us what to expect from the federal government for the people who reside in the rest of the country."
Moving Forward
The Navajo Nation and other communities across the country desperately need additional aid (either financial and/or logistical) from the federal government to help rebuild and move forward.
They do not need political insecurity from the Arizona State Legislature where there have been on-again, off-again plans to introduce legislation (SCR 1018) that could, as EJ Montini of AZ Central wrote, potentially "disenfranchise them."
Moving forward, Volunteerism and Private contributions are also vital to help everyone move past this public health emergency.
With regards to the Navajo and Hopi Community;
There are two Go Fund Me campaigns to assist the Navajo and Hopi communities.
Please click here to contribute to the Navajo & Hopi Families COVID-19 Relief Fund.
Please click here to contribute to the Support Navajo Nation Fund.
There are also philanthropic organizations like the Hopi Foundation, Phoenix Indian Center, and the Irish Cultural Center for people to research and donate needed items if they like.
Finally, there are the efforts of local activist groups like the members of Legislative Districts like the people of LD 18. Please see their promotion below.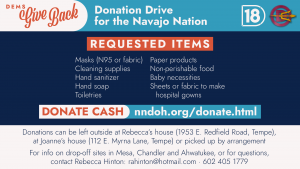 When people with kind hearts and good intentions band together, there are no obstacles that can not be overcome.