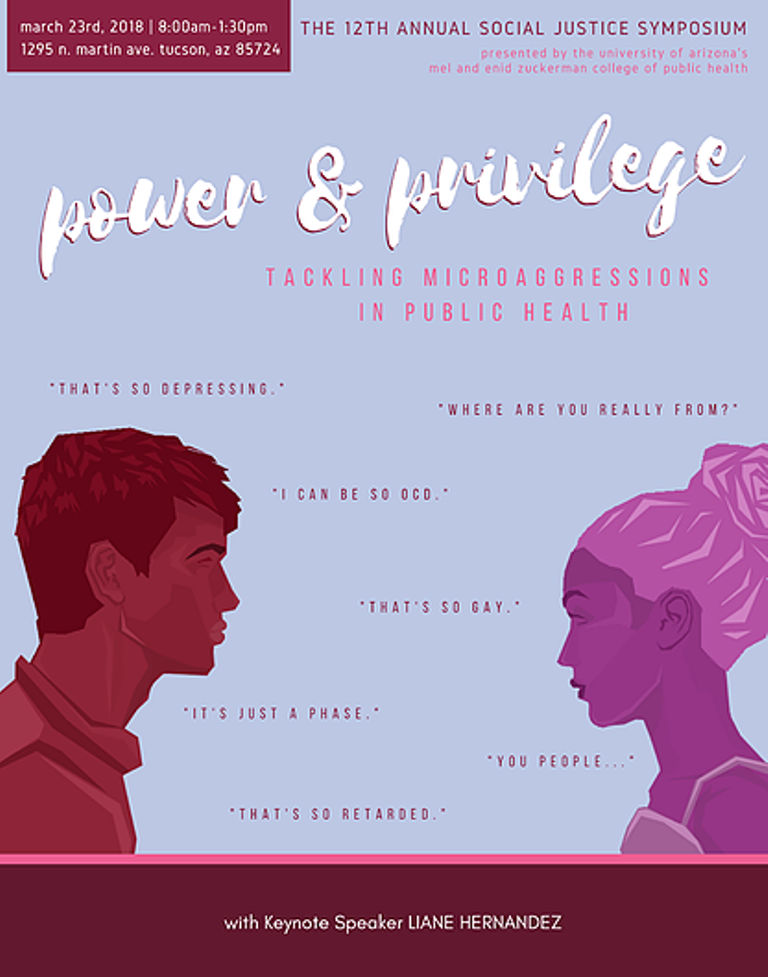 Lots of people "in power" or "with privilege" often don't even know when they are committing microaggressions against minority people in America. How many times have people asked me "what country do you come from" or say "you speak English so well" (I should, as a Native English speaker, but I guess I don't look like one to them being Asian American), etc.
Register online for this symposium:
"Students at the University of Arizona Mel and Enid Zuckerman College of Public Health will host the 12th Annual Social Justice Symposium on Friday, March 23 from 8 a.m. to 1:30 p.m. in Drachman Hall (1295 N. Martin Ave.).
The award winning Social Justice Symposium is designed to engage faculty, students, community members, and health professionals in dialogue to raise awareness of how social issues affect health. The theme of the conference is Power & Privilege: Tackling Microaggressions in Public Health.
The conference will begin with a keynote address by Liane Hernandez, community outreach and education director of Stand Together Arizona Training and Advocacy Center (STAT) of the YWCA of Southern Arizona. The keynote will be held in DuVal Auditorium at Banner – University Medical Center – Tucson. Breakout sessions in Drachman Hall will follow.
Lunch will be provided (but only if you registered before 3/16/18). Please RSVP with Ryley Tegler in the office of Student Services: ryleytegler@email.arizona.edu; 520-626-3200."