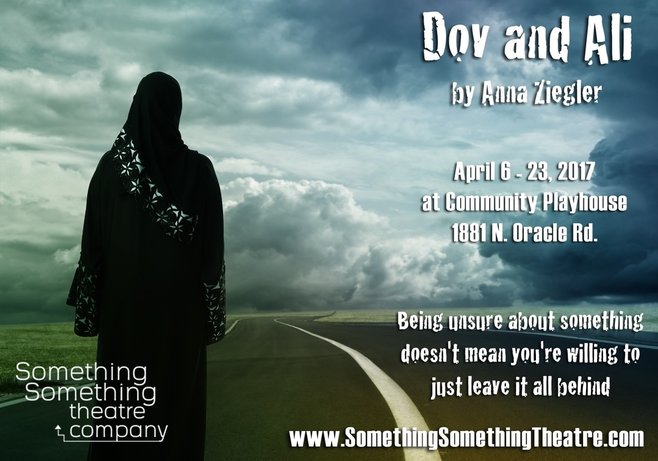 "A powerful dramatic play has just opened at the new Something Something Theater on Oracle Rd.  this week. It is a story by Anna Ziegler described  as "Sparked by their studies of Lord of the Flies by William Golding, a Jewish high school teacher and his Muslim student talk as equals about fate and free will, family and faith."
It is that, and a lot more…the four talented actors on stage  portray the English high school teacher (Dov) who wonders who he is, and what job he should have; then there is the coming-of-age graduating student (Ali) who questions the role of religion in society; Ali's younger sister (Sameh) who is dating a young man against her parent's wishes; another high school teacher who is Dov's girlfriend (Sonja).   The dialogue between these 4 actors goes back and forth about love, marriage, faith, dreams of their futures, rules — especially due to the undercurrent of the analysis of Lord of the Flies, where a different society was created, with its own rules.  Family relationships are shown, especially brother and sister, children and parents. Differences and parallels between Judaism and Islam are also addressed, through witty, clever dialogues.
My husband and I saw this play last night, and were both very impressed with the acting by all four actors, as well as the powerful themes presented in the play. Paul Hammack is Dov, Tyler Gastelum as Ali, Isabelle Tinsley as Sameh, and Callie Hutchison as Sonja.
I won't give away what happens to these four unique individuals, as I encourage our readers to see this gripping play, running for a few weeks till Sunday April 23, 2017.  Ticket prices are $22 general, $18 seniors/students/teachers/military. Phone 520-468-6111.  Showtimes are Thursdays to Saturdays at 7:30 p.m., Sunday at 2 p.m. "Dov and Ali" is directed by Joan O'Dwyer with Stephen J. Dunham as stage manager.
The theater at 1881 N. Oracle Rd. is a bit hard to find, it is on the west side of Oracle, south of Grant Road, between Lester and Plata, with parking in the back off  N. 13th Avenue. Website:  www.somethingsomethingtheatre.com.
Added bonus: the cast and director will sit on the stage after their performance to answer questions, explain their perceptions of the play, solicit input from the audience. The audience last night was very favorable, and had many comments and questions about free will/choices and belonging to a religious community.