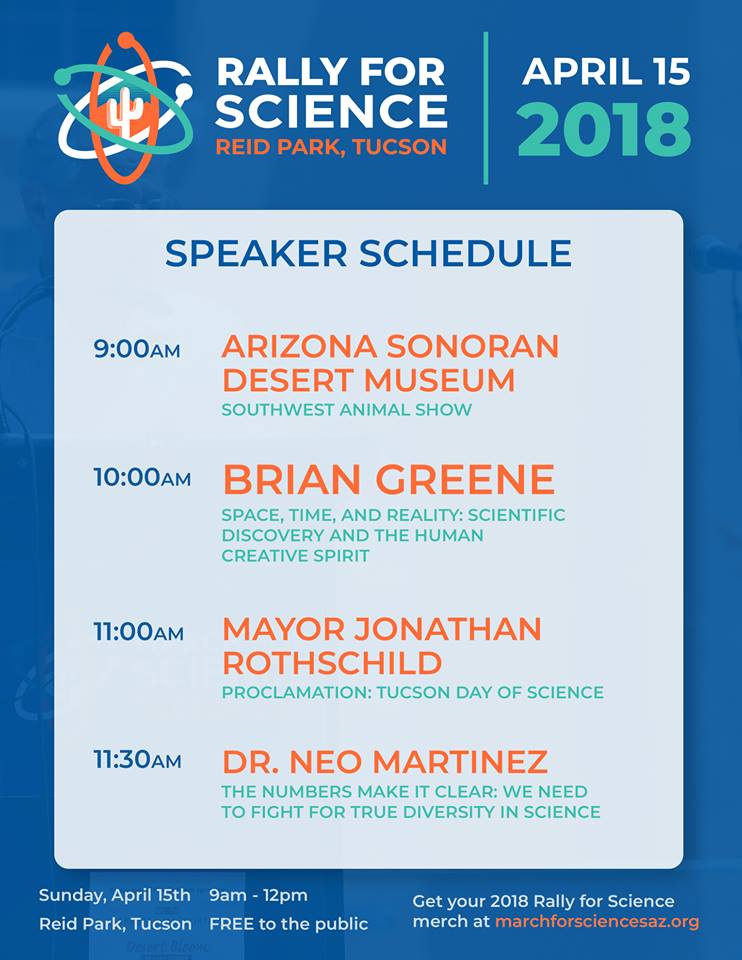 Hope your 2017 taxes for done, so you can show up on April 15 (tax day) at Reid Park to rally for science. Odd world in 2018 that people have to rally for something that is all around us in our daily lives, and a valuable disciple for most everything we do.
"KEYNOTE SPEAKER: BRIAN GREENE!!! (Brian Greene is Professor of Physics & Math at Columbia, & one of the world's leading theoretical physicists).
Interactive science booths, spectacular speakers, exciting demos, food trucks, more room, better space, and…BETTER PARKING!! That's right, March for Science Southern Arizona is having its 2nd annual Rally for Science at Reid Park's DeMeester Outdoor Performance Center on Sunday, April 15, from 9am-12pm.
This event is FREE and open to the public!
WE WANT YOUR INTERACTIVE BOOTH EXHIBITS, SPEAKERS, and STAGE-WORTHY DEMOS! If you'd like to participate in this way, please email Monica Kothe (monicakothe@gmail.com).
We also need VOLUNTEERS! If you'd like to help out, email us at: helpmarchforsciencesaz@gmail.com."
UPDATE:  map of booths, food trucks, etc. at Reid Park