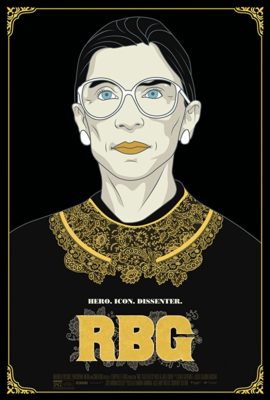 RBG
Starts Friday, MAY 11 at the Loft cinema, 3233 E. Speedway Blvd. Tucson
"Special thanks to our community partner NOW (National Organization of (for) Women).
As the United States Supreme Court leans increasingly to the right, Justice Ruth Bader Ginsburg's vigorous dissenting opinions and ferocious 20-push-up workouts have earned this tiny, soft-spoken intellectual giant the status of rock star and the title "Notorious RBG." What many don't know is Ginsburg's strategic, trailblazing role in defining gender-discrimination law.
Intent on systematically releasing women from second-class status, she argued six pivotal gender-bias cases in the 1970s before an all-male Supreme Court blind to sexism. Now 84, and still inspired by the lawyers who defended free speech during the Red Scare, Ginsburg refuses to relinquish her passionate duty, steadily fighting for equal rights for all citizens under the law. Through intimate interviews and unprecedented access to Ginsburg's life outside the court, RBG tells the electric story of Ginsburg's consuming love affairs with both the Constitution and her beloved husband Marty—and of a life's work that led her to become an icon of justice in the highest court in the land. (Dir. by Julie Cohen & Betsy West, 2018, USA, 97 mins., Rated PG)
May's Reel Reads Selection! Purchase a copy of Notorious RBG: The Life and Times of Ruth Bader Ginsburg by Irin Carmon and Shana Kinzhnik during the month of May and receive a special "Loft Reel Reads" discount off the cover price – 20% for Loft Cinema members and 10% for the general public. Copies of the book are available at The Loft Cinema and Antigone Books."
https://loftcinema.org/film/rbg/
UPDATE: Tucson NOW is co-hosting the opening night screening on May 11 of the RBG documentary at The Loft. "We'll also have a brief general meeting before the movie at 6:50 pm on the patio (the movie starts at 7:15 pm)."