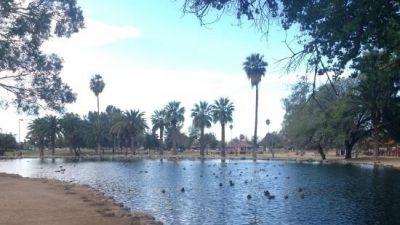 Many people in Tucson didn't know that the Reid Park Zoo plans to expand their tiger habitat west of the zoo, across the street and destroy Reid Park's lovely south pond (with ducks & turtles) and Barnum Hill with its waterfalls and streams.  This expansion is slated to occur in February 2021 and AZ Daily Star columnist Timothy Steller recently wrote about it on Dec. 13, pages B 1 and B5 entitled "Reid Park Expansion at Reid Park wrests away a cherished spot"and online here:
https://tucson.com/news/local/tim-stellers-opinion-zoo-expansion-at-reid-park-colonizes-irreplaceable-hill-pond/article_7e9fec78-393a-5d94-8ab0-6e185d972d2c.html
This south pond and adjoining hill has been open to the public for decades, enjoyed by countless families, many of whom love to feed bread to the ducks, geese, and birds.
As Stellar writes on page B5:
"Neither the south duck pond nor Barnum Hill should be colonized by the zoo, because they are unique, precious and freely accessible."
My husband and I, along with our son enjoyed that south pond and hill for decades and we would not like to see it taken by the Reid Park Zoo.  It is a family friendly, public space for all to enjoy. Once the Zoo takes it, then you have to pay to enter.  Current zoo prices are: Adults $10.50, Seniors $8,50, children 2 to 14 $6.50.  That's a lot of $ to pay for a family of 4 with children under 14. That cost would be $34.00.  The South pond is also currently a peaceful oasis with water features, which is rare in this desert city. The next closest city pond is at Ft. Lowell Park at N. Craycroft/E. Glenn Rd.
Proposition 203 which passed in 2017 to expand the zoo based on a sales tax increase narrowly passed by 633 votes, according to City of Tucson Elections Dept. I'm sure if the general public had known that the proposal including taking the south pond and Barnum Hill, that proposition would not have passed.  See language of Prop. 203 below.
The opponents with their group called Save the Heart of Reid Park have accumulated more than 18,500 signatures of residents opposed to this particular expansion. A solution would be for the zoo to expand elsewhere in Reid Park, maybe even a parking lot, and leave the beloved south pond and hill alone.
More info :https://www.facebook.com/groups/702874680371595
Change.org petition to save the pond: https://www.change.org/p/tucson-city-council-and-reid-park-zoo-save-the-reid-park-duck-pond
Go Fund Me Fundraiser: https://www.gofundme.com/f/save-the-heart-of-reid-park-barnum-hill-south-pond?fbclid=IwAR3P7KeGyLZI4v8VN5E1efYRIvqovXp2T6JRSElpuiQd32Q8b78Z1p9IiTU
Let's work together & hope for a reasonable solution to this problem.  Our family recently attended Reid Park Zoo's illuminated Zoo Lights 2020: Holiday Magic.  I am not opposed to any zoo expansion, just not at that popular location, a free open space for the residents and guests of Southern Arizona.
Proposition 203: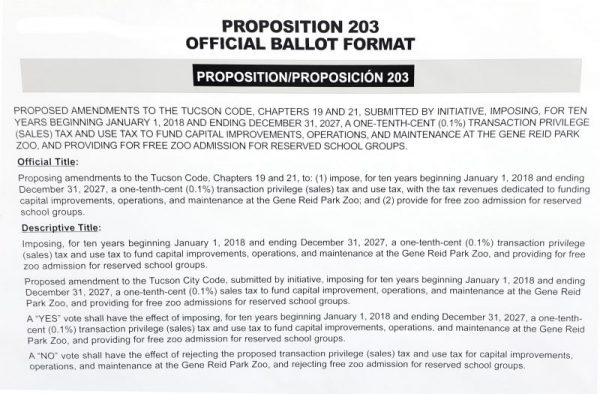 UPDATE 2/3/21: 2nd opinion against this zoo expansion by Tim Steller of AZ Daily Star:
https://tucson.com/news/local/tim-stellers-opinion-city-of-tucson-must-stop-takeover-of-reid-park-pond-hill/article_5e93662f-e00b-5298-b03f-84c3ca54b81a.html