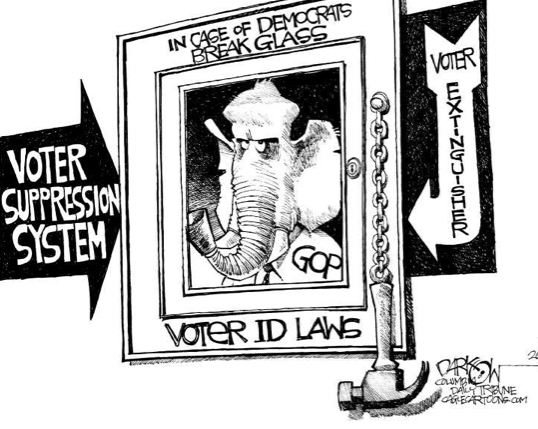 Legislative District 12 (Gilbert/Queen Creek) had 17,318 voters who voted by dropping off their ballots at polling locations throughout the district during the 2018 general election. It's estimated that 9,000 of those voters were Republicans. Republicans have pushed for voter change under SB 1046 that would require voters who request ballots by mail, to return their ballots by mail only.
Republicans introduced SB1046 to prohibit election officials from counting mail-in ballots that are returned in-person. SB 1046 severely restricts voter rights. Senate Judiciary Committee Chairman Eddie Farnsworth (R-District 12) voted in favor of SB 1046, which is tantamount to voter suppression. In light of the large number of Republican voters dropping off their ballots at polling locations in District 12, Senator Farnsworth voting in favor of this bill seems counter-intuitive.
The newly added language to the bill specifically reads:
"An elector who is on the permanent early voting list and who has received an early ballot may return the electors early ballot only by mail and may not deliver the voted early ballot to an on-site or other early voting location or to a polling place on election."
For what it's worth, there was a great deal of voter education taking place in District 12.
Democrats increased voter turnout by 29.6%. District 12 saw a turnout increase of 24.7% of all parties combined. This was the largest District turnout in all of Maricopa County. Further, primaries for the Senate Republican seat (Jimmy Lindblom: R and incumbent), Democratic and Republican House of Representative race (Democrats: Lynsey Robinson, Joe Bassacia, and DJ Rothans), Republicans (Blake Sacha, and incumbents); along with congressional Democratic candidates for the U.S. House of Representatives (Joan Greene and Jose Torres), gave the District a surge of voter excitement.
Although the numbers are largely in favor of Republican voters the data suggest that Republicans and or Independents in District 12 are voting Blue. Roughly 19,000 voters who are either Republican or Independent voted Blue. Roughly 25,000 of the estimated 33,000 Democrats voted this past cycle. The remaining 19,000 thousand votes for the State Senate race came by way of Republican and or independent voters.
The 2018 State House of Representatives candidate, Lynsey Robinson-D and U.S. House of Representatives, Joan Greene-D received the largest number of votes in comparison to their Democratic counterparts in past elections respectively.
As the Democratic party continues to produce quality candidates who understand, identify and is genuinely concerned about the issues that are at the heart of their communities, particularly as voter education is on the rise, Democrats expect more Republicans and Independents to vote Blue.
Voter suppression will not stop the inevitable
Executive Director Charlie Fisher of the Arizona Democratic Legislative Campaign Committee (ADLCC) put it this way, "Instead of asking hard questions about the issues and values Arizonans share, they [Republicans] continue to work to pass laws that restrict voting and make it more difficult to cast a ballot."
While Republicans are making it harder to vote, Democrats are fighting to increase accessibility by introducing five bills in the state legislature that put voters in control. From automatic voter registration to same-day voter registration. Democrats in Arizona are determined to protect our constitutional right to vote. Voting rights are a cornerstone of democracy. Voting is a fundamental value among all citizens and to allow legislation that would reduce that value creates a serious problem. We must fight all attempts to restrict voting and the suppression of turnout.