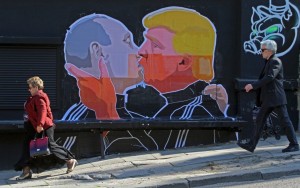 Donald Trump routinely attacks U.S. intelligence agencies and federal law enforcement agencies, because they are investigating his ties to Russia and Vladimir Putin. But Trump has not once ever said anything negative about his pal Putin — even as Russia is engaged in cyber warfare against the U.S., Russian mercenaries have attacked U.S. troops in Syria, and Russian agents are using illegal chemical weapons to kill Putin critics in Britain.
One thing no American president does is to congratulate the murderous dictator of a criminal kleptocracy who barred political opposition and rigged his election to secure another term.
Especially after this man-child president was specifically instructed not to do so by the s0-called adults in the room. Trump's national security advisers warned him not to congratulate Putin. He did it anyway.
President Trump did not follow specific warnings from his national security advisers Tuesday when he congratulated Russian President Vladi­mir Putin on his reelection — including a section in his briefing materials in all-capital letters stating "DO NOT CONGRATULATE," according to officials familiar with the call.
Trump also chose not to heed talking points from aides instructing him to condemn the recent poisoning of a former Russian spy in Britain with a powerful nerve agent, a case that both the British and U.S. governments have blamed on Moscow.
"We'll probably be meeting in the not-too-distant future," Trump said of Putin.
The president's conversation with Putin, which Trump described as a "very good call," prompted fresh criticism of his muted tone toward one of the United States' biggest geopolitical rivals amid the special counsel investigation into Russia's election interference and the Trump campaign's contacts with Russian officials.
Although the Trump administration has taken a tougher stance toward Russia recently — including new sanctions last week on some entities for election meddling and cyberattacks — the president himself has declined to forcefully join London in denouncing Moscow for the poisoning of Sergei Skripal and his daughter Yulia in Salisbury, England, this month. They remain critically ill.
* * *
Trump's failure to raise Moscow's alleged poisoning of the former spy in Britain risked angering officials in London, who are trying to rally Britain's closest allies to condemn the attack.
CNN reports that Trump is furious over leak of warning to not congratulate Putin:
President Donald Trump was infuriated after it quickly leaked that he had been directly instructed by his national security advisers in briefing materials not to congratulate Russian President Vladimir Putin on his recent election victory during their call Tuesday morning, a source familiar with the President's thinking said.
Trump was fuming Tuesday night, asking his allies and outside advisers who they thought had leaked the information, noting that only a small group of staffers have access to those materials and would have known what guidance was included for the Putin call, the source said.
According to the source, the incident resurfaces his long-held belief there are individuals inside his administration — especially in the national security realm — who are actively working to undermine him.
White House chief of staff John Kelly also is furious that a confidential presidential briefing became public knowledge, a White House official said, and intends to address the matter Wednesday as aides try to figure out who disclosed the warning.
They are patriots, sir, exposing a president who is compromised by his ties to Russia.
Senator John McCain said in a statement yesterday:
Washington, D.C. ­– U.S. Senator John McCain (R-AZ), Chairman of the Senate Armed Services Committee, released the following statement today on President Trump congratulating Vladimir Putin on his "election" victory:

"An American president does not lead the Free World by congratulating dictators on winning sham elections. And by doing so with Vladimir Putin, President Trump insulted every Russian citizen who was denied the right to vote in a free and fair election to determine their country's future, including the countless Russian patriots who have risked so much to protest and resist Putin's regime."
Well said, senator.
After the president approved the release of the Nunes Memo authored by Republicans on the House Intelligence Committee last month, McCain suggested that Trump was "doing Putin's job for him."
But what about Trump enablers like Sen. Bob Corker (R-Tenn.), chairman of the Senate Foreign Relations Committee? He appeared less concerned, noting that Trump has also offered congratulations to other leaders of more totalitarian states. "I wouldn't read much into it," Corker said.
Trump's applause of Putin's victory was in line with other congratulatory calls he has made, including to Turkish President Recep Tayyip Erdogan for winning a much-disputed referendum that increased his already autocratic powers, and to China's President Xi Jinping for his "extraordinary elevation" after Xi last month engineered the Communist Party's elimination of presidential term limits.
"I think it's great. Maybe we'll have to give that a shot someday," Trump said in a closed-door speech to Republican donors at his Mar-a-Lago Club in Florida several weeks ago, a recording of which was obtained by CNN.
The Hill adds, Trump faces backlash after congratulating Putin on election win:
The phone call renewed questions about Trump's approach toward Russia, which is frequently at odds with U.S. allies, Congress and even some members of his own administration.
The U.S., Germany and France all joined Britain last week in saying Russia was responsible for a nerve-agent attack in southern England on former spy Sergei Skirpal and his daughter, which left both critically ill. Moscow has denied the accusation.
Days later, Putin was elected in a contest that international organizations said was tainted by ballot-box stuffing. There were also multiple reports of poll-watchers being blocked from carrying out their duties.
Leading Putin opposition figure Alexei Navalny was barred from running due to a criminal conviction that the Kremlin's critics said was politically motivated.
"Restrictions on the fundamental freedoms of assembly, association and expression, as well as on candidate registration, have limited the space for political engagement and resulted in a lack of genuine competition," the Organization for Security and Cooperation in Europe wrote in a report on the election.
Trump mentioned none of those issues when speaking to reporters in the Oval Office about his "very good" phone call with Putin.
"I suspect that we'll probably be meeting in the not too distant future to discuss the arms race, which is getting out of control," the president said. "But we will never allow anybody to have anything even close to what we have."
Trump also said he wanted to discuss the conflicts in Ukraine and Syria, as well as North Korea's nuclear program. The Kremlin said in a statement the leaders gave "special attention" to arranging the meeting during their phone call.
White House press secretary Sarah Huckabee Sanders later said that there are "no specific plans made at this time" for a meeting between Trump and Putin.
The comments come amid heightened tensions over Russia's election meddling, which U.S. officials fear may happen again in the midterm elections this fall.
The Trump administration just last week imposed new sanctions against Moscow for its election interference in 2016 and other cyberattacks, steps that officials described as an effort to deter future meddling.
Trump, however, is facing calls from Congress to impose further penalties on oligarchs and other influential Russian figures.
And just yesterday, Senators Warn About Russian Election Meddling and Call for Paper Ballots:
The Senate Intelligence Committee offered recommendations on Tuesday for securing American elections from foreign attacks, pressing states to buy voting machines that produce paper ballots and to secure voter databases, and calling for better cooperation between state and federal elections officials ahead of November's midterm elections.
[T]he panel also urged the Trump administration to make clear that it would not tolerate any attacks on systems used to run elections.
"The U.S. government should clearly communicate to adversaries that an attack on our election infrastructure is a hostile act, and we will respond accordingly," the committee's Republican chairman, Senator Richard M. Burr of North Carolina, and Democratic vice chairman, Senator Mark Warner of Virginia, said in a statement.
The administration has been criticized for what many consider a tepid response to Russian interference in 2016 election and warnings about Moscow targeting this November's elections.
* * *
The senators called on Congress to "urgently" make available funds and other resources for states to update voting software and systems, institute vote audits and hire additional staff and contractors focused on cybersecurity.
The senators said 14 states had used at least some machines in 2016 without a paper trail that could be audited. Five states used only those machines.
At the same time, they took pains to make clear that while it was the states' responsibility to run their own elections, the federal government should play a significant role in monitoring threats and providing resources. Both were to blame for missteps in 2016, they said.
"We were all disappointed that states, the federal government, the Department of Homeland Security were not more on their game in advance of the 2016 elections," Mr. Warner said. While the department had made important improvements since then, he added, it was still a work in progress.
The Intelligence Committee is likely to try to illustrate those breakdowns and possible solutions on Wednesday during a hearing with Homeland Security and state election officials on attempted attacks by the Russians on state election systems in 2016 and the federal response.