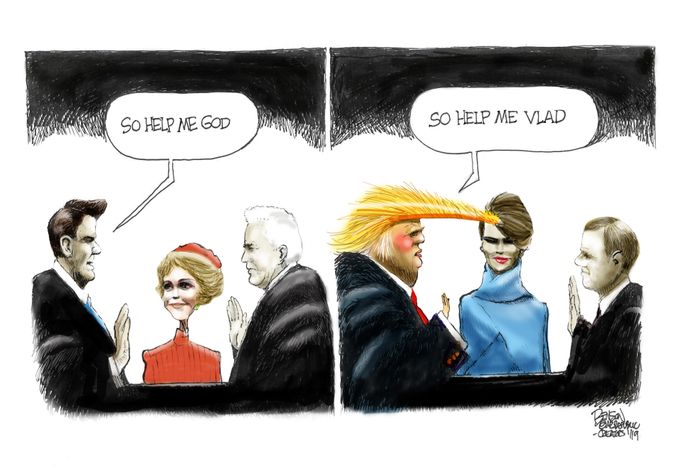 The war on journalism by conservative corporate interests continued yesterday.
The Gannett Company, like Sinclair in other media outlets, is apparently attempting to steer the bias of journalistic coverage towards a conservative orientation. The latest example is Gannett's January 23, 2019 decision to lay off 1993 Pulitzer Prize-Winning Editorial Cartoonist Steve Benson.
Working at the Republic since 1981 (with a brief sojourn in Tacoma in the early nineties), Benson has been an equal opportunity editorial cartoonist, poking fun at both Democrats and Republicans. He, like the recently laid off Rob Rogers in Pittsburgh, has been especially diligent at satirizing the shortcomings of the Trump Administration. He is undoubtedly one of the reasons people subscribe to the Arizona Republic and AZ Central. He is an asset to the journalistic field and the public. How this lay off financially benefits Gannett over time is questionable.
Corporate Interests have been trying to suffocate local and national journalistic outlets for several years now. The small town and city/regional papers are disappearing across the country or becoming shells of what they once were. As mentioned earlier, other corporate interests are attempting, with some success, to have their news organizations parrot the conservative gospel as mainstream.  Our own President openly ridicules mainstream periodicals and television news channels repeatedly calling them and their reports "fake news."
This manipulation of our press by these means is only bad for our Democracy and citizenry. For a Democracy to be vibrant and successful, the citizens need to be well informed by accurate representations of current events. This can not happen if the people best charged with conveying the message are laid off or if parent organizations control what the reading public gets to see.
Hopefully, Gannett will rethink its decision to lay off Mr. Benson. If not, there are probably many outlets that will recognize him for the journalistic asset that he is and vie to retain his services. Hopefully, people will not have to wait long to see the next Benson cartoon.
https://www.azcentral.com/story/opinion/op-ed/2019/01/24/steve-bensons-cartoons-arizona-republic-layoff/2662766002/
https://www.phoenixnewtimes.com/news/layoffs-hit-arizona-republic-as-gannett-faces-hostile-bid-11179244