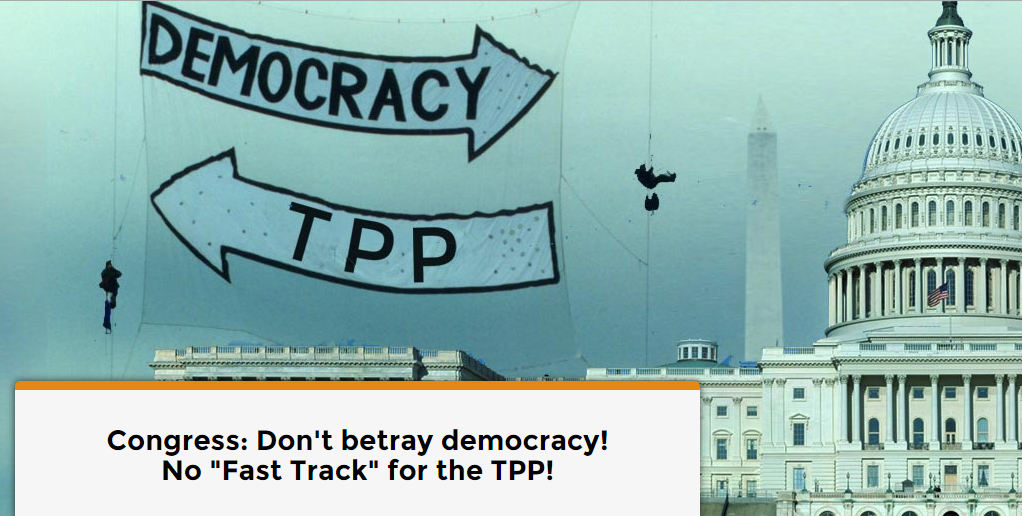 Activists around the globe are fighting the secret 
corporate takeover
 "free" trade deal know as the Trans-Pacific Partnership (TPP). The fast track authority for the TPP is being heard in Congress now. Republicans and President Barack "Wall Street" Obama want the TPP fast track authority to pass. (Fast track authority allows presidents to negotiate trade deals without all of those messy Congressional debates and any of that unpredictable public input. This is how we got NAFTA and multiple other "free" trade deals that have hurt American workers.)
Progressives and most Democrats in Congress are against the TPP and fast track authority– mostly because it is a SECRET deal negotiated by 600 corporations and what we do know about it is bad for middle class Americans. (Only selected sections of the TPP have been released by 
WikiLeaks
. Obama has been keeping the rest a secret. Why?!)
Recently the
Arizona Daily Star
reported that Congressional phone calls on the TPP are running 25 to 1 against it. To keep up the pressure, a national day of Congressional phone calls has been planned for June 3. Below are the details from the 
Citizens Trade Campaign
. #StopFastTrack #FlushTheTPP
Ways & Means Chair Paul Ryan (R-WI) is pushing to bring Fast Track legislation for the digital-rights-impairing Trans-Pacific Partnership (TPP) to a vote in the House.  Please call your representative now at 888-804-8311 and urge them to vote NO on Fast Track.
Representative Ryan's Fast Track bill has already passed in the Senate, and if approved by the House, would allow secretive trade deals like the Trans-Pacific Partnership (TPP) to be rushed through Congress with dangerous consequences for online innovation and user rights.
Despite being under negotiation for years now, the American public has been barred from reviewing what TPP negotiators have been proposing in our names.  Meanwhile, representatives of well-connected industry groups like the Motion Picture Association of America, AT&T and Verizon have had special "cleared advisor" status which provides them with privileged access to the TPP texts and TPP negotiators.
Providing a Fast Track rubber stamp to back-room trade deals sight unseen is NOT the way to make sound public policy in a democracy.  Just last month, hundreds of online businesses warned that leaked TPP texts reveal that the pact "threatens fair use, could lead to more costly forms of online copyright enforcement, criminalize whistleblowing and investigative journalism, and create investor-state dispute settlement (ISDS) courts that would further jeopardize user protections in domestic laws."
The TPP is bad for American workers. As written, the TPP would force working Americans to compete with sweatshop workers overseas in countries like Vietnam, where the minimum wage is less than 60 cents an hour, and in Malaysia, where up to a third of workers in the countries export-oriented electronics industry are forced laborers — a euphemism for modern-day slaves.
Granting a Fast Track rubber-stamp for the TPP would accelerate a global race to the bottom in wages and working conditions that nobody wins — except, of course, for big, transnational corporations that are eager to exploit labor abuses abroad to pad their obscene profits.
The good news is that, together, we can win this fight.  Literally thousands of organizations — representing the environmental, family farm, civil rights, consumer, labor, LGBT, student and other movements — have united with the Internet freedom movement in saying 
NO to Fast Track
.  We need your voice, too.
This really is the time for action.  Fast Track proponents are trying to move quickly.