On September 6, 2022, close to 200 Arizona Public School Superintendents sent a letter to Governor Doug Ducey, asking him to call a special session of the State Legislature to waive or repeal the Aggregate Expenditure Limit (AEL) so schools will not have to fear, like last year, the prospects of losing the funds allocated to them in the 2022/23 budget.
Arizona Superintendent of Public Instruction Kathy Hoffman, a constant voice on doing just that, expressed her agreement with the local education leaders, posting on social media:
The AEL is an outdated policy that threatens district schools with over $1 billion in budget cuts. I stand with the 190 superintendents & I'm reiterating my call for a special legislative session to waive the antiquated and unnecessary AEL. https://t.co/604gVtC9I9

— Kathy Hoffman (@kathyhoffman_az) September 8, 2022
On September 15, 2022, she joined many Arizona Democratic Legislators asking the Governor to call the special session because districts, as early as November, may need to send notices to schools, informing them of pending budget cuts should the AEL not be waived or repealed. KTAR News covered the event.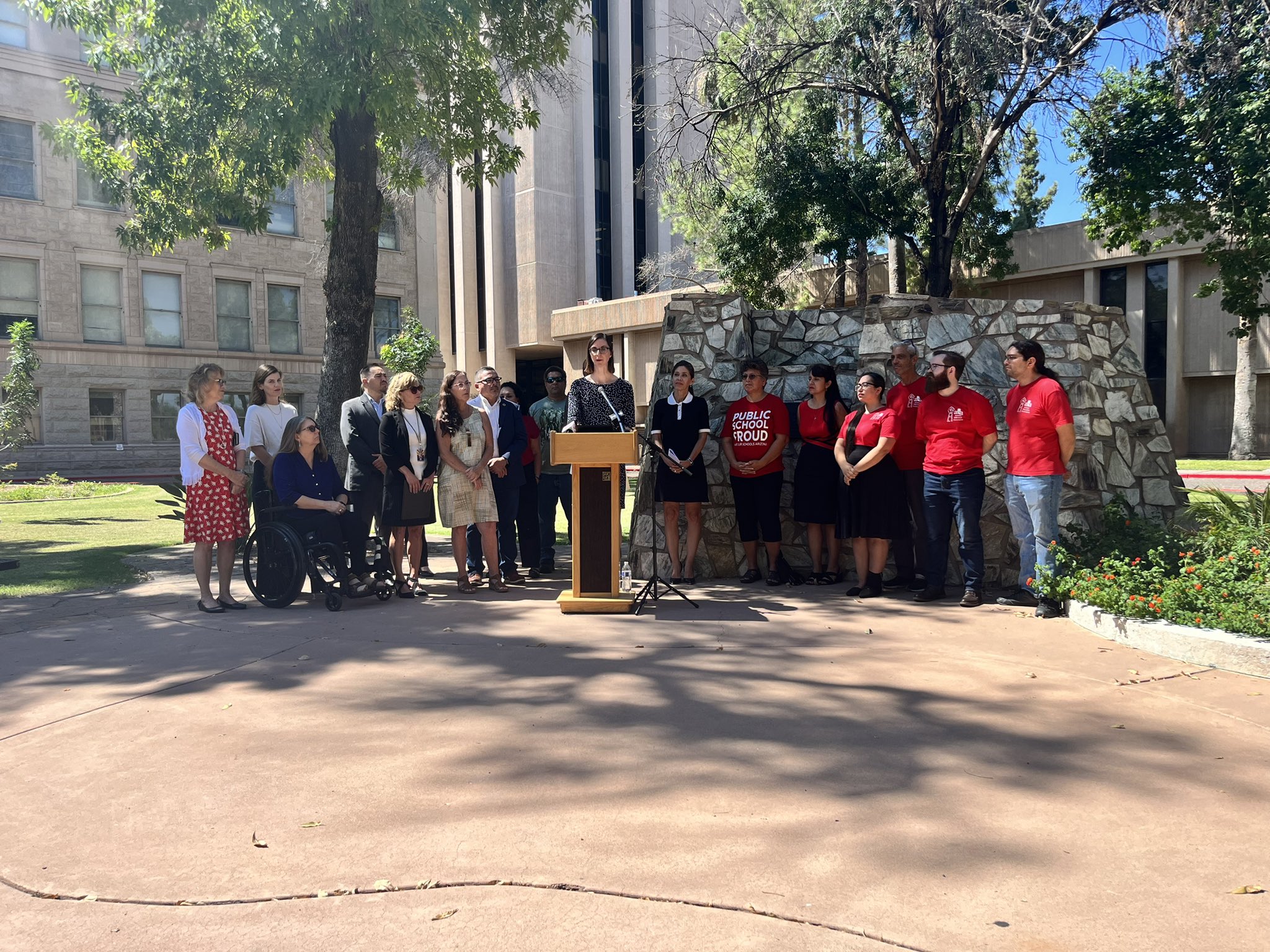 Superintendent Hoffman said:
"If we do not lift the cap, as has been said, we will lose over $1.3 billion dollars for our schools resulting in devastating changes to the way public education works in Arizona. It would result in teacher layoffs, leading to larger classroom sizes, and poor learning outcomes for kids…It's time for Governor Ducey  to uphold the promise he made to legislative leaders and give all our schools the certainty they need so that they can give our students the resources needed to achieve their full potential."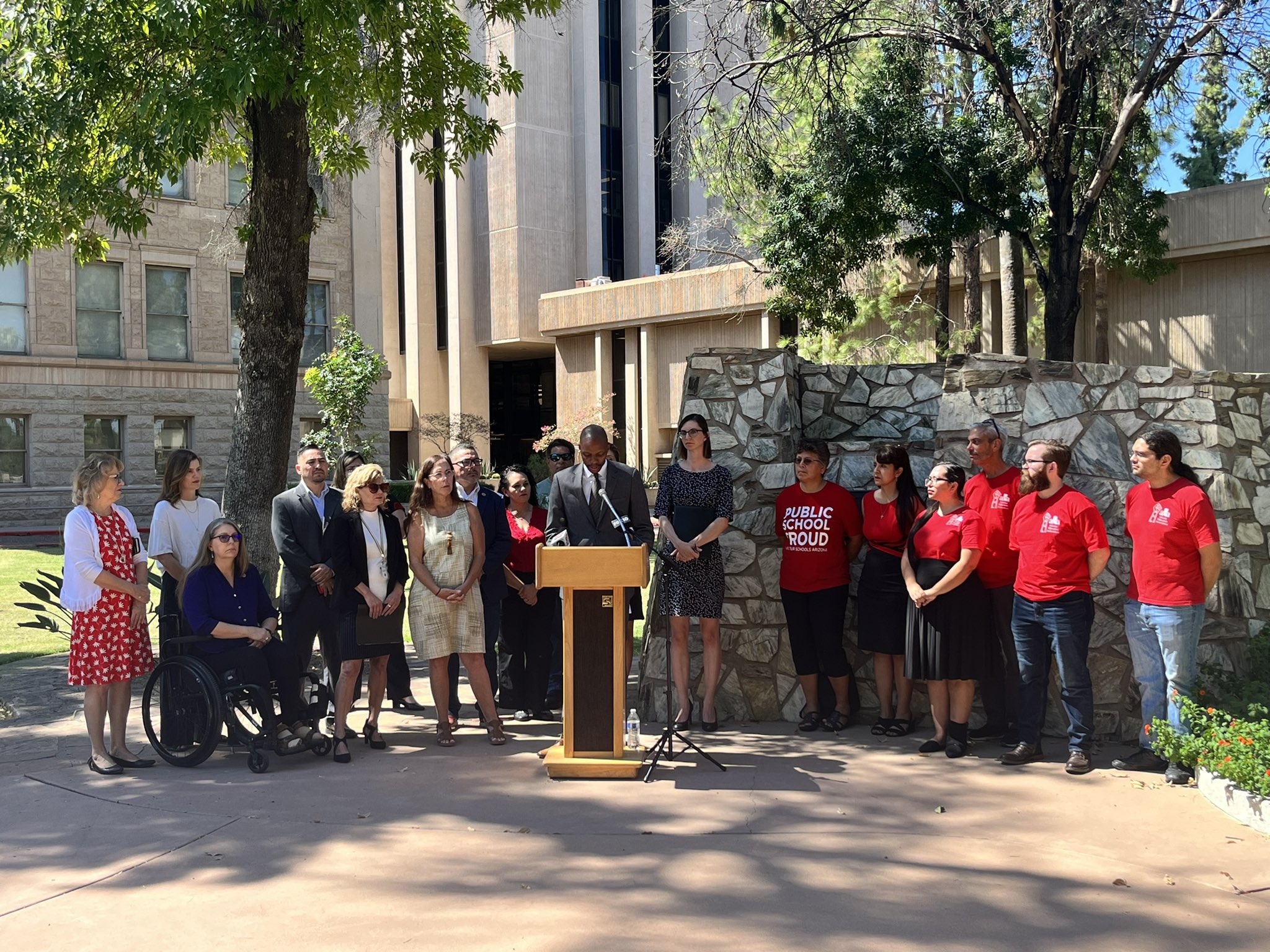 Democratic House Leader Reginald Bolding, pointing out that several Republican Legislators voted to waive the requirement last session, called on them to do the same again, stating:
"Any change in position of that yes vote on education is either political games being played or plain dishonesty. We are ready to work. We are ready to work. We are ready to keep our promise to our kids and their future. We are ready to take our colleagues and the governor at their word to support our public schools."
The Senate and House Democrats also sent the below press release:
For Immediate Release: pic.twitter.com/8ZdbuAjag1

— Arizona Senate Democrats (@AZSenateDems) September 16, 2022
State Senator Christine Marsh, who was at the event, asked an obvious question, posting:
"'What is the point of giving our public schools money but not allowing them to spend it?'" https://t.co/KNce0PAxdp

— Senator Christine Marsh (@ChristinePMarsh) September 16, 2022
The Governor's office, according to reporting by KTAR, said he would consider calling a special session if the votes were there.
Look for Ducey and Republicans to either:
Screw with Public Schools if the Initiative to repeal the voucher expansion receives the signatures needed to qualify for the ballot and takes no action until the very last minute when constituents are calling their offices 24/7 demanding the funding be spent.
Try and work out a special session deal with Democrats on voucher expansion for permanent repeal of the AEL.
This letting public schools twist again the funding wind for the second year in a row is another reminder of why it is important to elect leaders that will put children first like Superintendent Hoffman, Secretary of State Hobbs, legislators like Mitzi Epstein, Christine Marsh, Jennifer Pawlik, and Judy Schweibert (who have developed their own Plan to Invest in Arizona's Children,) and candidates that support their proposals on November 8, 2022.
Put Children First.