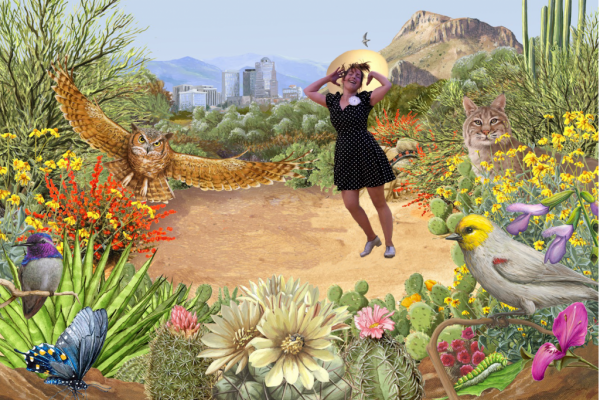 "Sustainable Tucson closed the year with a virtually festive party (December 8, 2020)– Sustainapalooza! — featuring an exciting group of Tucson performers in many genres. We thank them all for a delightful and entertaining evening celebrating Sustainability. Special thanks go to Jana Segal-Stormont and Dan Stormont, for organizing and making possible this special event.
Title page artwork was based on the EcoNook poster created by Bill Singleton for the Pima County Department of Environmental Quality. Please check out his other work here:
http://bill-singleton.blogspot.com/
.
You can enjoy or revisit Sustainapalooza!, with an audio update, on Youtube."
Thank you to these wonderful performers:
Roxanna Denise Stevens Ibarra played a selection from Beethoven's Spring Sonata on the violin during the opening.
Clogger Katie Popiel danced to "Big Yellow Taxi."
(Katie also choreographed our music video parody, "No! That isn't recyclable.")
The Sedonuts (Chris Redish and Sheri Richards) performed Improv Comedy.
Robin Motzer shared her art and her poem, "I AM Nature, We Are Nature."
Imagine One Heart Beat – Method to the Madness (Stella Di Rossi was present)
Guardabosques – Guardians of the Forest, by Mari Cleven
Reading from the play "Regeneration" by cast members (Eduardo Rodriguez, Victor Garcia Rodriguez, Judith Eisenberg, Ariel Cheng)
"Traditions with Family," a short film by Tierra Domingo
Storyteller Marc Severson performed "The Tortoise and Coyote."
Excerpt from Michele Gisser's "Patagonia Treasure Trail"
Connie Brannock from Little House of Funk performed her song, "Greta the Great Horned Owl."
"The Beaver Family," by Storyteller Jana Segal-Stormont
Bryce J Rogers performed his song, "Consumer Minds."
(Join A Desert Feast author Carolyn Niethammer in the kitchen for a tasty cooking demo.)
Storyteller Jeremy Segal performed "The Bumble Bee Caper."
Duane Ediger and Jana Segal-Stormont wrote and performed the sing-a-long, "Sustainable Things."
Carolyn's note: Watch this eclectic video from the festive Sustainable Tucson celebration on Dec. 8, 2020. I missed it live, but here's the youtube video and list of talented performers/contributors. Co-host Jana Segal has been blogging for us here at Blog for Arizona. I also know Marc Severson, storyteller from the Tucsoncitizen.com days. Enjoy this video and practice some of the sustainable tips given, into the new year 2021. I especially enjoyed the "Patagonia Treasure Trail" film clip, as my husband and I just went on a long hike through nature & watering holes yesterday, and realized how important it is to be out in the wild again.