Voters residing in Arizona Legislative District 25 (an area covering North Central and North Eastern Mesa) would find the Clean Elections Debate for the District Nominees on August 20, 2020, illuminating.
Please click below to watch.
LD 25 voters would be surprised (annoyed may be a better word) that two Republican candidates, State Representative Michelle Udall and State Senator Tyler Pace did not appear at the event.
It would seem that debates are still kryptonite to most Republicans. People should respond on election day voting for candidates (like the two Democrats that showed up, Suzanne Hug and Paul Weigel) that are not kryptonite to them.
House Speaker Rusty Bowers did appear, and he tried (with some success) to be folksy, the nice grandfather who has command of proverbs, nostalgic quotes, and all the fringe conservative talking points. There were times he seemed inattentive to what the others were saying. He almost rambled.
What was astounding is that Mr. Bowers (who did support mail-in voting) peddled right-wing nonsense about the State doing a lot for the unemployed, saying we should let people choose whether or not to wear a mask, and Republican policies are business-friendly.
What is the state doing to help the unemployed? Even Bowers said he could not live on $240 a week?
Bowers said the "heavy hand of government" should not prevent people from having the right to choose. Does that extend to women with respect to reproductive choice in the first trimester of pregnancy?
He said Republicans are friendly to business. The voters need to realize that is code for Republicans supporting lower wages, lax regulations that make the work environment and the water people drink less safe, low corporate taxes, and the inability to form unions.
The star of the debate was businesswoman and House Democratic Nominee Suzanne Hug. While the Senate Democratic Candidate Pail Weigel performed well (especially in the last third) of the debate, it was Ms. Hug, a candidate endorsed by former Presidential Candidate Andrew Yang, who presented a compelling case for her candidacy and command of the issues that had the other two attending candidates noticeably impressed.
Ms. Hug is also not shy, unlike the Republican candidates, about reaching out to voters and conducting virtual townhalls on subjects like education and COVID 19 (the Coronavirus.)
Pledging to "bring back balance and listen to all voices in the district," Ms. Hug vowed to put the people's "issues" first and "fight for them" in building a "better tomorrow" for the residents in LD 25 and Arizona.
Wanting to create a forward direction atmosphere where everyone with a good idea could become a successful entrepreneur. Ms. Hug "is tired of seeing our government ignoring the needs of myself and my neighbors."
If elected, she would work to improve and better fund public education, construct a sustainable economy, cut redundant "red tape," and improve voting rights.
Commenting on the debate, Ms. Hug said:
"I appreciated the opportunity to share my thoughts and vision with the voters of LD25. We have a lot of work to do and I would be honored to represent my neighbors."
 A week after her debate with Speaker Bowers, Ms. Hug graciously took the time to discuss her candidacy.
The questions and her responses are below. 
1) Please tell the voters three reasons they should pick you over your Ms. Bowers and Ms. Udall?
"I am ready to change politics as usual and fight for kitchen table issues. My opponents have had years to work on the problems facing Arizona, it's time for a different approach. 
If you're ready for schools to stop asking for override money because they're funded, vote for me."
"If you want someone who has experience with small business and job creation, vote for me. 
If you want someone who will value your life and your livelihood regardless of the amount you can donate, vote for me."
"I have a vision of a strong and prosperous Arizona. I want local businesses to build solar covered parking lots so our well-paid teachers can have cool cars and our schools have clean energy to power world-class learning.  We can make our streets clean and safe, with strong support programs for our at-risk folks and transition programs for foster kids to find a path to education and employment. I imagine every child in Arizona with healthcare and ever senior too, with a program in place to close the gap in between. And I see a future where our graduates plant roots and build their families and lives here because Arizona is the best place to live. I will work for a transparent and responsible legislature who understands the challenges of our day, and quietly supports the lives and aspirations of all our people."
2) Please tell the voters at least three ways Mr. Bowers and Ms. Udall have failed the voters of LD 25.
"As a resident of LD25 I've been disappointed that our current representatives are out of touch with our community. They have failed to communicate with us and advocate for us. For many years, they have been inaccessible and refused to meet with many constituent groups. 
They have failed to provide a balance to Doug Ducey and demand a safe reopening for Arizona. 
They have failed to appropriately fund our schools and left the work to voters to keep our schools afloat."
3) Please tell the voters at least three domestic issues you feel are important to pursue if you are elected to the Arizona State Legislature?
 "Arizona has a wealth of people and resources, which can be used in a sustainable way to bring us back better than ever. My top three domestic issues are health and safety to get us out of this COVID crisis, school funding to fix that long-standing issue, and voting rights so that we can have free and fair elections going forward."
4) Please tell the voters at least three international issues you feel are important to pursue if you are elected to the Arizona State Legislature?
 "I want to limit foreign ownership of land and water rights in Arizona. I want to make sure our local businesses have access to foreign markets for their goods, including support for our Postal Service. We need oversight of all refugee detention centers in Arizona and establish basic humanitarian sanitation and expedited processing."
5) Should Governor Ducey call a Special Session? If so, what are at least two issues that should be covered in it?
"I am not convinced a special session would be put to good use right now. With a GOP lead house and Senate following the party line, they are more likely to ignore and downplay critical needs than to problem solve. I think public pressure on the governor is a more effective way of guiding public policy at this time." 
6) Is there anything you would like the voter to know about you or your candidacy that has not been asked in the first four questions.
"I'm a practical mom who is tired of seeing our government ignoring the needs of myself and my neighbors. We talk about bills, school, and safety at my kitchen table, just like you do. But we also have hopes and dreams that cannot be deferred. The government should be a tool for progress, but it's out of balance and broken. I understand how that can feel dark and hopeless. We're going to have a returning GOP representative for LD25 no matter what, so I'm asking supporters of myself and my vision to vote strategically and cast only one vote for LD25 AZ House. It's time for fresh leadership and a bright vision for our future."
Voters in LD 25 should give Suzanne Hug a chance to represent them. She, unlike her Republican opponents, would reach out to them and work to build a better future for the people and their families.
Can that be said for business-friendly Rusty Bowers or no-show to the debate Michelle Udall?
For more information on Suzanne Hug and her candidacy, please click on her website here,  her Facebook Page here, her interview with Maricopa County School Superintendent Candidate Jeanne Casteen here, her previous interview with Blog for Arizona here.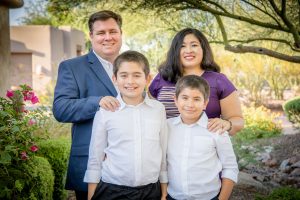 Please also access her Campaign Fact Sheet and Press Kit below.