There appears to be a trend developing among liberal progressive pundits.
Steve Benen today looks at Tuesday's election results and notes, Democrats struggle with the down-ballot blues :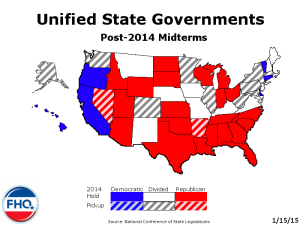 Republican strategist Rory Cooper published a tweet that included some eye-opening data this morning. It quickly received widespread attention, which was well deserved.
"Under President Obama, Democrats have lost 900+ state legislature seats, 12 governors, 69 House seats, 13 Senate seats. That's some legacy."
I'll confess I haven't fact-checked each of the specific data points, but roughly speaking, Cooper's tally sounds about right. I think the suggestion that President Obama is responsible for the losses is largely misplaced, but quantitatively, the figures paint a damning, accurate picture.
And it's assessments like these that have led to all kinds of commentary, especially on the heels of yesterday's election results, about the Democratic Party's deep rooted, institutional-level challenges. The critiques are hard to avoid and they ring true: the party's problems at the state level have reached crisis levels; the party has no credible farm team to cultivate future gains; there's an entire region in which the party finds it difficult to run competitive statewide campaigns; etc.