While the nation is transfixed with the tragedy of two mass shootings over the weekend, and the failure of our white nationalist president and his enablers in Congress to address white terrorism and gun violence with any serious legislation, you may have missed that Trump's trade wars took a turn for the worse on Monday.
Dow plunges 760 points as Wall Street suffers its worst day of 2019:
Wall Street had its worst day of the year on Monday, with the Dow Jones Industrial Average sinking 766 points, the S&P 500 down 2.98%, and the Nasdaq Composite down 3.47%.
Equity declines in the U.S., as well as the plunge in Treasury yields, reflect fears that President Trump's trade war with China is escalating.
The sell-off started on Thursday and continued on Friday after Trump announced a 10% tax on the remaining $300 billion worth of imports from China.
On Monday, China retaliated by allowing the yuan to weaken past 7-to-1 against the dollar, while also announcing that it would halt purchases of U.S. agricultural products.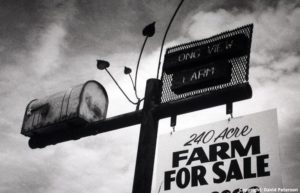 All those farmers who are being paid bribe money, er, socialist bailout money from the Trump administration to keep them in the Trump fold just lost a lucrative market that they spent years cultivating, and it's not coming back any time soon. You've been screwed, blued and tattooed by your "Dear Leader."
Yahoo Finance talked to dismayed America farmers:
"This is just another nail in the coffin," Tyler Stafslien, a North Dakota-based soybean farmer, told Yahoo Finance. "To see this thing only seems to be getting worse rather than better is very concerning, and the American taxpayers may have to foot another round of funding if this keeps up — or we could see a ton of farmers' loss throughout this nation."
American Farm Bureau Federation President Zippy Duvall said that the pain extended across the country.
"China's announcement that it will not buy any agricultural products from the United States is a body blow to thousands of farmers and ranchers who are already struggling to get by," Duvall stated.
When you file for bankruptcy and have to sell off your farm that has been in your family for generations, just remember who is responsible: Donald Trump, and you for putting your faith in this grifter and con man. Are you "tired of all the winning" yet?
On Monday, U.S. Treasury Secretary Steven Mnuchin declared China to be a currency manipulator, just hours after the Chinese government allowed the yuan to slip below a 7-to-1 dollar ratio for the first time in a quarter century. Treasury Declares China A 'Currency Manipulator,' Escalating Trade War:
The Treasury Department formally labeled China a currency manipulator Monday, after Beijing allowed its currency to fall to an 11-year low. The tit-for-tat moves mark the latest escalation in the two countries' trade war, which triggered a sharp sell-off on Wall Street.
While President Trump has long accused China of tinkering with its currency to gain an unfair advantage on world markets, this is the first time in a quarter century the U.S. has formally accused Beijing of currency manipulation.
The Treasury secretary will work with the International Monetary Fund "to eliminate the unfair competitive advantage created by China's latest actions," the department said in a statement.
"Any investor who had anticipated that President Xi and President Trump would shake hands and reach some kind of an agreement by year-end is probably scratching that scenario off their blackboard," said Jack Ablin, chief investment officer of Cresset Capital in Chicago.
The Washington Post reports, Wall Street's rough day could presage turning point in trade war:
[T]he market's recent slide has returned the S&P 500 to its level in January 2018, when Trump first launched the trade wars by leveling tariffs on imports of washing machines and solar panels.
From Liz Ann Sonders, chief investment strategist at Charles Schwab & Co.:
And the wider threats remain. Indeed, the danger now is the conflict could spiral well beyond the one-day carnage on Wall Street, with economists and market watchers pointing to the possibility of a global currency war, the permanent delinking of decades-old U.S-China supply chains, and a rising specter of recession.
* * *
[T]he risks posed by the widening conflagration may overwhelm the Fed's limited ability to mount an effective response (a subject former Obama administration economist Austan Goolsbee explores more here). Yields on government debt plunged around the world Monday as investors sought haven from the possibility of a more severe slowdown in economic growth. In the U.S., rates on 10-year Treasuries hit a low not seen since Trump's election.
And the spread between yields on three-month bonds and those longer-term notes hit their widest point since before the 2008 financial crisis — a phenomenon known as a yield curve inversion, considered a reliable predictor of a looming recession.
More: Bloomberg News reports Yield Curve Blares Loudest U.S. Recession Warning Since 2007:
The latest eruption in the U.S.-China trade dispute pushed a widely watched Treasury-market recession indicator to the highest alert since 2007.
Rates on 10-year notes sank to 1.714% on Monday, completely erasing the surge that followed President Donald Trump's 2016 election. At one point, they yielded 32 basis points less than three-month bills, the most extreme yield-curve inversion since the lead-up to the 2008 crisis.
The moves follow reports that China is responding to the American president's threat of more tariffs by allowing the yuan to fall and halting imports of U.S. agricultural products. Many major investors expect the slide in 10-year yields to continue given the risk that a protracted dispute creates for markets.
Former Treasury Secretary Larry Summers was one among many sounding alarms about the peril of the situation:
In the shorter term, continued escalation between the U.S. and China could pitch the global economy into recession in as little as nine months, Morgan Stanley chief economist Chetan Ahya predicted in a note. "As we view the risk of further escalation as high, the risks to the global outlook are decidedly skewed to the downside," he wrote, per CNBC. "Global central banks, in particular the Fed and [the European Central Bank], will provide additional monetary policy support. But these measures, while helpful in containing downside risks, will not be enough to drive a recovery until trade policy uncertainty dissipates."
But there's an even more fundamental shakeup potentially under way beyond the tit-for-tat retaliation between Washington and Beijing and its shorter-term ravages, Neal Shearing of Capital Economics writes — "namely, we may be witnessing the end of globalisation."
"There is a significant risk that the current trade war between the US and China represents the start of a wider backlash to globalisation that ultimately leads to the disintegration of the liberal rules-based system that has governed the cross-border flow of goods, capital and labour over the past 70 years. It's even possible that this might lead to an eventual Balkanisation of the global economy, with US-, and China-led spheres of influence, each with separate payment systems, regulatory standards and technological platforms."
Pressure from existing tariffs and the threat of new ones has already started severing U.S.-China supply chains, as firms that rely on Chinese facilities have shipped production elsewhere.Much of it has moved to Vietnam[.]
But developments over the course of the last week appear primed to accelerate the trend, leaving the truce that Trump and Chinese President Xi Jinping negotiated at a G-20 summit in Osaka in late June in tatters. Trade experts now say they see shrinking hope for talks between the countries to head off intensifying hostilities. 
The situation started unraveling last week after Treasury Secretary Steven Mnuchin and U.S. Trade Representative Robert Lighthizer returned from unproductive talks in Shanghai with no Chinese commitment to resume buying U.S. agricultural products. Trump responded Thursday by announcing the new round of tariffs — over the objections of his advisers in a heated Oval Office session, per the Wall Street Journal. And the Chinese in turn retaliated by letting the yuan sink, prompting Treasury's designation of the country as a currency manipulator.
Though the designation itself is largely symbolic, Trump could use the currency manipulation label "to justify some combination of (more) tariffs, investment restrictions and export controls," Chris Krueger of Cowen Washington Research Group wrote in a Monday note. Eswar Prasad, a professor of trade policy at Cornell University, tells my colleague Jeff Stein the morphing of a trade war into a currency war could get "very serious… This could lead the U.S. to essentially shut down all imports from China."
Or as Bloomberg's Shawn Donnan puts it, the U.S.-China face-off is "starting to look like a forever war — a quagmire with no end in sight, no clear path to a resolution and more potential land mines for an already weakening global economy." Goldman Sachs economists wrote late Monday they now see both sides "taking a harder line, and we no longer expect a trade deal before the 2020 election." Part of the problem, Beacon Policy Advisors' Stephen Myrow writes, is that there is no obvious off-ramp for either side now. Per Myrow, "The president has given no indication that he is willing to pull back on his tariff threat, and even if he wants to, Xi appears unwilling to make yet another deal that is likely to be broken."
Economist Paul Krugman explains,Trump's China Shock:
[I]t does look as if I should try to explain (a) what I think is happening (b) why the markets are going so nuts. By the way, given Mnuchin's declaration that China is a currency manipulator, tomorrow's market action should be … interesting.
So here's the thing: neither Trump's tariff announcement last week nor, especially, the depreciation of China's currency today should objectively be that big a deal. Trump slapped 10 percent tariffs on $200 billion of Chinese exports, which is a tax hike of 0.1 percent of US GDP and 0.15 percent of Chinese GDP.
In response, China let its currency drop by about 2 percent. For comparison, the British pound has dropped around 9 percent since May, when it became clear that a no-deal Brexit was likely.
So why are these smallish numbers such a big deal? Mostly because we've learned things about the protagonists in this trade conflict, things that make a bigger, longer trade war seem a lot more likely than it did even a few days ago.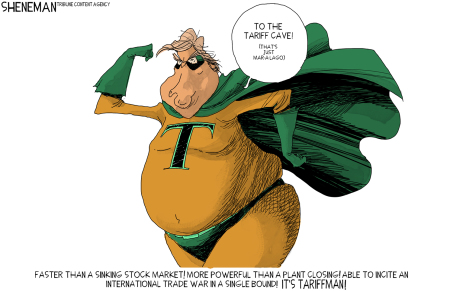 First, Trump really is a Tariff Man. Some naïve souls may still have been hoping that he would learn something from the failure of his trade policy so far. More sensible people hoped that he might do what he did with NAFTA: reach a new deal basically the same as the old deal, proclaim that it was totally different, and claim a great victory.
But no: it's pretty clear now that he refuses to give up on his belief that trade wars are good, and easy to win; his plan is to continue the beatings until morale improves. What may have looked like temporary tariffs designed to win concessions now look like permanent features of the world economy, with the level of tariffs and the range of countries facing them likely to expand over time.
Second, China is clearly signaling that it's not Canada or Mexico: it's too big and too proud to submit to what it considers bullying. That slide in the renminbi wasn't a concrete policy measure as much as a way of saying to Trump, "talk to the hand" (no doubt there's a good Chinese expression along these lines.)
Incidentally — or maybe it's not so incidental — while there are many valid reasons to criticize Chinese policy, currency manipulation isn't one of them. China was a major currency manipulator 7 or 8 years ago, but these days if anything it's supporting its currency above the level it would be at if it were freely floating.
And think for a minute about what would happen to a country with an unmanipulated currency, if one of its major export markets suddenly slapped major tariffs on many of its goods. You'd surely expect to see that country's currency depreciate, just as Britain's has with the prospect of lost market access due to Brexit.
In other words, the Trump administration in its wisdom has managed to accuse the Chinese of the one economic crime of which they happen to be innocent. Oh, and what are we going to do to punish them for this crime? Put tariffs on their exports? Um, we've already done that.
So how does this all end? I have no idea. More important, neither does anyone else. It looks to me as if both Trump and Xi have now staked their reputations on hanging tough. And the thing is, it's hard to see what would make either side give in (or even to know what giving in might mean.)
At this rate, we may have to wait for a new president to clean up this mess, if she can.