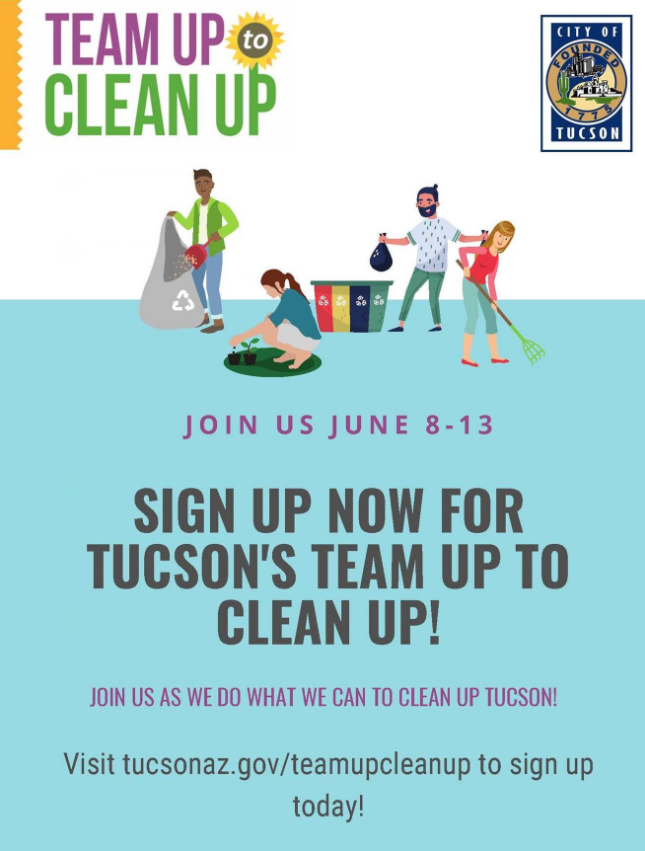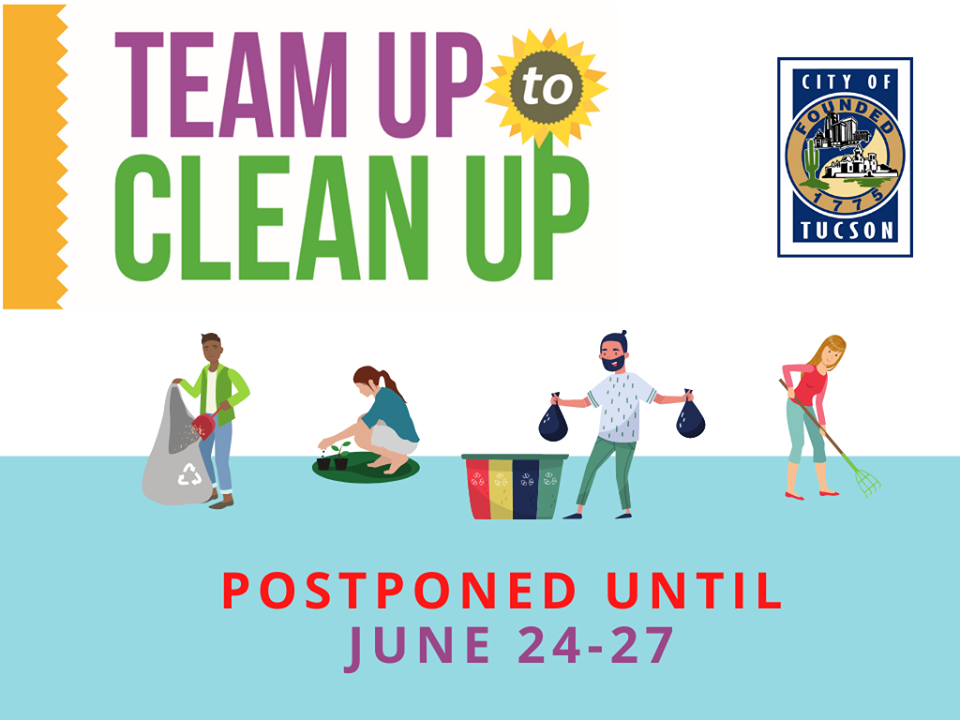 UPDATE: Due to increase in COVID 19 cases, this clean up has been postponed to the Fall.
What is TEAMUPtoCLEANUP?
"The City of Tucson, along with other community partners, will lead a city-wide clean-up effort the week of June 8-13, 2020 (postponed to week of June 22).  As many COVID-19 restrictions are slowly being phased out, the week-long event is an opportunity to have City employees and the entire community go outside their home to work together to improve the visual appearance of Tucson as we move toward reopening. Everyone in the community, individuals, families as well as groups, can participate as a city-wide team working together to clean up and improve the special place, we call home.
How Do I Participate?
There are three ways to participate, choose what works best for your situation.
Volunteer to clean up a City Worksite
Volunteer to clean up a City neighborhood
Clean up where you are and share
City Worksite Clean-up
The City has identified 67 city worksites, including parks, right of way, and washes, in need of general trash pick-up, weeding, painting, and/or tree trimming. United way is partnering with the City to coordinate volunteers for these sites. Supplies, equipment, and pick-up will be provided by the City and Community partners.
City Neighborhood Clean-up
Working from home, don't feel comfortable in a shared space? No problem, arrange time to clean up your neighborhood park, walking path, right-of-way, or provide service to your neighbors. Supplies, equipment, and pick-up will be coordinated through community partners.
Clean-up Where You Are
Our community knows no bounds, including those of city limits! If you are not physically in the city, but want to participate, make arrangements to clean-up where you are and share with everyone. Every little bit counts and we encourage you to participate in any way that creates impact and adds value! Supplies and equipment will be provided by volunteer."
We signed up to do the City neighborhood, via the website: https://stories.opengov.com/tucsonaz/published/cQnEIF1DI, for one day between June 8 to 13. Details will be sent to your email. SEE UPDATE BELOW:
Team Up to Clean Up has been postponed to the week of June 22.
If you have registered for a project scheduled for Tuesday, June 9, they will be rescheduled for another day during the week of June 22.  All other days will be pushed back by 2 weeks.
June 10th dates moved to June 24th
June 11th dates moved to June 25th
June 12th dates moved to June 26th
June 13th dates moved to June 27th
More details on Saturday projects will be released soon.
www.tucsonaz.gov/teamupcleanup