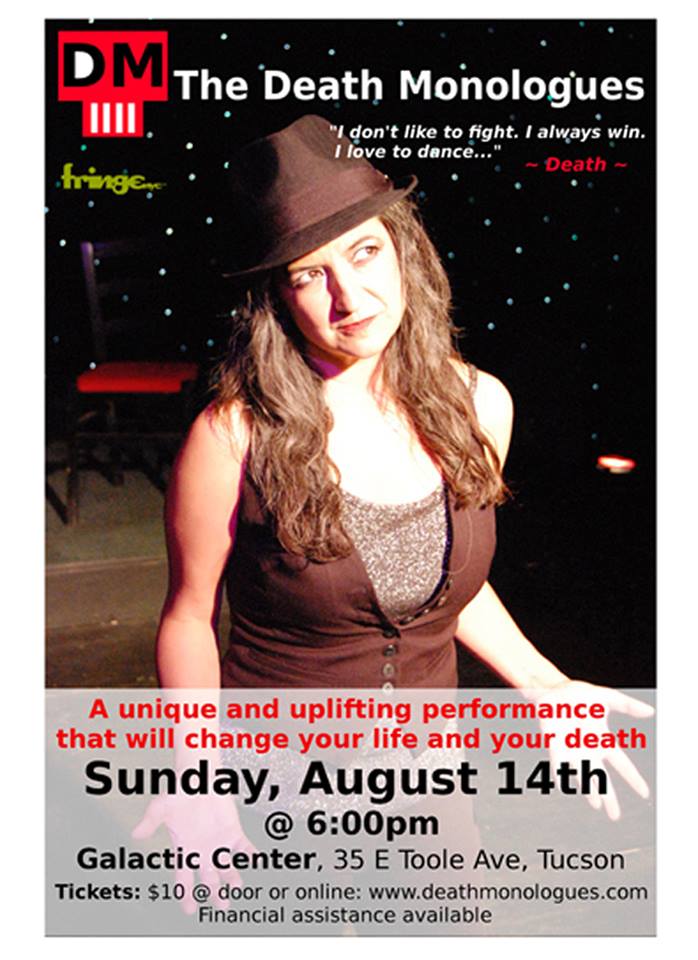 I know that most of us do not like to think about our own deaths — inevitable, getting closer every day we live. A few friends have suddenly passed away, and Death is again on my mind. Check out these monologues and learn more about accepting death.
"The Death Monologues is a one-woman show written and performed by Giselle Suarez. It takes you on a journey that will shed a very different light on death, a subject that permeates the life of every single human being and yet is rarely approached except during the crisis of its arrival.
The Death Monologues, a series of five original dramatic pieces, reveal how – despite our best efforts to avoid our mortality – once we embrace it, we are liberated and truly begin to live.
Death, tired of getting a bad rap, has come to tell her side of the story and set the record straight. The character of Death is our charming Master of Ceremonies, weaving us in and out of this intriguing production. Throughout the piece, we hear many sides of the story and learn that Death is not what we think it is. We become privy to Death's truth, including such secrets as, "There are no good deaths, there are no bad deaths; there is only your death, simple and perfect.
www.deathmonologues.com
And don't forget the Tucson Death Cafe, every first Wednesday, now at new location, Himmel Park library, 1035 N. Treat Ave. – where you can have a dialogue about death and dying.  Next one is on September 7th, 5:30 p.m.
https: https://www.facebook.com/TucsonDeathCafe/