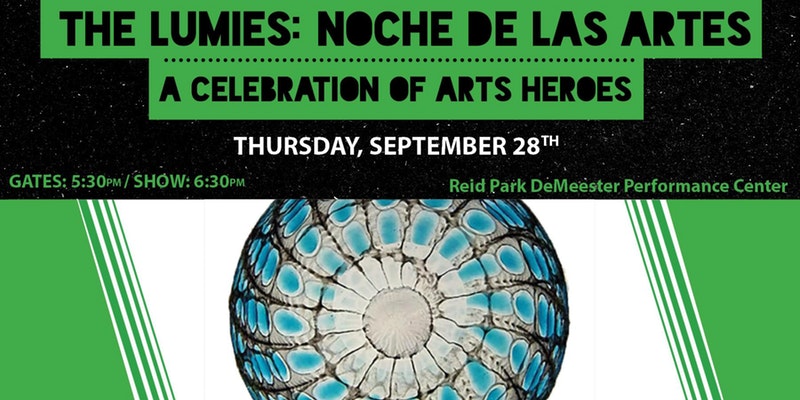 "This year's LUMIES: Noche de las Artes, A Celebration of Arts Heroes will take place Thursday, September 28th, from 5:30 p.m. to 9:00 p.m. at the Reid Park DeMeester Performance Center. Join us for a picnic in the park! General Admission-level ticketholders can bring folding chairs and blankets to enjoy the show. Sponsor-level ticketholders will have seats at a reserved table.
Hosted by: Cathy Rivers, KXCI Community Radio
Performers Include:
TC Tolbert, Tucson Poet Laureate
Dancing In The Streets
Odaiko Sonora
Axe Capoeira
KYKLO
Lenguas Largas
Flam Chen/MMOS
House DJs Miranda Luna and Solar Stephen
… and closing band Santa Pachita!
We have partnered with ON Media Publications as the 2017-2018 Arts Hero Sponsor and we are working together to create a beautiful event: LUMIES: Noche de las Artes, A Celebration of Arts Heroes. We will not only have incredible performers, food, drinks and presentations like last year, but we will also be highlighting the 2016-2017 Arts Heroes!"
Tickets: $30 to  $1000: https://www.eventbrite.com/e/lumies-noche-de-las-artes-a-celebration-of-arts-heroes-tickets-36074427584