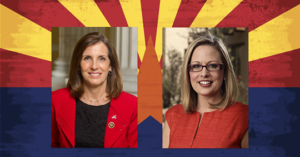 Yesterday's lawsuit by Republican operatives (on behalf of the McSally campaign) to inhibit county recorders from verifying mail-in ballots with disputed signatures now that the election is over is an attack on our democracy and another stain on the military and public service of Representative/Colonel Martha McSally.
Despite the rise of the Trump Party (The Republican Party, after a 35-year process, died on Tuesday when a substantial portion of the reasonable members of the defunct Party of Lincoln was defeated in the midterms), this country is still a Republic and Representative Democracy. The rule of the majority should still prevail and all votes submitted in a timely fashion should be counted. If Representative Sinema gets the majority of the votes, she should be declared the winner. The same holds true for Representative McSally. If there is a question, county officials should be allowed to, like during the early voting period, to verify the signatures. Anything else would be UnAmerican. If the Trumpists cry foul about voter fraud, please remember that there is no widespread voter fraud in our history and this is an attempt by the party of the KKK endorsed candidate to suppress the votes of Democratic-leaning voters.
People need to speak out and call this attempt to suppress the vote what it is: Un-American.
https://apnews.com/ae1c8f1af38f4b4fb0187553be7a6e72?utm_campaign=SocialFlow&utm_source=Twitter&utm_medium=APWestRegion&fbclid=IwAR1XOGN1Z7VMTGsdQ2uA1Q_S3l5WjAZkqwuK6jt6gtP3Hl-B9m4r4Pcw_ng
https://www.brennancenter.org/analysis/debunking-voter-fraud-myth