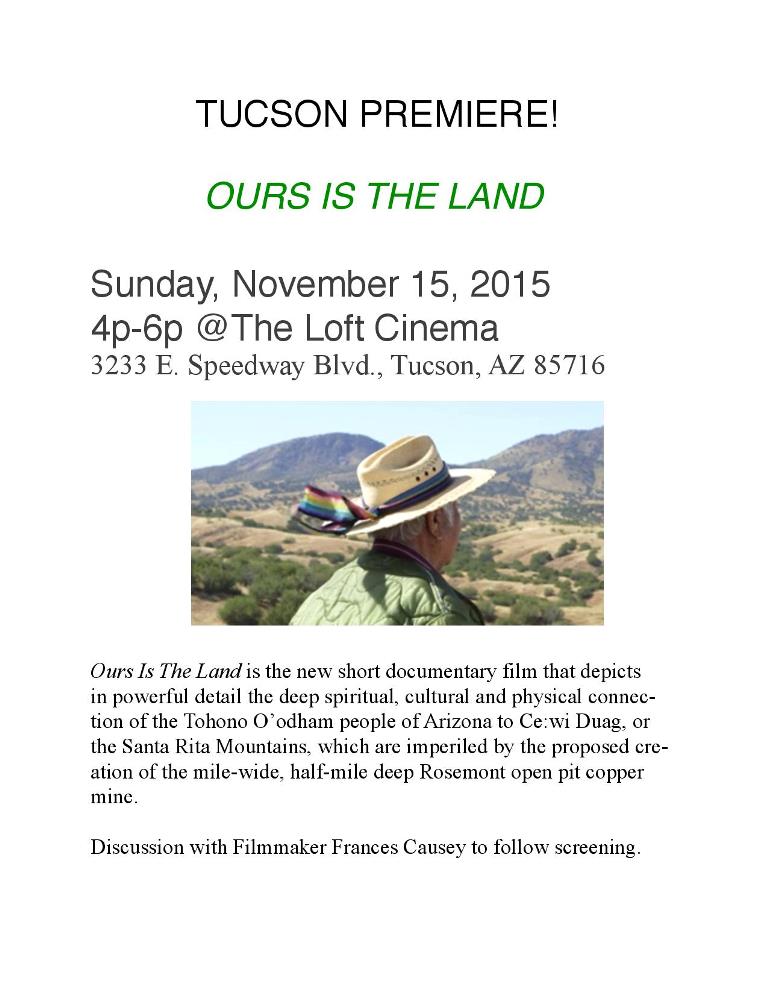 Reception on the patio at 4:00PM; screening at 4:30PM.
Free drinks and popcorn provided by the Tohono O'odham Nation!
The film is told entirely from the perspective of the Tohono O'odham Nation members themselves including Legislative Council members, and tribal elders who speak movingly about the important connection between Ce:wi Duag and the Tohono O'odham Nation. Adding poignancy to the film is the score of Michael Enis, Tohono O'odham tribal member and song dreamer. The film is directed by Tubac resident Frances Causey, who also directed Heist: Who Stole the American Dream?. (Dir. by Frances Causey, 2015, USA, Not Rated)
From Filmmaker/producer Frances Causey:
Over the last year and a half, at the invitation of the Tohono O'odham people, I have been on an amazing journey, discovering the deep connection between the Tohono O'odham people and Ce:wi Duag or the Santa Rita Mountains which are imperiled by the proposed creation of the half-mile wide, one-mile deep open pit Rosemont copper mine, just 30 miles SE of Tucson.

If built, the mine would bury under SIX stories of mine waste rock 2 Hohokam (O'odham ancestors) villages, O'odham ancestral burial sites, rare seeps and springs, and render a rare ball court obsolete.

The mine would fundamentally alter the cultural landscape of the Tohono O'odham people. Also in the crosshairs of this misplaced mine is the nation's only known wild jaguar, recently named "El Jefe" by a Tucson middle school!

The stakes could not be any higher for the Tohono O'odham people. As tribal elder Joseph Joaquin says in the film. "Money or gold or whatever you are looking for is not the word for us as O'odham people. Ours is the land."

The film which is told exclusively by Tohono O'odham tribal members is scored by O'odham song dreamer Michael Enis. My longtime collaborator, Rogelio Garcia, shot and edited this beautiful film.
This is a free film screening open to all. Loft Cinema is at 3233 E. Speedway Blvd, east of Country Club in Tucson.