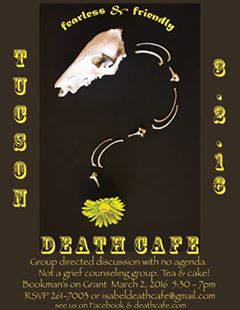 Newly re-started Tucson Death Cafe has changed meeting day/time to first Wednesdays, 5:30 p.m., but still at Bookman's on Grant, 1930 E. Grant Rd.  (SE corner of Campbell Ave.) They started meeting there monthly in January, 2016 and is being hosted by Isabel Amorous, who has done work in this field of death & dying. You can contact her at isabeldeathcafe@gmail.com, 520-261-7003.
I attended the February Death Cafe and was surprised at the varied reasons why people attended: curious about death, grieving (or not) over death of spouse, parent, child, friend; interested in funeral services & choirs; hoping to promote death cafes to the deaf community; dealing with mortality and aging, etc. There were about 20 people in attendance, and even "snow birds" visiting from the cold Midwest. Last time people brought light refreshments as well.
It is advertised as being "fearless and friendly" and it is just that — a safe place to talk about your feelings about Death, mostly a taboo subject in our culture.
RSVP via facebook page: https://www.facebook.com/events/1537170799914531/