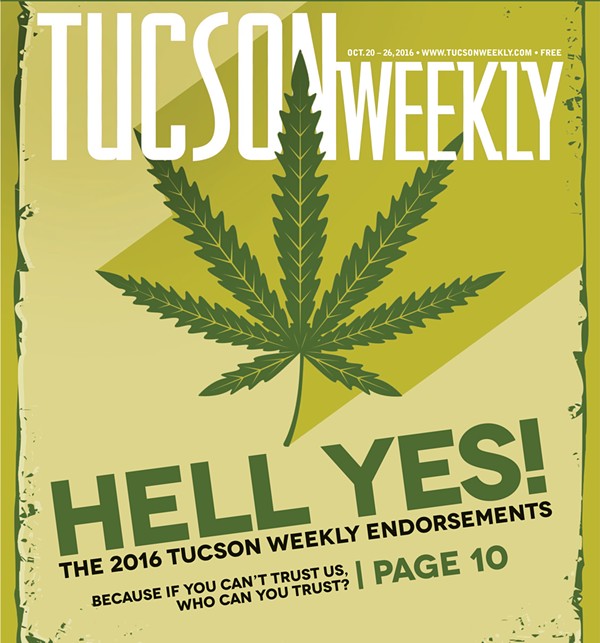 Been waiting to see whom the Tucson Weekly's editorial board would endorse for the upcoming General Election of 2016.  They say  "Hell yes!" on both propositions 205 and 206, and endorsed the following candidates:
Pima County Supervisor D 1 :  Brian Bickel (D)
Pima County Supervisor D 3: Sharon Bronson (D), incumbent
Pima County Sheriff:  Mark Napier (R)
Pima County Assessor Bill Staples (D), incumbent
Arizona Corporation Commission (statewide, 3 seats):  incumbent Bob Burns (R), Tom Chabin (D), Bill Mundell (D)
TUSD Governing Board (3 seats, nonpartisan):  incumbents Kristel Foster and Cam Juarez, and Betts Putnam-Hidalgo
Endorsements on pages 10 to 12  of the October 20, 2016 print edition, otherwise online here:
http://www.tucsonweekly.com/tucson/hell-yes-the-2016-tucson-weekly-endorsements/Content?oid=7311156
Early voting started on October 12 2016.  Vote wisely on or before November 8, 2016.