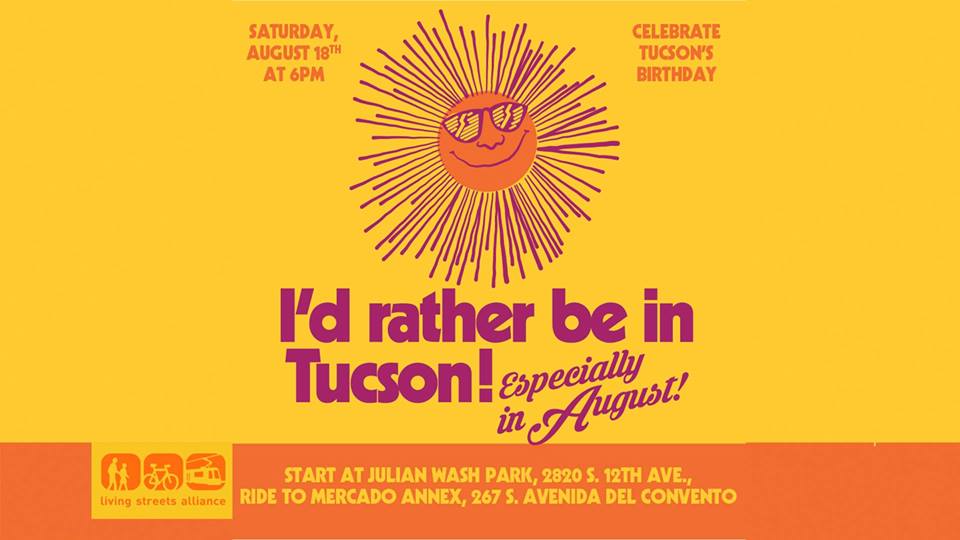 Hosted by Living Streets Alliance
August 18,  6 to 9 p.m.
"Who wouldn't rather be in Tucson, especially in August?! If that's you, then you'll fit right in on this easy, social bike ride in honor of Tucson's birthday.
We'll gather at the Julian Wash Archeological Park, 2820 S. 12th Ave. around 6pm and head north along the Santa Cruz River Park section of the Loop multi use path to arrive at the Mercado Annex for DJs, some dancing, drinks, and a very special birthday celebration in honor of our favorite city. Check out the bike route in the comments section.
This is a free event, but bring some cash to support local businesses at the Mercado Annex. There will be drink specials on all Tucson beers atWestbound, food available for purchase at Beaut Burger, and special surprises for Tucson's birthday.
Don't have a bike? No problem, Tugo Bike Share will have bikes for people over 18 to use for free.
A group ride back to the Julian Wash Archeological Park will leave the Annex at about 9pm, so feel free to park there if you plan to drive.
Questions? Get in touch."
https://www.facebook.com/events/503629293425165/
Please donate to Blog for Arizona:
Support volunteer citizen journalism at the Blog for Arizona with a donation today. Your PayPal contribution keeps the Blog online and sustains a free press in Arizona.