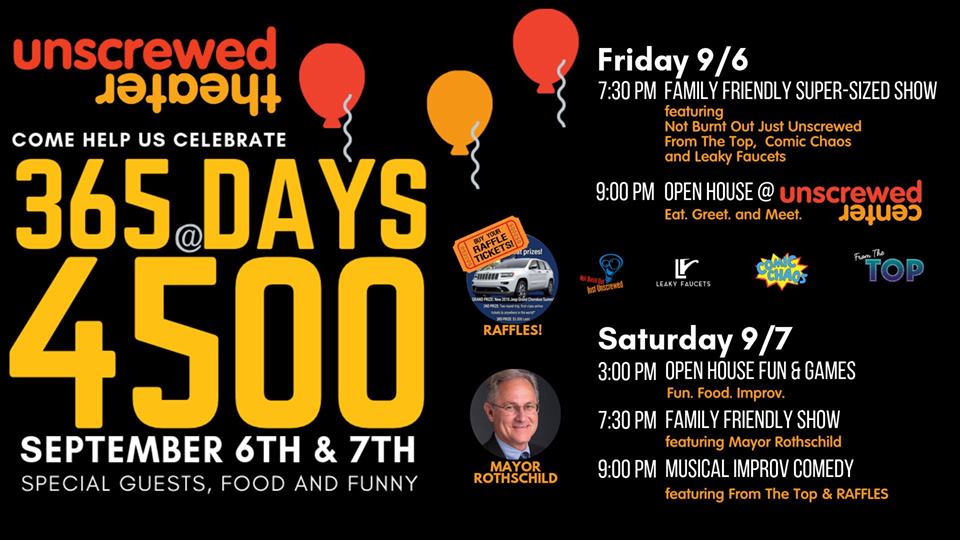 UNSCREWED THEATER'S 365 Days @ 4500 ANNIVERSARY!
September 6th & 7th, 2019
"In January 2014, Unscrewed Theater opened the doors of its original location at Speedway & Country Club, becoming Tucson's first theater devoted exclusively to the art of improvisation and improv comedy. They remain Tucson's ONLY 100% volunteer-run 501(c)(3) non-profit community theater dedicated to the fun and healing laughter found in improv comedy.
Fast forward to September 2018 – a mere 365 days ago – Unscrewed Theater opened in its forever home, 4500 E. Speedway Blvd. #39. And now it's time to celebrate an entire year of a bright and shiny new theater with a front door that faces the street, ample parking, AND the addition of Unscrewed Center – Tucson's newest improv training and community center.
Unscrewed Theater is proud to yet once more to spotlight Mayor Jonathan Rothschild on their stage – in his final performance as Mayor of Tucson. The Mayor has been part of the Unscrewed Family since before the theater opened – calling Not Burnt Out Just Unscrewed, Unscrewed Theater's founding Improv Troupe, "Tucson's best kept secret."
The weekend starts off on Friday, 9/6 at 7:30pm, with a SUPER-SIZED family-friendly Improv show, featuring all four house teams – Not Burnt Out Just Unscrewed, From The Top, Leaky Faucets, and Comic Chaos. Afterward, everyone will head next door to the Unscrewed Center for food, fun, and games with the cast members. For FREE!
Saturday, 9/7 starts off early with an Open House from 3:00 to 6:00pm. Members from all the House Teams will be in attendance for a food, fun and games Meet & Greet. At 7:30, another family-friendly show with special guest star, the Mayor on stage with Not Burnt Out Just Unscrewed. The festivities will culminate in a 9:00pm Musical Improv Comedy show featuring From The Top – with lots of giveaways and a raffle for private improv shows, workshops, and classes – valued at $1300!
And the best part? All the shows are the regular price – only $5.00 for kids and $8 for adults. But wait, there's more. You can see BOTH shows on Saturday for a mere $10 with the purchase of a Laughing Pass on the UnscrewedTheater.org website. Grab your tickets here: http://bit.ly/LaughPass9-7-19
These shows will sell out – getting tickets online ahead of time is recommended.
Unscrewed Theater is located at 4500 E Speedway Blvd #39 – just west of Speedway & Swan in Midway Plaza on the south side of the street between Mama's Pizza & Sushi Ten.
As a 501(c)(3) nonprofit organization, Unscrewed Theater is community-based, 100% volunteer-run, and offers live performances, classes, and produces all forms of live improvisational theater in Tucson, AZ."
https://www.facebook.com/events/683389368794788/