7 candidates are  running for 3 seats in this race for Governing Board at Tucson Unified School District (TUSD).  3 incumbents are running for re-election: Kirstel Foster, Cam Juarez, Dr. Mark Stegeman.  Challengers are Betts Putnam-Hidalgo (ran before for a seat on this board in 2012 and 2014), Lori Riegel, Brett Rustand, Rachael Sedgwick.
List of upcoming forums in September:
September 8 — sponsored by Hispanic Chamber of Commerce, 6 to 8 p.m. at CareMore, 4821 N. Stone Ave.
September 14 — at Temple Emanu El, 6 to 8 p.m. 225 N. Country Club Rd.
September 29 — co-sponsored by League of Women Voters of Greater Tucson, at YWCA of Southern AZ (co-sponsor), 6:30 to 8:30 p.m., 525 N. Bonita Ave.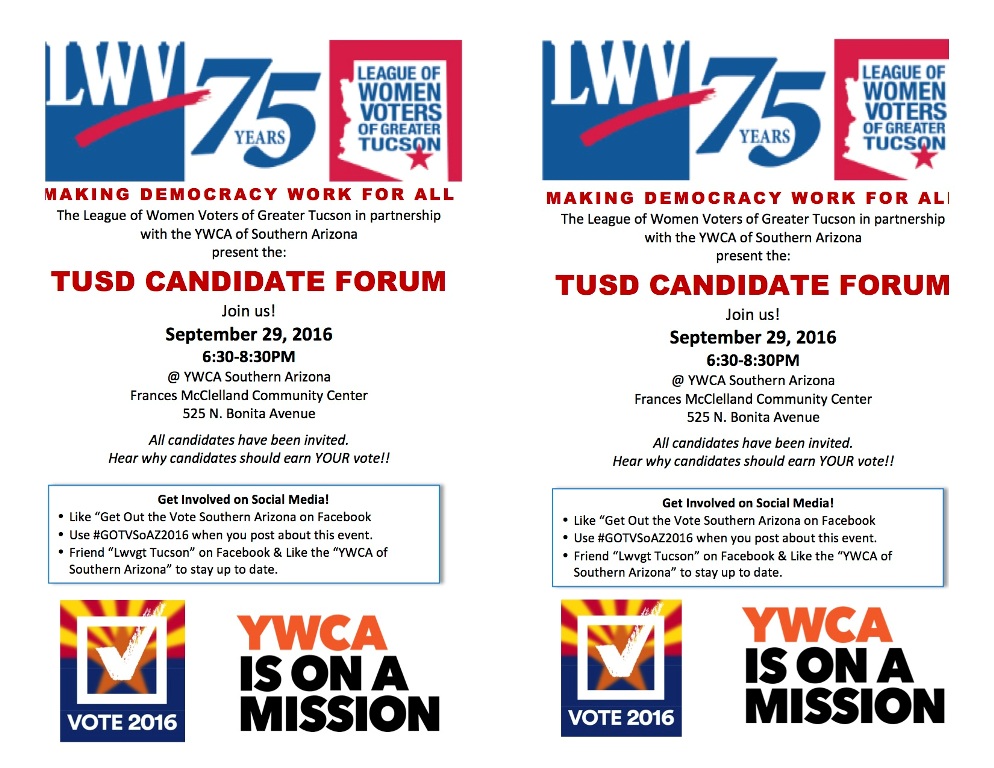 I will update this post with more information, when/if there are more forums in September and October.  More details will be on our image Calendar.
UPDATE: 4th TUSD candidate's forum: Oct. 4, 6:30 p.m. Palo Verde HS, 1302 S. Avenida Vega, hosted by Dietz Neighborhood Assn.  5th debate on October 13, 5:30 p.m. at Capilla de Guadalupe in South Tucson.
My previous post about the 7 candidates seeking a seat on this school board:
https://blogforarizona.net/whos-running-for-tusd-governing-board-in-2016/
Vote wisely on or before Nov. 8, 2016.  These are volunteer, nonpartisan seats on the 5 member TUSD Governing Board.