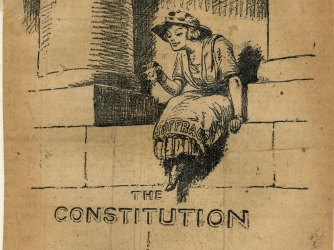 Today, January 20, 2016, President Barack Obama became our former president.
Today, Donald Trump entered the office of president with the worst approval rating ever– 40%.
For many months, different groups have been planning post-inauguration protests, teach-ins, marches, and other activism to greet the new president. (After all, many groups were alienated by him during his campaign, and we're motivated.)
On Saturday, January 21– here in Tucson and nationwide–women (and others) will be marching in solidarity with the Women's March on Washington. (Background below.) The Tucson event will start at 10 a.m. at Armory Park, and attendees will march to the main library downtown for booths, speeches and festivities. (Details here.)
The theme of the nationwide march is: "Become the soul of the nation." This is taken from a quote by Coretta Scott King, wife of Dr. Martin Luther King, Jr.
"Women, if the soul of the nation is to be saved, I believe that you must become its soul." – Coretta Scott King
We can't continue to be depressed and bitter about the election. It's time to push against the forces that want to keep us down. What better way to start the new year and the newest phase of the struggle than to march in solidarity, build community, and fight for equal rights?
To that end, I submitted a bill to ratify the Equal Rights Amendment (ERA) on January 12.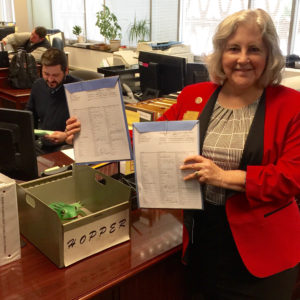 HCR2012 is the House bill, and Senator Martin Quezada submitted the same bill in the Arizona Senate (SCR1003).
The ERA needs only three states to ratify it before it can become the next amendment to the US Constitution, and Arizona is one of 15 states that never passed it. Former Supreme Court Justice and former Arizona Legislator Sandra Day O'Connor was the first person to propose passage of the ERA in Arizona back in the 1970s. It's time to finish the job. The ERA was originally proposed in 1923, and women need Constitutional protection now more than ever.
Unfortunately, the House version of the ERA is currently wallowing on Speaker J.D. Mesnard's desk and has not been assigned to a committee. (Bills are killed by not being assigned to a committee, by being voted down in committee or by being voted down on the House or Senate floor. The Senate bill has been assigned to government and rules. You can use the Request to Speak system if it gets on the agenda or comment any time via email and telephone.)
The ERA deserves to be heard in committee and debated on the floor of the Arizona House and the Arizona Senate. If you agree, please call or email your representatives and senators and urge them to support ratification of the Equal Rights Amendment.
Women will not have equal pay or full equal rights in the US without passage of the Equal Rights Amendment. Even at the highest income levels, women make less than men. Overall, Latinas and African American women make far less. This is a societal economic issue; it's not a "women's issue." When 51% of the population makes less than the prevailing wage, that suppresses the economy statewide and nationwide. When people have money in their pockets, the economy thrives. When people are scraping by due to low wages and high debt, the economy lags. It's time to turn this ship around and give women equality and Constitutional protection.
Background on the Women's March on Washington:
On January 21, 2017 we will unite in Washington, DC for the Women's March on Washington. We stand together in solidarity with our partners and children for the protection of our rights, our safety, our health, and our families — recognizing that our vibrant and diverse communities are the strength of our country.
The rhetoric of the past election cycle has insulted, demonized, and threatened many of us–women, immigrants of all statuses, those with diverse religious faiths particularly Muslim, people who identify as LGBTQIA, Native and Indigenous people, Black and Brown people, people with disabilities, the economically impoverished and survivors of sexual assault. We are confronted with the question of how to move forward in the face of national and international concern and fear.
In the spirit of democracy and honoring the champions of human rights, dignity, and justice who have come before us, we join in diversity to show our presence in numbers too great to ignore. The Women's March on Washington will send a bold message to our new administration on their first day in office, and to the world that women's rights are human rights. We stand together, recognizing that defending the most marginalized among us is defending all of us.
We support the advocacy and resistance movements that reflect our multiple and intersecting identities. We call on all defenders of human rights to join us. This march is the first step towards unifying our communities, grounded in new relationships, to create change from the grassroots level up. We will not rest until women have parity and equity at all levels of leadership in society. We work peacefully while recognizing there is no true peace without justice and equity for all. HEAR OUR VOICE.