Laura Clawson at Daily Kos writes, Trump killed Soleimani to win support in impeachment trial, Wall Street Journal casually mentions:
Way to bury the lede, Wall Street Journal! The newspaper did a deep dive into Donald Trump's decision to assassinate Iranian Maj. Gen. Qassem Soleimani, but you have to read 29 paragraphs in to get to the real news. (subscription required)
"Mr. Trump, after the strike, told associates he was under pressure to deal with Gen. Soleimani from GOP senators he views as important supporters in his coming impeachment trial in the Senate, associates said."
Twenty. Nine. Paragraphs.
And then the article … moves on.
UPDATE: The Wall Street Journal follows a similar report from The New York Times:
"Trump pointed out to one person who spoke to him on the phone last week that he had been pressured to take a harder line on Iran by some Republican senators whose support he needs now more than ever amid an impeachment battle," The Times reported Tuesday.
This casual admission by Trump demonstrates that he ordered the assassination of the number two leader of Iran to appease Republican senators important to his impeachment trial in the Senate.
It was all about his personal interest, not the national security interest. It was an assassination motived by his impeachment trial, not any "imminent threat" to the national security of the U.S.
Every reporter in America should be demanding to know who are the senators Trump was hoping to appease by ordering the assassination of Gen. Soleimani.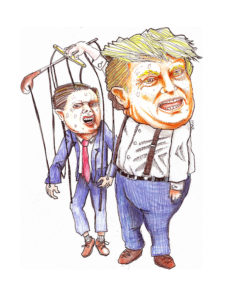 It is a safe bet that Senator Lindsey Graham, former singing partner to Senator John McCain's "Bomb, bomb, bomb, bomb, bomb Iran" Iran war hawk song is among them. Graham has become Trump's puppet boy, parroting everything he says like a ventriloquist dummy.
It is also a safe bet that Senator "Tehran Tom" Cotton is among them, with his defense of the assassination of Gen. Soleimani in the New York Times. The Case for Killing Qassim Suleimani. This Iran war hawk argues the assassination was "legally sound."
Not if it was carried out to appease you for your support in Trump's impeachment trial.
National security law expert Karen Greenberg refutes "Tehran Tom" and his questionable legal analysis. Killing Qassim Suleimani Was Illegal. And Predictable.
Who are the other Republican senators whom Trump was hoping to appease? Americans have a right to demand to know the answer to this question.
We now learn that there was a second unsuccessful assassination attempt on an Iranian military leader at the same time. On the day U.S. forces killed Soleimani, they targeted a senior Iranian official in Yemen:
On the day the U.S. military killed a top Iranian commander in Baghdad, U.S. forces carried out another top-secret mission against a senior Iranian military official in Yemen, according to U.S. officials.
The strike targeting Abdul Reza Shahlai, a financier and key commander in Iran's elite Quds Force who has been active in Yemen, did not result in his death, according to four U.S. officials familiar with the matter.
The unsuccessful operation may indicate that the Trump administration's killing of Maj. Gen. Qasem Soleimani last week was part of a broader operation than previously explained, raising questions about whether the mission was designed to cripple the leadership of the Islamic Revolutionary Guard Corps or solely to prevent an imminent attack on Americans as originally stated.
Senator Mike Lee (R-Utah) found the Trump administration's refusal to answer a question about a hypothetical U.S. assassination attempt against Iran's Supreme Leader "deeply disturbing" in a Thursday interview with NPR.
Speaking with NPR's Rachel Martin, Senator Lee responded:
MARTIN: What kind of hypotheticals were you putting to them in hopes of understanding when the administration sees a need for congressional authority?
LEE: As I recall, one of my colleagues asked a hypothetical involving the supreme leader of Iran. If at that point, the United States government decided that it wanted to undertake a strike against him personally, recognizing that he could be a threat to the United States, would that require authorization for the use of military force? The fact that there was nothing but a refusal to answer that question was perhaps the most deeply upsetting thing to me in that meeting. I think it was unprofessional, inappropriate and reflective of a certain cavalier attitude toward the Constitution to refuse to make a commitment on that front.
Former Senator and Secretary of the Navy Jim Webb correctly asks in an op-ed at the Washington Post, When did it become acceptable to kill a top leader of a country we aren't even at war with?
Strongly held views are unlikely to change regarding the morality and tactical wisdom of President Trump's decision to kill Iranian Maj. Gen. Qasem Soleimani as he traveled on a road outside the Baghdad airport after having arrived on a commercial flight. But the debate regarding the long-term impact of this act on America's place in the world, and the potential vulnerability of U.S. government officials to similar reprisals, has just begun.
Strongly held views are unlikely to change regarding the morality and tactical wisdom of President Trump's decision to kill Iranian Maj. Gen. Qasem Soleimani as he traveled on a road outside the Baghdad airport after having arrived on a commercial flight. But the debate regarding the long-term impact of this act on America's place in the world, and the potential vulnerability of U.S. government officials to similar reprisals, has just begun.
How did it become acceptable to assassinate one of the top military officers of a country with whom we are not formally at war during a public visit to a third country that had no opposition to his presence? And what precedent has this assassination established on the acceptable conduct of nation-states toward military leaders of countries with which we might have strong disagreement short of actual war — or for their future actions toward our own people?
With respect to Iran, unfortunately, this is hardly a new issue.
In 2007, the Senate passed a non-binding resolution calling on the George W. Bush administration to categorize Iran's Revolutionary Guard Corps as an international terrorist organization. I opposed this proposal based on the irrefutable fact that the organization was an inseparable arm of the Iranian government. The Revolutionary Guards are not independent actors like al-Qaeda and the Islamic State. They are part of the Iranian government's formal military structure, with an estimated strength of more than 150,000 members. It is legally and logically impossible to define one part of a national government as an international terrorist organization without applying the term to that entire government.
Definitions define conduct. If terrorist organizations are actively involved against us, we attack them. But a terrorist organization is by definition a nongovernmental entity that operates along the creases of national sovereignties and international law. The Revolutionary Guards are a part of the Iranian government. If they are attacking us, they are not a terrorist organization. They're an attacking army.
U.S. military operations in Yemen, where a civil war has created the world's worst humanitarian crisis, are shrouded in secrecy. U.S. officials said the operation against Shahlai remains highly classified, and many declined to offer details other than to say it failed.
Officials at the Pentagon and at military commands in Florida were monitoring both strikes and had discussed announcing them together, had they gone well, officials said.
"If we had killed him, we'd be bragging about it that same night," said a senior U.S. official, who, like others, spoke on the condition of anonymity to discuss a classified military operation.
Another senior official said that the two strikes were authorized around the same time and that the United States did not disclose the Shahlai mission because it did not go according to plan. The official said Shahlai may be targeted in the future, though both countries have signaled an interest in ­de-escalating the crisis surrounding the killing of Soleimani.
The rationale for the Trump administration's decision to kill Soleimani has come under scrutiny in Congress, with House lawmakers approving a resolution on Thursday to restrict the president's authority to strike Iran without congressional approval.
Defense and State Department officials said the strike against Soleimani saved "dozens" if not "hundreds" of American lives under imminent threat. The strike against Shahlai potentially complicates that argument.
"This suggests a mission with a longer planning horizon and a larger objective, and it really does call into question why there was an attempt to explain this publicly on the basis of an imminent threat," said Suzanne Maloney, an Iran scholar at the Brookings Institution.
The Trump administration views Shahlai as a particularly potent adversary.
A Pentagon spokeswoman, Cmdr. Rebecca Rebarich, said the Defense Department does not discuss "alleged operations" in the Middle East. "We have seen the report of a January 2 airstrike in Yemen, which is long-understood as a safe space for terrorists and other adversaries to the United States," she said in a statement.
The State Department offered a $15 million reward last month for information leading to Shahlai and the disruption of the Revolutionary Guard's financial mechanisms. The announcement said that Shahlai is based in Yemen and has a "long history of involvement in attacks targeting the U.S. and our allies, including in the 2011 plot against the Saudi ambassador" at an Italian restaurant in Washington.
U.S. officials have alleged that Shahlai, born around 1957, is linked to attacks against U.S. forces in Iraq, including a sophisticated 2007 raid in which Iranian-backed militiamen abducted and killed five Americans troops in the city of Karbala.
In a news conference last year, the U.S. special representative for Iran, Brian Hook, said the United States remains "gravely concerned by his presence in Yemen and potential role in providing advanced weaponry of the kind we have interdicted to the Houthis," who continue to battle a Saudi-led coalition for control of Yemen.
Iran has provided support and training to the Houthi rebels in their fight with the coalition led by Saudi Arabia, Iran's regional foe.
It is unclear why the operation did not succeed. The State Department and White House declined to comment.
The death of Soleimani in the first targeted U.S. killing of a senior member of a foreign military since World War II, prompted Iran to retaliate early Wednesday in Iraq by firing ballistic missiles at U.S. locations there, though no casualties were reported.
After the strike, President Trump said that the United States would impose more economic sanctions on Iran and that the "United States is ready to embrace peace with all who seek it."
Trump and his top aides have continued to talk about the "imminent" nature of the threat from Soleimani, but they have offered mixed messages about the timing and location of a potential plot.
Trump said Friday that Iran was targeting "four embassies" including the compound in Baghdad, but Cabinet members have suggested that those details were not known.
"We don't know precisely when and we don't know precisely where, but it was real," Secretary of State Mike Pompeo told Fox News on Friday. [Defining down the commonly accepted meaning of "imminent."]
Gen. Mark A. Milley, the chairman of the Joint Chiefs of Staff, and Defense Secretary Mark T. Esper have likewise supported the case for an imminent plot.
"Did it exactly say who, what, when, where? No," Milley told reporters this week. "But he was planning, coordinating and synchronizing significant combat operations against U.S. military forces in the region, and it was imminent." Milley continued emphatically to defend the intelligence during a classified briefing with members of Congress on Wednesday, according to a person familiar with the matter.
Some lawmakers left the meeting complaining about the lack of specifics about the intelligence.
"I believe this administration is after the fact trying to piece together a rationale for its action that was impulsive, reckless and put this country's security at risk," said Rep. Gerald E. Connolly (D-Va.).
Sen. Mike Lee (R-Utah) called it "probably the worst briefing, at least on a military issue, I've seen in nine years I've been here."
Republican leaders in Congress have backed the president's decision to kill an Iranian commander allegedly linked to the deaths of more than 500 U.S. soldiers after the U.S. invasion of Iraq in 2003.
The operation targeting Shah­lai occurred as the United Nations continued to press for a political solution to the war in Yemen, which began in 2015 when the Saudi-led military coalition launched its campaign against the Houthi rebels. The Saudi-backed Yemeni government has struggled to regain the upper hand against the Houthis, and a massive humanitarian crisis has festered. Tens of thousands of Yemenis have died in the conflict or because of hunger and disease.
U.S. officials think Iran has steadily expanded its support to the Houthis, placing what they say is a small number of operatives in Yemen to advise the rebel campaign. Experts say a larger number of personnel from Lebanese Hezbollah, which is allied with Iran, are also helping the rebels.
The Trump administration has showcased apparent Iranian weapons that have been intercepted or recovered in and around Yemen as proof that Iran is arming the Houthi rebels, including with sophisticated missiles used to target Saudi Arabia.
Experts say the Saudi-led coalition has dramatically reduced the tempo of its airstrikes against Houthi targets in recent months as the Yemeni rebels have largely halted their missile attacks into Saudi Arabia.
Houthi leaders are divided between those who want to demonstrate loyalty to Iran and those who are open to striking a deal with Saudi Arabia.
According to the Long War Journal, which tracks U.S. counterterrorism operations abroad, the United States conducted eight strikes against militants in Yemen in 2019, down from a high of about 125 strikes in 2017. The attacks have targeted al-Qaeda in the Arabian Peninsula and the local branch of the Islamic State.
The attempted strike on Shah­lai also marks a departure for the Pentagon's mission in Yemen, which has sought to avoid direct involvement in fighting between Houthi forces and those backed by the Saudi-led coalition. In 2018, the military halted a program in which U.S. air tankers refueled Arab nations' combat jets amid criticism of the civilian casualties caused by coalition airstrikes.
The United States has not previously made any publicly acknowledged attacks on Houthi or Iranian leaders in Yemen, though Special Operations forces have sought to track Iranian movements and disrupt the alleged smuggling of Iranian weaponry into the country.
What Jim Webb leaves unsaid here is that this second unsuccessful assassination attempt may have been to appease the Saudi princes of whom Trump is so fond, and who have also engaged in assassinations of rival political leaders and journalists. Is the U.S. going to war with Iran at the behest of the Saudi government? Americans have the right to demand an answer.
Harold Hongju Koh at Foreign Policy poses the question, Is Preemptive Assassination the New Trump Doctrine? (subscription required).
If so, this disrupts the accepted international order, and puts all leaders of nations at risk, including our own.