Congressman Ron Barber hammered Martha McSally with her previous statements on social security and Medicare during the campaign. Martha McSally swore up and down during the campaign that "I would never do anything to undermine social security," really.
Yet her very first substantive vote in Congress, vote No. 6 on H.Res. 5 for House Rules Changes, passed 234-176 on a party-line vote, sets up election-year battle over Social Security's finances in 2016: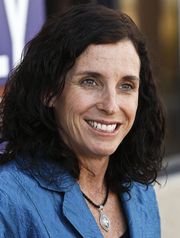 Buried in new rules that will govern the House for the next two years is a provision that could force an explosive battle over Social Security's finances on the eve of the 2016 presidential election.
Social Security's disability program has been swamped by aging baby boomers, and unless Congress acts, the trust fund that supports it is projected to run dry in late 2016. At that point, the program will collect only enough payroll taxes to pay 81 percent of benefits, according to the trustees who oversee Social Security.
To shore up the disability program, Congress could redirect payroll taxes from Social Security's much larger retirement fund — as it has done in the past.
[Reallocating revenue from the much larger Social Security retirement benefits fund to SSDI would cover the shortfall, and trust fund managers have performed such reallocations 11 times since the late 1950s.]
However, the House adopted a rule Tuesday blocking such a move, unless it is part of a larger plan to improve Social Security's finances, by either cutting benefits or raising taxes [not going to happen in a GOP controlled Congress.]
Long the third rail of American politics, tinkering with Social Security has never been easy. Throw in election-year politics and finding votes in Congress to cut benefits or raise taxes could be especially difficult.
But if Congress doesn't act, benefits for 11 million disabled workers, spouses and children would be automatically cut by 19 percent. The average monthly payment for a disabled worker is $1,146, or a little less than $14,000 a year.
Rep. Tom Reed, R-N.Y., said he sponsored the provision in an effort to force Congress to find a long-term solution to the disability program's financial problems.
* * *
Advocates for older Americans are warning that the rule could be used to help push through benefit cuts, especially since House Republicans have opposed raising taxes.
"It is difficult to believe that there is any purpose to this unprecedented change to House rules other than to cut benefits for Americans who have worked hard all their lives, paid into Social Security, and rely on their Social Security benefits, including disability, in order to survive," said Max Richtman, president of the National Committee to Preserve Social Security and Medicare.
David Certner of AARP said it would be a mistake to eliminate the option of redirecting money from the retirement fund, which Congress has done in the past.
"Otherwise, we could be facing a deadline, and certainly over the last couple of years, we've seen Congress seemingly unable to pass bills, even with deadlines in front of them," Certner said.
* * *
On page 32 of the set of rules is a provision that allows any representative to raise a point of order if the House tries to pass a bill redirecting tax revenue from Social Security's retirement fund to the disability fund. The House could vote to overcome the objection, but that could be difficult, with almost every Republican supporting the rule that passed Tuesday.
The McSally "honeymoon" is over after day one. The Southern Arizona political media should be all over Rep. McSally like a dog on a bone, reminding her of all her campaign promises about social security.
This is a fascinating line of attack for the GOP because those on social security disability, whom the conservative media entertainment complex rails against as deadbeats and freeloaders on "entitlements," are heavily concentrated in "red states" where these people routinely vote against their own economic self-interest by voting Republican. Reduce their social security disability benefits and watch how quickly these people will turn on the GOP. Where America's Social Security benefits go, in four maps:
Most Social Security recipients – including retired or disabled workers, plus their spouses and children, and in some cases their parents – receive benefits through the Old-Age, Survivors and Disability (OASDI) program. Seth Kadish of Vizual Statistix created the maps below, which break down how OASDI funds are distributed. The maps show, clockwise from the top left, the percentage of a county's population that receives OASDI benefits; the percentage of OASDI beneficiaries who are retired, rather than disabled; the areas where payments to men most greatly outweigh those given to women; and the average monthly OASDI payment, in hundreds of dollars.
Beyond revealing where America's retirees live (a lot are in Florida and the Southwest, unsurprisingly), the maps say some interesting things about welfare programs and employment. The upper-right hand map, for example, shows a large white swathe stretching across the southeastern US, indicating these states have a large proportion of disabled workers. The states with the highest percentage of people age 18-64 on disability in the U.S. are West Virginia (where the number is nearly 1 in 10), Arkansas, Alabama, Kentucky, Mississippi, Maine, Tennessee, South Carolina and Missouri. [Comprising much of the GOP's "Solid South."]
The number of former workers on disability has increased a lot in recently decades, roughly doubling between 1995 and 2010. That's in part because Americans are getting older – older workers have more health issues. But it's also due to efforts by states, often in cooperation with private companies, to move people off of unemployment benefits, which states need to pay for, and onto disability, which is a federal program. Some argue that disability has become a de facto welfare program, especially for low-income people without a lot of education or job training.
Not only do disabled workers receive federal dollars without showing up on welfare rolls, they also are not officially counted as unemployed. Though the vast majority of people on disability do not work, they are not technically part of the labor force, so the Bureau of Labor Statistics excludes them from the unemployed.
This is how "red states" have been unloading their poor and unemployed on the federal government assistance programs, so that these "red states" do not have to pay for their own citizens. The real deadbeats and freeloaders are "red state" legislatures.
Think Progress adds, Republican Congress Launches With Back-Door Attack On Social Security Benefits:
Reports that SSDI is riddled with fraud and overrun with false claims have showed up in an ideologically diverse array of news sources over the past two years, from public radio's This American Life to CBS' 60 Minutes to the conservative media machine. The reality is that just 41 percent of those who apply for disability benefits receive it thanks to the program's uniquely strict eligibility rules and stringent, multi-layered application process. Among those who do clear the program's hurdles and enroll, fraud is extremely rare. A 2011 Government Accountability Office report found an erroneous payments rate of just 0.6 percent, among the lowest of any government program, and President Bush's Social Security Administrator estimates waste, fraud, and abuse account for less than 1 percent of SSDI spending. But the reality of the program — such as the fact that disability insurance is getting more expensive because of long-anticipated demographic shifts — has likely already been lost in the trans-partisan furor over a supposed epidemic of freeloading.