Remember all the times that Donald Trump dismissed Russian interference in the 2016 presidential election as a "Democratic hoax," Every Russia story Trump said was a hoax by Democrats: A timeline (June 1, 2017), a claim frequently repeated by our Trump trolls and Putin's troll farm in comments at this blog? This premise has been repudiated today.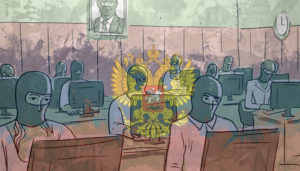 On Friday, Special Counsel Robert Mueller's team announced a "speaking" indictment of 13 Russians and corporate entities associated with Putin's troll farm in St. Petersburg, Russia for "Information warfare against the United States of America" in social media,
part of a larger interference operation known as "Project Lakhta" which began in 2013. Read the Internet Research Agency, LLC Indictment (.pdf).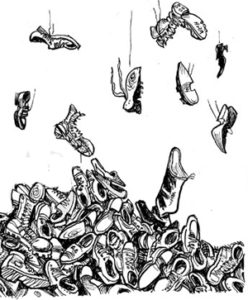 This specific indictment does not address the Russian hacking of the DNC or John Podesta. This specific indictment also does not address any coordination or cooperation by the Trump Campaign with the Russian interference in the U.S. election, beyond unnamed local grassroots Trump campaign activists referenced in this indictment as "unwitting Americans."
This specific indictment also does not call into question the role that America's social media platforms, e.g., Facebook, Instagram, Twitter, Google, etc., may have played in the Russian attack.
Today's indictment was just the first shoe of several more shoes to drop in the Special Counsel's Russia investigation.
The Washington Post reports, Russian troll farm, 13 suspects indicted for interference in U.S. election:
The Justice Department's special counsel announced the indictment Friday of a notorious Russian troll farm — charging 13 individuals with an audacious scheme to criminally interfere with the 2016 U.S. presidential election.
The Internet Research Agency, based in St. Petersburg, was named in the indictment as the hub of an ambitious effort to trick Americans into following Russian-fed propaganda that pushed U.S. voters toward then-Republican candidate Donald Trump and away from Democrat Hillary Clinton.
The indictment charges that some of the Russian suspects interacted with Americans associated with the Trump campaign, but those associates did not realize they were being manipulated.
Deputy Attorney General Rod J. Rosenstein called the charges "a reminder that people are not always who they appear on the Internet. The indictment alleges that the Russian conspirators want to promote social discord in the United States and undermine public confidence in democracy. We must not allow them to succeed."
[T]he 37-page indictment provides the most detailed description from the U.S. government of Russian interference in the election.