"A lie can travel halfway around the world while the truth is putting on its shoes." – attributed to Mark Twain.
Ironically, he never said this. But Jonathan Swift did write "Falsehood flies, and the Truth comes limping after it."
A new study proves that lies (fake news) spread faster than truth. Robinson Meyer reports at The Atlantic, The Grim Conclusions of the Largest-Ever Study of Fake News:
It was hyperbole three centuries ago. But it is a factual description of social media, according to an ambitious and first-of-its-kind study published Thursday in Science.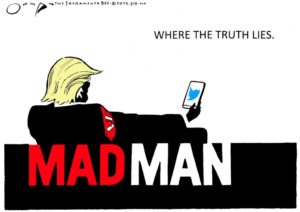 The massive new study analyzes every major contested news story in English across the span of Twitter's existence—some 126,000 stories, tweeted by 3 million users, over more than 10 years—and finds that the truth simply cannot compete with hoax and rumor. By every common metric, falsehood consistently dominates the truth on Twitter, the study finds: Fake news and false rumors reach more people, penetrate deeper into the social network, and spread much faster than accurate stories.
"It seems to be pretty clear [from our study] that false information outperforms true information," said Soroush Vosoughi, a data scientist at MIT who has studied fake news since 2013 and who led this study. "And that is not just because of bots. It might have something to do with human nature."
The study has already prompted alarm from social scientists. "We must redesign our information ecosystem in the 21st century," write a group of 16 political scientists and legal scholars in an essay also published Thursday in Science. They call for a new drive of interdisciplinary research "to reduce the spread of fake news and to address the underlying pathologies it has revealed."