So have you been reading about the "Paradise Papers" this week? Paradise Papers Shine Light on Where the Elite Keep Their Money: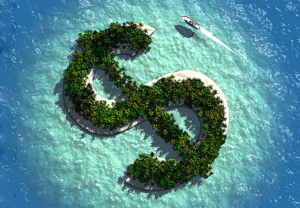 It's called the Paradise Papers: the latest in a series of leaks made public by the International Consortium of Investigative Journalists shedding light on the trillions of dollars that move through offshore tax havens.
The core of the leak, totaling more than 13.4 million documents, focuses on the Bermudan law firm Appleby, a 119-year old company that caters to blue chip corporations and very wealthy people. Appleby helps clients reduce their tax burden; obscure their ownership of assets like companies, private aircraft, real estate and yachts; and set up huge offshore trusts that in some cases hold billions of dollars.
The New York Times is part of the group of more than 380 journalists from over 90 media organizations in 67 countries that have spent months examining the latest set of documents.
* * *
As with the Panama Papers, the Paradise Papers leak came through a duo of reporters at the German newspaper Süddeutsche Zeitung and was then shared with I.C.I.J., a Washington-based group that won the Pulitzer Prize for reporting on the millions of records of a Panamanian law firm.
This week, The New York Times is publishing articles on the Paradise Papers that were reported in cooperation with our I.C.I.J. partners. Here is a roundup of the stories that have already been made public.
• Behind one of Silicon Valley's most prominent investors, Yuri Milner, was hundreds of millions of dollars in Kremlin funding. The documents show that Mr. Milner's investment in Twitter relied on money from VTB bank, controlled by the Russian state. One of his most significant investors in Facebook relied on funding from Gazprom Investholding, another government-controlled institution. Mr. Milner is also an investor in Cadre, a New York-based real estate technology company founded by Jared Kushner, President Trump's son-in-law and White House adviser.