NBC News reports, Trump's N.Y. criminal trial will begin in March 2024:
Former President Donald Trump made a virtual appearance in New York criminal court on Tuesday for the first time since pleading not guilty last month to 34 felony counts of falsifying business records.
A stern-looking Trump appeared before Judge Juan Merchan on video to hear the terms of a protective order barring him from publicly disclosing evidence, which the Manhattan district attorney's office will be turning over to his lawyers in the hush money payments case. Trump — whose in-person arraignment in the same courthouse last month came with massive security precautions and paralyzed operations there for the day — appeared virtually from Florida, with lawyer Todd Blanche at his side.
Merchan also set a trial date in the case — March 25, 2024. By that time, at least 25 states will have already held their presidential primary contests, based on the current scheduled dates.
Asked by the judge if he had a copy of the order, Trump said, "Yes, sir," and acknowledged he'd reviewed it with his lawyer.
Blanche told Merchan that Trump is a "leading contender" in the presidential race and is "concerned his First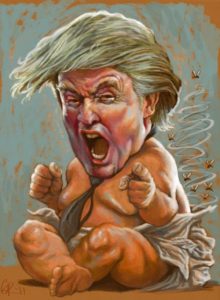 Amendment rights are being violated." Merchan said the directive "is not a gag order" and should not interfere with his ability to run for office.
"He is free to campaign and do anything that does not violate the order," the judge said.
Blanche said his client "understands he needs to comply" with the order.
Trump complained [the world's biggest crybaby whiner] about the protective order and the trial date on his social media website Truth Social after the hearing.
"Just had New York County Supreme Court hearing where I believe my First Amendment Rights, 'Freedom of Speech,' have been violated, and they forced upon us a trial date of March 25th, right in the middle of Primary season. Very unfair, but this is exactly what the Radical Left Democrats wanted. It's called ELECTION INTERFERENCE," he wrote.
This would be a violation of the Court's order. Hold him in contempt of court, impose a rolling fine for every time he violates the court's order, obviating the need for filing separate motions of contempt.
Prosecutors had argued the virtual appearance was necessary to keep Trump from releasing confidential information in the case and then claim he hadn't been familiar with the terms of the order.
"Should Defendant violate the terms of any protective order issued by the Court, the People may seek to enforce its terms by initiating a prosecution for Criminal Contempt in the Second Degree," the DA's office said in a court filing last month, and in "advancing such a prosecution, the People will be required to show that Defendant had knowledge of the contents of the order."
Um, Judge: "Asked by the judge if he had a copy of the order, Trump said, "Yes, sir," and acknowledged he'd reviewed it with his lawyer." Knowledge of the order is already established.
Trump's lawyers argued in court filings that the protective order was "extremely restrictive" and that what prosecutors were proposing "would be an unprecedented and extraordinarily broad muzzle on a leading contender for the presidency of the United States."
But Merchan ruled largely in the DA's favor on the issue earlier this month. His order held that anyone with access to the evidence being turned over to Trump's team by state prosecutors "shall not copy, disseminate or disclose" the material to third parties, including social media platforms, "without prior approval from the court."
Merchan's order also singled out Trump, saying he is allowed to review sensitive "Limited Dissemination Materials" only in the presence of his lawyers and "shall not be permitted to copy, photograph, transcribe, or otherwise independently possess the Limited Dissemination Materials."
Oh, you know he is going to violate this order, in three, two, one ….
Prosecutors from Manhattan District Attorney Alvin Bragg's office contended the order was necessary in part because of Trump's repeated public trashing of two of the witnesses for their case, former Trump attorney Michael Cohen and adult film star Stormy Daniels.
NBC News has reached out to lawyers for Trump and a spokesperson for the DA's office for comment about Tuesday's hearing.
Trump has been charged with falsifying business records related to hush money payments to Daniels and another woman toward the end of his 2016 presidential campaign in order to prevent them from speaking about their allegations of affairs with him. He has pleaded not guilty and has said he did not have an extramarital affair with either woman.
That's not what she says. EXCLUSIVE: Ex Playboy model Karen McDougal shares intimate details of her 'ten-month affair' with Donald Trump, claiming he told her he loved her and SHE ended it – moving on with Bruce Willis – in explosive interview with Daily Mail:
Her story was similarly bought for nearly $150,000 and buried, by a tabloid, a strategy known as a 'catch and kill', in the run up to the election.

But unlike Stormy Daniels – who has left her contempt for Trump in no doubt, describing their alleged sexual encounter as 'the worst 90-seconds of my life' – Karen insists, in her exclusive interview with Daily Mail, that their relationship was real and loving.

* * *

I ask how she feels about the former president denying that their ten-month affair happened: Trump has rubbished affairs with both Karen and Stormy Daniels, and claims the criminal charges are part of a 'political witch hunt' to try to stop him from running for office again.

'His people have denied it, but he's never denied it,' she corrects me. 'A reporter asked him: 'Did you have an affair with Karen McDougal?' and all he said was: 'I've done nothing wrong.' He knows I'm telling the truth.'

[T]here are a few other assumptions Karen would like cleared up about her association with Trump.

Firstly, theirs was not a casual affair; they were in love, she insists.

'I was in love with him. He was in love with me. I know that because he told me all the time. He'd say 'You're my baby and I love you'. He showed me off to his friends.' [corroborating witnesses.]

And secondly, she insists, she dumped him. 'I'm portrayed as the disgruntled woman, but I am not that woman. I ended it,' she says.

She had been thinking of ways to get out of the relationship, she says: 'A family member came to town and we went to a bar and I met a lovely man named Bruce.'

The Bruce she is referring to is Die-Hard actor Bruce Willis
Cohen pleaded guilty to charges related to the payments as well as other criminal charges in 2018, and was sentenced to three years in prison. He's been outspoken about his cooperation with the DA's office and in his criticism of his former boss.
In a statement Tuesday, Cohen said, "I have less than zero confidence that Donald will abide by any of the terms of the Protective Order. His anger towards the system that is holding him accountable is so severe, he will not be able to control his actions. He is like a petulant child."
In a court filing last week, the DA's office rejected a request from Trump's team for more information about some of the legal theory behind their case.
Trump's attorneys had asked for information, known as a bill of particulars, in a bid to find out more about the evidence against him, including the legal rationale for charging the falsified records as a felony instead of a misdemeanor.
Under New York law, in order to elevate the charge to a felony, the defendant needs to have created the fake records with an intent to commit or conceal "another crime."
Prosecutors said they've already turned over and will continue to turn over more evidence than they're legally required to, and said Trump's lawyers aren't entitled to more. "The indictment need not identify any particular crime that the defendant intended to commit or conceal, and the defendant is not entitled to such information in a bill of particulars," they added.
When Manhattan DA, Alvin, Bragg, indicted Trump, there were complaints the indictment was not sufficiently specific. Bragg has filed a pleading to put some flesh on the bones, highlighting how serious the crimes he's charged are. https://t.co/rCPSbHgDNj

— Joyce Alene (@JoyceWhiteVance) May 17, 2023
Trump has complained that the criminal case brought by the Democratic DA is part of a partisan "witch hunt" against him, and claimed Merchan, a state criminal court judge sitting in Manhattan, "hates me." Blah. blah, blah … "I'm a persecuted victim" … blah, blah, blah. This guy's tiresome act is so old.
Trump's lawyers filed paperwork earlier this month seeking to have the case removed to federal court. That request is pending.
I'm assuming his lawyers are asserting Diversity jurisdiction: Are all opposing parties from different states (the "complete diversity" requirement), and is the amount in controversy $75,000 or greater (the "amount in controversy" requirement)?
Trump is only domiciled in Florida in a pathetic attempt to avoid jurisdiction in New York. He still maintains residences in New York, including Trump Tower, and his companies are licensed in New York. He was  a New Yorker when the acts alleged in the complaint occurred.
The motion should be denied, but it may be a Trump appointed judge.