The #RedforEd protestors will return to work now. They only partially succeeded on one of their demands, a 20 percent pay increase for teachers, but that is all they are going to get out of this Tea-Publican legislature and governor.
The Arizona Republic reports, Arizona Legislature passes state budget, including #RedForEd teacher pay-raise plan (note to the copy editor, this is NOT the "#RedForEd teacher pay-raise plan," it is the GOP leadership's plan):
The Arizona Legislature passed a state budget early Thursday that included nearly $273 million aimed at giving teachers pay raises. It came after nearly 13 hours of debate in the House and Senate.
Gov. Doug Ducey signed the bill dealing with education, which had the teacher pay raise plan as part of it, at about 6:10 a.m. Thursday, according to a post on his Twitter feed.
Passage of the pay raises was called the triggering event that organizers said would end the statewide teacher walkout, the largest in recent U.S. history.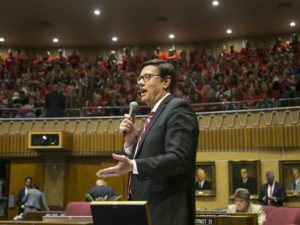 The galleries in both chambers remained crowded overnight Wednesday with teachers and education advocates wearing the red shirts indicative of the #RedForEd movement.
The Senate passed all the budget bills just after 5:30 a.m., and the House followed suit more than three hours later.
For the educators, watching the votes wasn't about a victory. Most of the lawmakers they cheered through the hearings and debates voted against the budget bills.
All but one of the Republicans they jeered voted for it. The education portion of the budget bill had four Democratic votes for it in the Senate; in the House, all Democrats voted against it.
More so, for the educators it was about bearing witness, feeling engaged in a process they felt they had spurred on by their threat to walk off the job, followed by the unprecedented action of actually doing so.