Although I had met with all of the presenters before the 5G Forum on Related Health, Privacy, Preemption and Blight Issues and had a good idea what each of them planned to say, I was blown away by the extensive information that these experts shared.
On my YouTube Channel and below, you can watch the presentations.
My introductory video (part 1) sets the stage for the 5G Forum, beginning with passage of HB2365 in 2017. I was the only person in the Legislature who voted "no" on final read. The bill was extremely complex, the process was rushed, and no one could answer my questions about the cost or the technology. I voted "no" because I didn't think we knew what we were voting on. (More details here.) I was apparently right.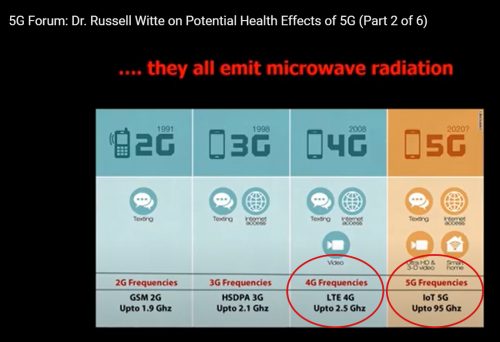 5G emits significantly more microwave radiation than 4G. Witte's presentation (part 2) is sobering. 5G represents a tremendous amount of exposure to humans and nature. We don't know the public health price of this because it's never been done on this scale. Previous studies cited in Witte's presentations are alarming if projected globally, in my opinion. We need more research on this. Also, 5G — with towers every 300 feet(!) — requires a ridiculous number of towers worldwide to surround us with a web of data and information.
The bottomline is: do we really need the Internet of Things? Yes, it's been hyped to us for years, but with no real discussion of the health and privacy implications. Do you want electric utilities to tack your usage with tracking devices? Do you need a wi-fi enabled robot vacuum or refrigerator? We have seen this movie before, when we bailed on our beloved Blackberries and went to smarter phones with better cameras and video (2/3G to 4G transition). Eventually we won't be able to buy appliances without "smart" tracking features, and eventually, you'll have to upgrade your smart phone to handle all of the apps.
As DeGrazia points out in part 4, corporations and governments — foreign and domestic — will be collecting, analyzing, and selling our personal data that has been collected through our devices that are connected to the Internet of Things. Witte (in the Q&A video) paints a scary of "social profiling" through smart phones and apps in China. Do we really want this? I don't want that level of surveillance, and I don't want a bunch of appliance apps clogging up my smart phones. Who needs a wi-fi enabled robot vacuum or refrigerator? Do we really need 5G? Is it worth the risk to our health and the health of the planet?
I have serious concerns about the health and privacy effects of 5G. Check out the videos. I learned a lot. These conversations will continue. I have been ranking Democrat on the Regulatory Affairs Committee for two years and a member of the Health and Human Services Committee for four years. The issues surrounding 4-5G implementation cross both of those committees.
Rep. Pamela Powers Hannley, host of the 5g Forum on Health, Privacy, Preemption and Blight Issues, introduces the topic and talks about HB2365, Arizona's fast-track 5G bill that included preemption of local laws, among other things.
In this segment of the 5G Forum, Dr. Russell Witte, Professor of Medical Imaging (primary), Biomedical Engineering, Optical Sciences, and Neurosurgery at the University of Arizona, College of Medicine, explains microwaves and radiation and discusses the research and next steps.
In the third segment, Elizabeth Kelley, executive director of the Electromagnetic Safety Alliance, Inc., provides general background and talks about 4-5G policy efforts in other states.
Rep. Domingo DeGrazia, LD10 in Tucson, is a Certified Information Privacy Professional/US Private Sector. In the fourth video segment, he discusses 5G and the Internet of Things; how our data will be captured, stored and used; and what precautions we should consider taking.
Midtown Tucson resident Lois Pawlak's segment about the on-the-ground aftermath of HB2365 dovetails nicely with the expert segments on health, policy and privacy. Pawlak talks about the neighborhoods' struggles with 5G towers that are popping up all over Midtown with no city oversight due to preemption built into HB2385, passed in 2017. Her presentation includes several photos of town construction. There is a map of current and proposed towers in Midtown town. It shows a lot of saturation and many planned small cell poles in Midtown.
In this video, 5G forum presenters Elizabeth Kelley, Dr. Russell Witte, and Rep. Domingo DeGrazia field questions. Ward 6 Councilman Steve Kozachik makes a cameo appearance and comments on the situation with towers in Midtown.
Related:
Is 5G 'Risky Business'? (video) 
Small Cell Poles – FAQs and Information (City of Tucson website)
City map showing current and reserved spaces for poles
To watch videos from LD9 Town Halls and other events, check out my playlist here.