You may have recently read about the White House PR campaign to break the unprecedented GOP blockade of the nomination of Judge Merrick Garland to the U.S. Supreme Court. White House allies make new push for Garland: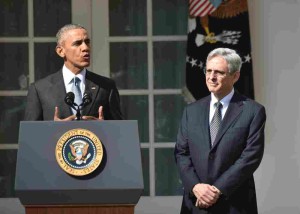 With time ticking on what White House aides see as their last, slim chance to get Merrick Garland confirmed before the November election — the unlikely scenario he'll get a hearing and a vote before the Senate breaks for the summer — allies will launch new operations and ads starting Saturday to pressure GOP senators during next week's recess.
To date, the outside allies have focused on the states with the five most vulnerable GOP incumbents (New Hampshire, Wisconsin, Pennsylvania, Ohio and Illinois) and Senate Judiciary Chairman Chuck Grassley's Iowa. Now they'll be expanding the map to cover three more incumbents up for reelection: Arizona's John McCain, North Carolina's Richard Burr and Missouri's Roy Blunt.
They're calling it the 9-9-9 campaign: nine states, over nine days, to push for a court with nine justices. (No apologies to Herman Cain, who coined the term for his 2012 tax plan.)
More and more, though, they're going to be talking about Donald Trump, tying in Republicans' discomfort with the largely unpopular likely Republican nominee to say that refusing President Barack Obama's nominee amounts to enabling a would-be President Trump's.
The 9-9-9 Campaign comes to Tucson today. See details below the break.
www.americansunitedforchange.org 
FOR IMMEDIATE RELEASE                         
Contact: Rodd McLeod, 347-387-1010
May 4, 2016                                                               
TODAY IN TUCSON
9-9-9 Tour Comes to Arizona: 9 Days, 9 States for 9 Supreme Court Justices

Mobile Billboard Tour to Make Senator McCain, Flake Poster Children of Judicial Obstructionism

Arizona Leaders to Hold 'Do Your Job, Fill the Vacant Seat' Event
Washington DC – Despite the overwhelming public consensus, including from over 500 editorials from across the country, that U.S. Supreme Court nominee Merrick Garland deserves a fair hearing and an up-or-down vote this year, Senators McCain and Flake, as well as their fellow Republicans still haven't gotten the message. That's why Americans United for Change has hit the road with a nine-state, nine-day mobile billboard tour featuring local leaders to underscore the urgent need for nine Justices. The message to Senators McCain and Flake is simple: Do Your Job and Fill the Vacant Seat on the Supreme Court, or Someone Else Will Fill Yours.  Next Stop: Tucson, Arizona on May 4 at 12 pm at the Old Pima County Courthouse / by the park on the north/west side.* See digital billboard graphic designs HERE.  The 9-9-9 Tour is part of the Constitutional Responsibility Project pressuring Senators to do their constitutional duty.
April 27th marked 42 days since the President nominated Judge Garland to fill the seat left behind by the death of Justice Scalia. 42 days is the average time Supreme Court nominees have been welcomed inside the Senate Judiciary Committee hearing room to answers questions about their record. If history was followed, Garland would have faced the committee last week. But Senators McCain and Flake clearly don't care about precedent, the will of Arizona voters, as evidenced by a recent PPP poll commissioned by Americans United for Change, or even the Constitution when it becomes inconvenient. Rather than do their job, Senators McCain and Flake are blindly following the lead of Senate Majority Leader Mitch McConnell and Senate Judiciary Committee Chairman Chuck Grassley who have made the unprecedented, rankly partisan choice to refuse a hearing to a nominee with more federal judicial experience than any other Supreme Court nominee in history. Awkwardly, many of the same Republicans stiff-arming Judge Garland today previously lauded him as exceptionally qualified to serve on the nation's second most powerful court.

WHO:              Former Assistant Attorney General Vince Rabago
                        Other Southern Arizona Leaders
 WHAT:             9-Day, 9-State Mobile Billboard Tour for 9 Supreme Court Justices to Make Senators McCain & Flake Poster Children of Judicial Obstruction

WHEN:             May 4 at 12 pm

WHERE:             Old Pima County Courthouse / by Presidio park on the north/west side, 115 N Church Ave, Tucson, AZ 85701
WHY: Long-Term Supreme Court Vacancy Leads to Federal Judicial Dysfunction, Uncertainty for Millions: Over 350 law professors warned in a letter to Congressional leaders: 'A long-term vacancy jeopardizes the Supreme Court's ability to resolve disputed questions of federal law, causing uncertainty and hampering the administration of justice across the country.'  Put another way: "Any 4-4 tied votes from the Court would result in a default upholding of decisions by regional circuit courts or state supreme courts. Some circuit courts could make federal law for the entire nation. In other areas of the law, Americans could have different constitutional rights in different parts of the country. The U.S. Supreme Court could hold some of these cases over until its next term—which starts in October—leaving millions of Americans waiting for justice."  USA Today recognized signs of dysfunction are already apparent: "Cases large and small are ending in tie votes. The pace of decisions has slowed slightly, and fewer new cases are being granted."
###